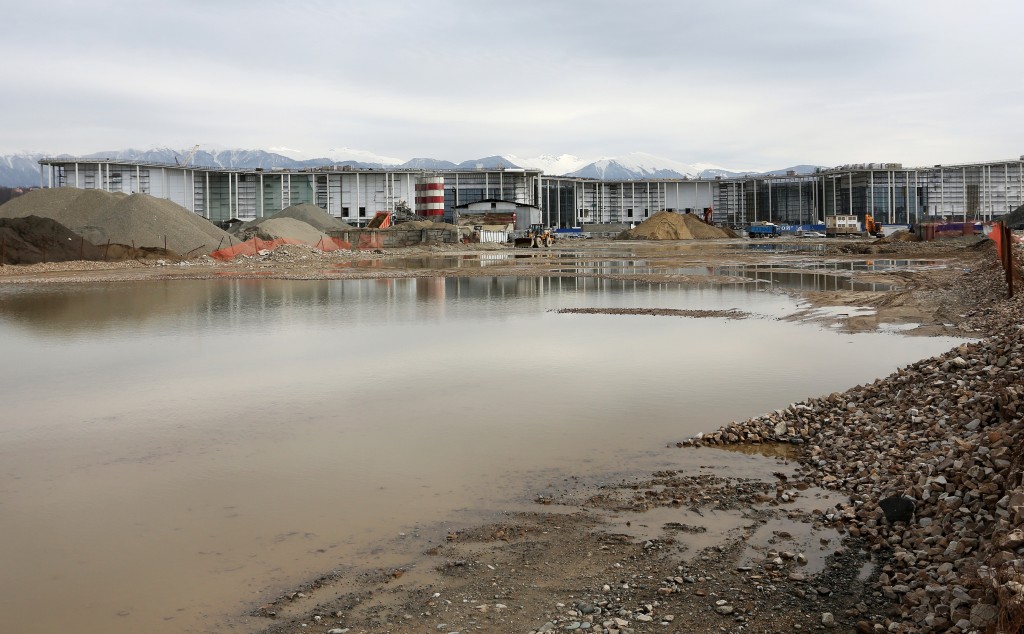 Just over four months before the start of the 2014 Winter Olympic Games in Sochi, Russia, officials declared a state of emergency and evacuated a village after rampant flooding and mudslides struck the subtropical resort city on the Black Sea this past week.
Due to severe rainfall in the area, regional airports canceled flights and railways were closed, traffic jams and deep water left roadways nearly impassable, and the local electric company confirmed it had cut off power in five regions to avoid outages on Tuesday. The flooding started just as the International Olympic Committee coordination committee arrived for its tenth and final visit for venue approval before the Games. Despite the state of emergency, meetings went on as scheduled.
"We often say that there is no time to waste as the clock ticks down to the Opening Ceremony, and this still stands true," said Olympic Coordination Commission Chairman Jean-Claude Killy. "But to see how far the local organizers have come over the last six years is quite simply remarkable – the competition venues are ready; the spirit of the Games is awakening here; and the athletes, spectators and all others who visit next February can expect a fabulous experience."
Despite viral videos showing raging rivers overtaking the roads in Sochi, officials maintain that no damage occurred to any of the venues. Deputy Prime Minister Dmitry Kozak held a press conference to assure that not a single Olympic facility had been damaged despite the extreme weather.
In the Caucasus mountains region that will host the alpine Olympic events, blizzard conditions over two days contributed to the first accumulated snowfall of the year. At lower altitudes, the highway leading from Sochi to the Mountain Cluster was reportedly flooded by up to eight feet of water.
Flooding also struck the Sochi airport earlier this month, and area officials declared a water-related state of emergency last March as well.
The latest flood waters have since receded and airports and railway lines have reopened, but questions linger about what impact, if any, the extreme conditions may have on the timely completion of all Olympic facilities.
Photo: Olympic facilities under construction in Sochi in Feb. 2013 (credit: GEPA/Daniel Goetzhaber)