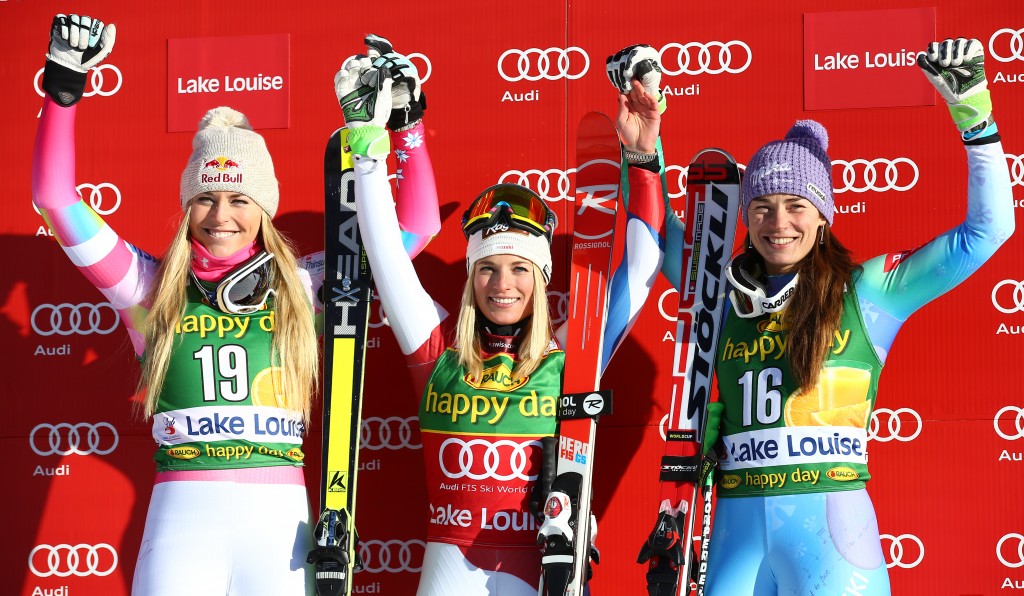 LAKE LOUISE, Canada – The good news for Lindsey Vonn is she skied a very imperfect super G race on Sunday and still managed to finish second behind Switzerland's Lara Gut. The bad news for everyone else is they'll have to compete against her for the rest of the season.
Vonn appears to be on the cusp of getting back to her old self. No, she didn't sweep the races in Lake Louise, as she has on two separate occasions. No, she didn't crush the field by well over a second, as she did in 2011. But she did exude a renewed sense of confidence and poise that have been lacking since her horrific crash in Schladming two years ago. Along the way, Vonn inched herself one step closer to the women's all-time win record — she now needs just two to tie Annemarie Moser-Proell — and picked up a second podium in a second discipline in her first week back.
"I felt like I was skiing aggressively. I felt like I was pretty clean on the top," said Vonn. "Honestly, my timing wasn't quite right. I was a little bit late on some turns, a little late with my pressure. I got wide. I think I carried pretty good speed onto the flats, but my timing was off on a couple gates. For all the mistakes, I'm happy with second place. It was a solid day, and for the lack of training that I've had, it's been a phenomenal weekend."
Prior to Sunday's race, Vonn said she wasn't sure about the status of her super G skiing. She hadn't had any training on really hard snow, as was the case in Lake Louise, so she was as eager to see where she stacked up against everyone else.
"I just need a little bit more training," said Vonn. "I'm going to go back home to Vail and train in Beaver Creek, and hopefully get enough training to where my timing better for the next races in Val d'Isere — if we have them in Val d'Isere — but I think I'm a solid podium skier right now."
Vonn is still not sure of her schedule moving forward into the season. She expects race all the speed events — tech is still up in the air. She'll likely come home after Val d'Isere and take a break, train in Vail and then head back over to Europe.
"I am so happy with my results here this weekend," said Vonn. "It's so much more than I had hoped for. I didn't really know what to expect, and I was able to make improvements every day. It was all-around a perfect weekend and a perfect way to start the season."
Meanwhile, atop the podium, Lara Gut also said her run was something short of perfect.
"It was just a really straight set. You had to risk everything. When I got into the finish and saw that I was eight-tenths ahead, I thought, 'This is cool.' … It's the first time I am able to win at the same place I've won before. It's funny that it happened in Lake Louise."
U.S. women's head speed coach Stefan Abplanalp had a similar assessment of the course on Sunday. "The course was really on a fast line," he said. "You had to attack it. Not over-ski it. Stick to the fall line as much as possible."
For the new coach Abplanalp, you couldn't have asked for a much better speed week in Lake Louise. In his opening effort, the U.S. team snagged 10 top-10 finishes, including an American sweep of the downhill podium on Saturday. (Yes, that's the first time it's ever happened).
"It was amazing. Those results don't come every day," said Abplanalp. "We are excited, but we have to keep our feet on the ground, stay focused and take our confidence into the next races."
On Sunday, Julia Mancuso was the second-best American finisher in sixth position, her third top 10 of the weekend. She skied in front of Stacey Cook, who started first and finished in 23rd. Laurenne Ross skied to 24th, Katie Ryan 42nd, Alice McKennis 43rd and Jackie Wiles 47th.
For Tina Maze, the podium third-place result on Sunday is her third of the season — in a third discipline. It comes on the heels of two victories, one in slalom and one in downhill. Maze told Ski Racing earlier in the week that motivation was a big problem for her during the World Cup season last year — that she put all her emphasis on the Olympics.
"I'm really happy about my week," Maze said. "I had something in reserve today. After yesterday's risk that I took on the downhill, I was a little more calm today. (When I came down), I was sure it was not enough to win. I had a feeling there was a lot more I could do up there on the hill, so I figured the others can ski faster if they want."
THE SCOOP
by Hank McKee
Women's World Cup super G, Lake Louise, Canada, Dec. 7, 2014:
It is the seventh race of the women's 35 race 2014-15 World Cup calendar … the first of eight scheduled super G's. … It is the final of five World Cup races slated for Lake Louise this season, the third of three for women. … Lara Gut is the defending champion. … Renate Goetschl, Katja Seizinger and Lindsey Vonn have each won three Lake Louise super G's.
It is the 11th career World Cup win for Lara Gut … her second consecutive SG win at Lake Louise. .. Winning margin is .37. … It is her seventh career SG win. … she and Martina Schild are the only Swiss women to win the Lake Louise super G.
It is Lindsey Vonn's 33rd career World Cup super G podium … her 22nd podium at Lake Louise.
It is the 71st career World Cup podium result for Tina Maze … her 14th in super G. … It is just her second podium at Lake Louise, both recorded this season.
It is the third top-seven result for Julia Mancuso for the weekend. … It is the third score of the season for Larisa Yurkiw, all at Lake Louise. … It is the 13th best career super G result for Stacey Cook … her third best at Lake Louise. … It is the 15th career scoring super G finish for Laurenne Ross.
Tina Maze (third in race) maintains her lead of the World Cup overall standings 380-263 over Anna Fenninger (eighth in race). … Kathrin Zettel (did not race) holds third at 150pts. Lindsey Vonn moves to fourth at 212pts, ahead of fifth-ranked Mikaela Shiffrin (did not race) with 209pts.
Austria leads the women's Nations Cup standings 1369-853 over the U.S. … Sweden is third with 555pts and Canada in ninth at 161pts.
RESULTS