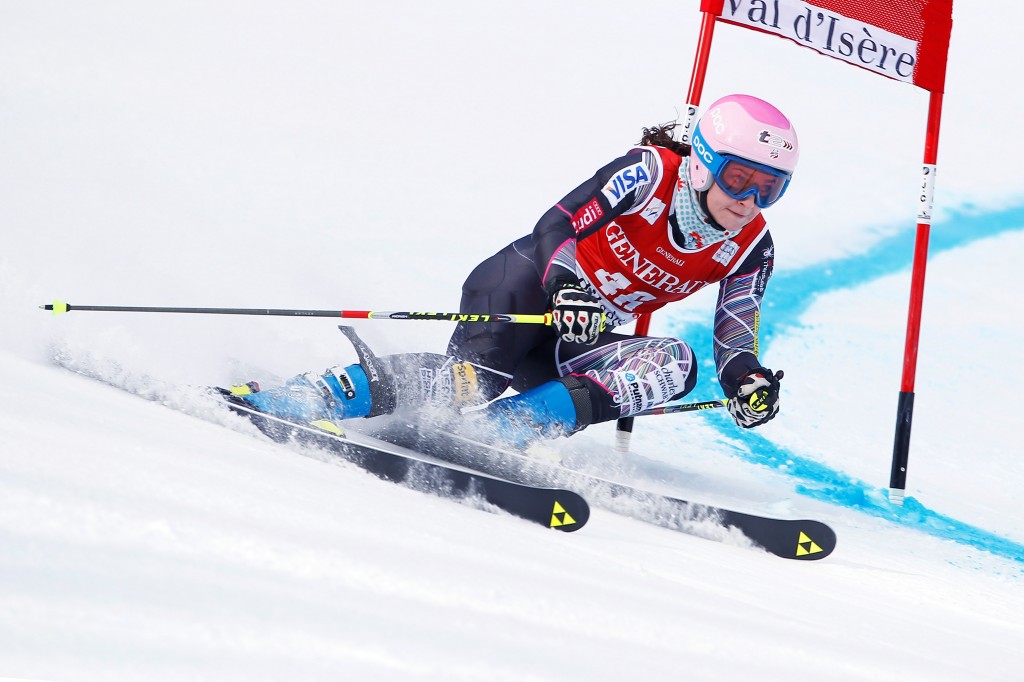 As the only independently funded member of the U.S. Olympic alpine team, Megan McJames' road to Sochi included more twists and turns than most others.
A Park City, Utah local, McJames was recently named to the 2014 Olympic Alpine Team and is expected to compete in the GS and possibly also the slalom, according to the racer. Sochi will be McJames' second trip to the big dance. She also competed in Vancouver in 2010 as a member of the U.S. Ski Team. Not long after, however, her career hit a few speed bumps: She was cut from the national team in 2012, got dropped from her ski company, Dynastar, and broke her heel bone. It all amounted to what McJames calls a "downward spiral" in her skiing.
"It's kind of a pretty scary thing to be in that position, but I had some pretty cool people surround me," McJames told Ski Racing Magazine last week. "I didn't feel like I was done skiing and felt like there was still some left in me and I wanted to build back from some of these things that went wrong and just prove to myself that I was still good because I knew it in my heart."
McJames began skiing for Independent Ski Racing, along with Hailey Duke and Katie Hartman, which partnered with Aspen Valley Ski Club and catered to non-U.S. Ski Team athletes with World Cup aspirations. The staff consisted of Pat Andrews as the technician and Helmuth Krug as head coach. For McJames, the transition also included an equipment switch to Fischer skis and Lange boots.
"You have to learn some life lessons pretty quick coming off the (national) team. For example, in the summer, you have to balance the dryland with also a lot of fundraising work, because paying for it by myself is a challenge," said McJames.
During the 2012-13 season, McJames focused her efforts on the NorAm circuit and finished as the series' overall champion, locking down her World Cup status for the entirety of this Olympic winter.
Last summer, McJames began working with Park City-based Groundswell Athletics and boyfriend Cody Marshall as coach. The couple traveled to New Zealand and worked on snow in hopes of McJames picking up where she left off last season.
"The things that started the building process to get back to where my skiing is now were some mental hurdles and redefining why I wanted to ski race and why I loved it. If I was going to keep going, it was only because I really wanted to," said McJames. "I had to find that love for the sport and redefine myself as a ski racer without the national team. It took a little while to figure some of those things out."
This winter, the 26-year-old, who retained Andrews as her technician, is pleased with her return to racing at the top level. On two occasions, she's qualified for a second run, finishing 23rd and 26th in St. Moritz and Val d'Isere, and scoring World Cup points in both of those giant slalom events. More than anything else, though, McJames is pumped to be going back to the Olympics.
"I feel really proud of some of the World Cup GS results that I've had because for me it was kind of a milestone," McJames said. "When the (Olympic) nominations came out, I was just kind of waiting, and I feel really gratified and liberated to be part of that."
By USSA's own objective Olympic qualification criteria, McJames' results this season placed her as the third-best GS skier in the country, behind Mikaela Shiffrin and Julia Mancuso. That distinction alone was not enough to ensure nomination to the Olympic team as only the top two are guaranteed spots, so McJames had to rely on discretionary selection by the coaches and USSA staff.
Asked if she feared or anticipated a bias against her as non-member of the national team, McJames simply said she didn't want to count her chickens before they hatch. Prior to being nominated, she spoke with women's head coach Alex Hoedlmoser who informed her she was "being considered," but the decision would ultimately depend on the American Olympic team size, which in the final days was increased from 17 to 20.
"(The USSA staff) was positive toward (me and my team), but I didn't want to believe it until it was on paper," said McJames. "When it officially came out, it was a big relief. … I already felt like a good skier, but it was definitely a little bit of recognition of that. I'm just thankful to be a part of it."
As an independent racer, not surprisingly, fundraising has been the toughest part of the job, says McJames. She gets help from sponsors but has had the most success with private donors, "who just think the idea of following your dream is really cool."
"There are definitely challenges to being independent, and at first it's a little overwhelming. But if you embrace it, there are definitely some positives, as well," said McJames. "I feel totally in control of my program and my situation and I've surrounded myself with people who can help me. When I say, 'I'm independent,' I'm not alone. … It can be motivating because you see the direct result of your work. I almost wouldn't have it any other way."
As for her skiing and impending Olympic start, McJames says she feels more confident than she did early in the season: "I feel like my giant slalom is really coming along. I feel good about my slalom too, but GS has definitely stepped ahead. Over the years, it has always been the event that I've gone back to."
Because she is the overall NorAm title holder from last season, McJames has guaranteed World Cup starts in all disciplines, but she has focused her efforts on her strengths in the technical races.
"This year, as I was trying to take the step from NorAm racing to World Cup racing, I would get pretty nervous in the start," she said. "It took me a little while to calm down and realize that if I skied the line that I was training, then that was enough to get me into the second run — and that's where I wanted to be."