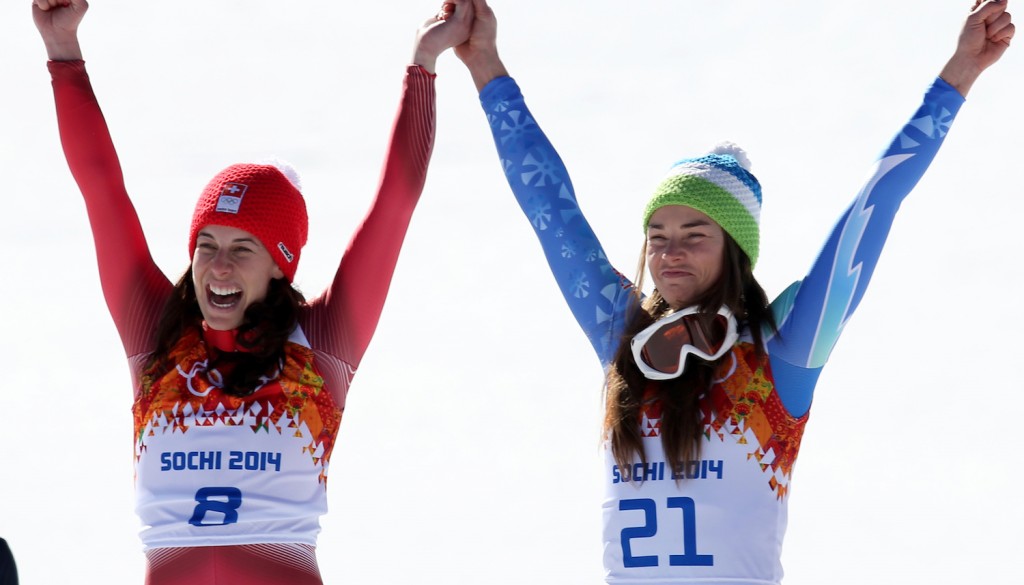 ROSA KHUTOR, Russia — There are no tiebreakers in ski racing; never before at the Olympic Winter Games has there been a need for one at the top of the podium. So, when Tina Maze crossed the downhill finish line in first position — the clock showing a 0.00 differential between her and Dominique Gisin — a combination of cheers and bewilderment swept through the stadium in Rosa Khutor.
On Wednesday, there were two Olympic downhill champions crowned: Maze, the reigning overall World Cup champion who in many ways has been unspectacular this season, and Gisin, never a major event medalist who claimed the fourth and final spot on the Swiss downhill roster for these Games.
Shared medals are not unprecedented in big events. There have been three pairs double silver medalists at the Winter Games — notably, American Diane Roffe tied Anita Wachter for GS silver in Albertville — and one pair of double gold medalists at the World Championships — Lasse Kjus and Hermann Maier in the Vail '99 super G for instance — but Wednesday's result marks the first occasion the top step on the Olympic podium has been shared in an alpine event.
"It was a crazy day, a crazy week," said Gisin. "I think it was very important for me that I had to go through qualification because it pushed me out of my comfort zone that I've been in for such a long time. Today, it was a lot of pressure and I just tried to ski free and liberated."
"That's the challenge of our sport: The hundredths count," said Maze, who picked up the first-ever gold medal for the nation of Slovenia at the Winter Games. "I think it was a perfect day for me today. I came to these Olympics to win gold, and today I achieved my goals. I (can't) imagine anything better, especially winning the downhill."
With a shared winning time of 1 minute, 41.57 seconds, both racers are content with the outcome; neither wish to see the system changed to compute results to thousandths of a second. (FIS timing systems are currently capable of recording thousandths but do not reveal that information to the racers or the public in the event of the tie.)
A mere tenth of a second off the pace, Lara Gut ripped the third fastest run of the day to collect bronze. As a result of the tie at the top, no silver medal was awarded.
Red, green, red, green went the split lights during Gut's run prior to her second-place standing as she crossed into the finish area. The Swiss racer's body language suggested disappointment, but she later retracted that sentiment.
"We are athletes and we always want to be first," said Gut. "I can be happy with (my result). Four years ago, I wasn't even able to start at the Olympics. My teammate (Tina) Weirather could be on the podium and she can't be in the start, so I think there's really no reason to be unhappy with my bronze."
Gisin ran bib No. 8, so the Swiss racer had quite a long wait before Maze who ran 21st hit the course. Conditions were warm and sunny, enough so FIS officials salted the course periodically between racers, which raised some controversy about consistency of the track, but few, if any, major complaints surfaced after the race.
Gut's teammate Weirather, one of the favorites for the downhill, pulled out of the race following last night's bib draw because she suffered a bone bruise in a training crash on Sunday. She is also questionable for the super G race at this point.
The only Canadian in the race, Larisa Yurkiw, who was just happy to have the opportunity to represent her country at the Games after being dropped from the national team at the end of last season and competing this year as an independent, finished 20th.
"I was on the edge, for sure, which is something you want to feel but not push over, but I think there were some really timely mistakes today and that's too bad," said Yurkiw. "I learned so much, I met some of the most incredible people on this journey, what will become lifelong friendships, and it's brought a ton of grit out of me that I didn't know I had, so that I will carry in my toolbox forever."
Americans
After throwing down the fastest downhill run in the combined by nearly a half-second, Julia Mancuso was favored by some to win the race, but failed to capture the energy of earlier in the week. After taking a lead at the first split, the numbers gradually began moving in the wrong direction for Mancuso as the roar of the stadium, filled with her fans, gradually weakened. She finished eighth on the day.
"I'm definitely disappointed … that kind of goes without saying," said Mancuso. "The snow was just a little softer. I think for me, I'm a lot more of an instinct skier, and I think I just thought too much today. I didn't let go and let my body do its thing. I definitely had moments in the middle where it felt good.
"I wasn't as on it as I was in the super combined," added Mancuso, "and kicking out of the start after I caught a lot of air on the first jump. It kind of brought me too much into consciousness, and I started thinking too much while I was going down the run."
In 11th place, Laurenne Ross clocked the second fastest time for the U.S. squad. She came out of her tuck more so than in previous runs on the track but was not completely unpleased with the result.
"It started out pretty good at the top," Ross said. "I made some good turns and got tossed around a little bit on the pitch, got a little bit late. It was a little bit faster today. The snow temperature last night was just perfect enough to keep it moist, but freeze it over, so there wasn't really any sluff anywhere. It was good icy, hard snow. … It was a little bit bumpier, so I was getting tossed around a little bit. All in all, I had a lot of fun … just wish I could have cleaned up a couple mistakes."
Of the Americans, Stacey Cook was most disappointed with her result of 17th.
"It was comparable to my fast training runs that I've had. Don't know exactly where or what went wrong. I think after missing a gate in the super combined I might have been holding on just a little too much, and then with that training run getting canceled yesterday, I just didn't have the opportunity to go out there and completely trust it again — so not the run I wanted."
With a couple of top-five results in recent World Cup competition and the podiums from last season fresh in memory, Cook was certainly hoping for a medal Wednesday. "I skied well today … it just wasn't a medal performance. For me, my career's been all about working hard and overcoming things that people didn't think I was capable of overcoming. I was capable in the start today, it just didn't happen."
U.S. C Team member Jackie Wiles may have had to fight back some nerves in her Olympic debut. After team coaches chose to forgo Leanne Smith as their fourth starter in favor of Wiles, the 21-year-old skied to 27th on the day.
"You can't wait for it to come at you — you have to go and get it," said American Olympic gold medalist Picabo Street of the entire team's performance. "That's it. We didn't see any big mistakes. … I don't know why these girls think you can make a turn on your uphill ski and pull it off, narrowing the margin for error. It was a matter of being ballsy today. It was a matter of dropping the hammer and running at this course. … Tina Maze did not let this course come at her. She attacked it."
Women's Olympic Downhill: Gisin, Maze and Gut
The Scoop
by Hank McKee
Women's Olympic downhill, Feb. 12, 2014. … It is the third alpine event of the 22nd Winter Olympics, the second for women. … It is the 36th Olympic downhill and 18th for women. … 12 Austrians have claimed gold medals in Olympic downhill, five Germans, one Canadian (Kerrin Lee-Gartner), six French, one Italian (Zeno Colo), seven Swiss and three Americans (Bill Johnson, Tommy Moe and Lindsey Vonn). … It is 36.9 degrees at the start, 43.3 at the finish.
It is the first Slovenia gold medal in alpine skiing. … It is the third Olympic medal for Tina Maze after a pair of silvers from the Vancouver super G and GS in 2010. … Dominique Gisin joins Hedy Schlunegger ('48), Madeleine Berthod ('56), Marie-Therese Nadig ('72), Bernard Russi ('72), Michela Figini ('84), Pirmin Zurbriggen ('88), and Didier Defago (2010) as Swiss DH gold medal winners. … It is her first medal, she was also fifth in combined two days ago.
It is the first Olympic medal and first Olympic result for Lara Gut. … It is the first time the Swiss have had two on the same Olympic podium since Vreni Schneider and Maria Walliser in the 1988 GS.
It is the ninth time Julia Mancuso has placed in the top 10 of an Olympic race. … It is the first Olympic result for Laurenne Ross and is her top finish of the season, besting a 17th in DH at Cortina Jan. 24. … It is the second best of three Olympic DH results for Stacey Cook. … It is the first Olympic result for Larisa Yurkiw, 20th, her fifth best finish of the season. … It is the first Olympic result for Jacqueline Wiles…her second best result of the season.
Austria leads the alpine medal count with one gold and one silver, the Swiss have one gold and one bronze, Germany and Slovenia each have one gold, Italy one silver, Norway and the U.S. one bronze.
RESULTS — Olympic women's downhill