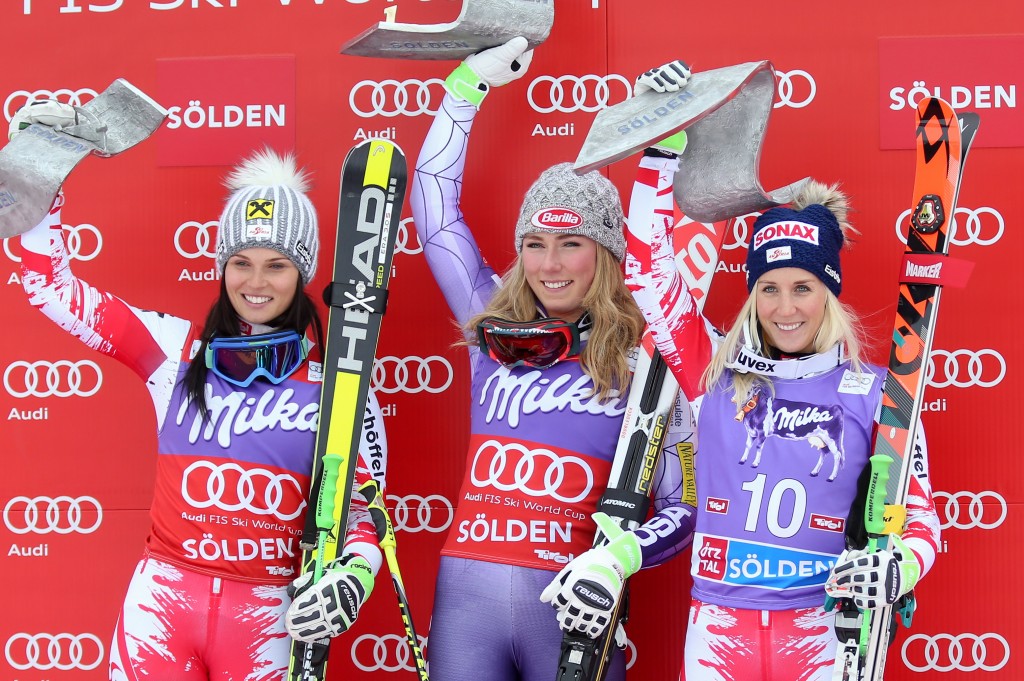 SOELDEN, Austria — What started as a race with possibly too little snow nearly became a race with too much, as course crews worked through the nights leading up to the Soelden World Cup opener to provide a firm surface and the best possible conditions for all competitors in Saturday's race for the ladies.
Despite a noticeably bumpy ride for all who tested the Rettenbach Glacier, 2014 overall champion Anna Fenninger overcame a .09 deficit after the first run to join slalom phenom and now giant slalom victor Mikaela Shiffrin in a tie for the win. Shiffrin, who secured her career first win in the discipline, broke up what very easily could have been an Austrian sweep if not for the lone American on the podium. Her first run indicated that conditions would challenge even the most technically sound skiers.
"I had this big, crazy plan to just arc everything and I didn't arc anything. … But the bottom I think I kind of pulled it together in time to make up some speed on the flats, and that was good," remarked Shiffrin after first run. "I'm trying to take more of an aggressive mindset so I don't just sleep out of the starting gate. Sometimes I look a little lackadaisical. I want to try to attack from the start but also loosen up my legs in between turns."
Those unfamiliar with race fans in Europe might have expected a silent crowd after a U.S. Ski Team member blocked the host country's sweep, but the jubilation at the finish line was deafening. In all regards, the Austrians appreciate quality skiing and a tight race, which was exactly what they got on the opening day of World Cup action.
"It was a big fight and my coach said especially on the pitch just make sure I didn't lose my skis or lose my line to keep the momentum going and that was I think the one thing I think that saved me," Shiffrin noted after the race. "I started gaining time on the pitch and then coming into the flats it all really worked well. It felt smooth; I didn't feel the bumps as much."
With her win, Shiffrin, 19, became the youngest American GS winner since a 17-year-old Diann Roffe did so in Lake Placid, N.Y. in March of the 1984-85 season. Course conditions turned out to be rough on the top pitches and icy along the bottom flats for both runs, and many skiers lost their upper section leads over Shiffrin on the bottom section heading into the finish. Fenninger was the opposite, demonstrating her skill set on the upper pitches and carrying it through to the line.
Last year's overall winner and defender of the GS discipline title has now claimed the past five giant slalom races on the World Cup circuit. But she isn't really counting.
"For me it's just important to win as many races as I can. It shows that it's very difficult to win five GSs in a row," said Fenninger.
The fact that there was any ski race at all was nothing shy of a surprise. The beginning of the week felt more like the end of summer with lush grass blanketing the Oetztal Valley and exposed rock on the mountain save for the Rettenbach Glacier's ice and carefully prepared race slope. Doubters at the time were questioning the organizer's ability to pull off a giant slalom race where temperatures were more suited to flip-flops than ski boots.
Then, like a prayer answered from the heavens just a flash too late, the snow arrived in blizzard form, dumping more than two feet atop the race hill with wind drifts measuring a meter deep in spots. Training in Soelden was cancelled for two days in a row with the road to the glacier impassable, leaving the ladies with the limited opportunity to free ski in soft snow on Friday before going through the pre-race warm-up early Saturday morning for a race that already feels too early in the season for many athletes.
Eva-Maria Brem had jitters in the days prior to the start, but all of that melted away in time for her to rocket from seventh after the first run to ultimately wind up on the podium in third behind the tie.
"I had some good training and the good thing is the last days when I thought about the race sometimes I really got nervous. And this morning I was just happy to race, and I wasn't nervous so that made it easy for me to ski well."
Soelden is valued primarily by those in pursuit of the giant slalom globe or overall title, though few were willing to make predictions for this season so early in the chase.
"I was really nervous at the first run because nobody knows who is fast or not, and every race is different," said Fenninger. "Every year (Soelden) was too early for me for racing, but this year I just was focused on myself in the start and it worked."
Shiffrin's recent training in super G, perhaps driven by goals for the upcoming World Championships in her hometown, may have enabled her to make up precious time on the bottom flats.
"I think (recent super G training) did help me get a comfort level of just letting my skis take me instead of pushing so hard," noted Shiffrin.
Julia Mancuso had the goal of starting to work her way back inside the top 30 in giant slalom, and she started that journey on the right foot by finishing in a tie for 17th with Switzerland's Michelle Gisin. There was a third tie in the race for 11th between Sweden's Sara Hector and her teammate Jessica Lindell-Vikarby.
"There were a couple challenging turns that got the best of me … but in general it was good. I think my skiing is going well in between mistakes, so now it's just a matter of cleaning those up," said Mancuso. "In general, my skiing is right there in GS, so I can be happy and confident going into Aspen and hopefully I'll be able to get back into the top 30 with that result."
Independent American racer Megan McJames made the flip in 30th after first run and finished 26th on the day, and Canadian skier Marie-Pier Prefontaine was the only other North American to score points in 24th. Strong Canadian favorite Marie-Michele Gagnon fell in the first run and is being evaluated for a dislocated left shoulder, the same one she injured last season during training before the Winter Olympic Games in Sochi.
Norwegian speed specialist Ragnhild Mowinckel, who is hoping to add strong GS results to her repertoire this year, described the day in honest terms. She started bib 28 and improved to 17th on the first run to finish inside the top 15 by the end of the race.
"You have to keep fighting because it's just a battle for survival basically all the way down. … It feels terrible to ski and you don't feel like you can actually do any work because it's so icy and it's bumpy and it's tracky and it's a fight, but you have to keep pushing and attacking."
THE SCOOP
By Hank McKee
Equipment (skier, ski/boot/binding)
1 Anna Fenninger Head/Head/Head
1 Mikaela Shiffrin Atomic/Atomic/Atomic
3 Eva-Marie Brem Voelkl/Fischer/Marker
4 Kathrin Zettel Atomic/Atomic/Atomic
5 Federica Brignone Rossignol/Rossignol/Rossignol
6 Viktoria Rebensburg Stoeckli
7 Tessa Worley Rossignol/Rossignol/Rossignol
8 Maria Pietilae-Holmner Rossignol/Rossignol/Rossignol
9 Nadia Fanchini Dynastar/Lange
10 Tina Weirather Atomic/Atomic/Atomic
It is the first race of the 2014-15 World Cup season, the first of 34 women's races and the first of seven women's giant slaloms. It is the 31st World Cup race held at Soelden, all of them giant slaloms. … Defending champion is Lara Gut. She is the lone Swiss woman to have won at Soelden. Anna Fenninger won last season's GS title. She finished fourth at Soelden last season, fifth in 2012 and sixth in 2011.
Lindsey Vonn was the only U.S. woman to have won at Soelden (2011), Julia Mancuso was second in 2007. Mikaela Shiffrin was sixth last season at the site.
It is the tenth World Cup win for Mikaela Shiffrin, her first in GS. … It is her first win at Soelden.
It is the ninth World Cup win for Anna Fenninger, her eighth in GS. … It is her first win at Soelden.
Soelden has produced ties for the win before. In 2002, there was a three-way tie for first between Nicole Hosp, Tina Maze and Andrine Flemmen.
It is the third World Cup podium for Eva-Marie Brem, all in GS and all since March 6th, 2014.
It is the fifth-best result at Soelden for Julia Mancuso matching her placing from 2008. … It is the second scoring finish at Soelden for Marie-Pier Prefontaine. … It is the tenth World Cup scoring finish for Megan McJames, all in GS. It is her second scoring result at Soelden.
Austria jumps into the lead of the women's Nations Cup 241-119 over the U.S. … Sweden is third with 103pts.
RESULTS