January 31, 2010
/
X Games: Walker repeats as mono ski cross gold medalist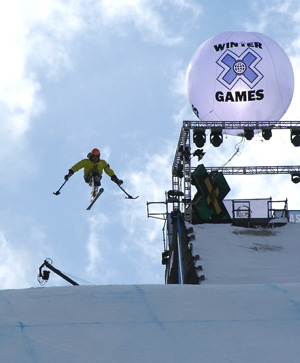 ASPEN, Colo. (Jan 31) – The U.S. Ski Team's Tyler Walker of Franconia, New Hampshire won his third X Games gold medal today at Buttermilk Mountain in the men's mono ski cross event.
"I didn't get a great start at the top," Walker said. "It was crazy up there and I don't like being next to someone on the jumps, but that is the game. The course was awesome and I tried to stay on the ground to maintain control. It was very hard to plan for other people so I had to adjust until I got the lead."
Gregory Peck of Wasilla, Alaska claimed the silver medal ahead of Bozeman, Montana's Kevin Connolly in third.
Walker, who automatically qualified for the final round of competition as the defending champion, trailed U.S. teammate Chris Devlin-Young through the first half of the course. When Devlin-Young fell and lost his ski on the course's tricky hip jump, Walker stuck to his line and went on to lead the rest of the way.
Peck thrilled the crowed with a spectacular flight off the final jump, losing his balance and crashing across the finish line.
Mono Skier X
Final Results from Aspen/Snowmass on Sunday, January 31, 2010


Name Bib # Hometown Time
1. Tyler Walker 789 Franconia, N.H. 2:04.876
2. Gregory Peck 784 Wasilla, Alaska 2:07.970
3. Kevin Connolly 754 Bozeman, Mont. 2:23.525
4. Chris Devlin-Young 782 Campton, N.H. 5:00.000