January 29, 2010
/
X Games: Rahlves qualifies seventh for ski cross finals; Puckett still sore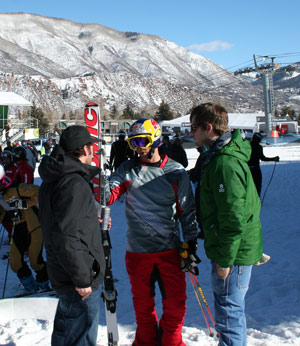 ASPEN, Colo. (Jan. 29) – Conditions couldn't have been better for today's X Games ski cross qualifiers on Buttermilk Mountain. Blue bird skies and a buffed course gave both men and women racers a chance to scope out what the athletes called the best course they see all season.
Unlike the competition runs, when six racers charge the course at once (four at World Cup events), skiers have the course to themselves for qualifying. The men had two chances to qualify for Sunday's final. If they didn't make the top 28 of the first run, racers got a second chance if they could make the top six of an additional run.
Canadian Christopher Del Bosco had the fastest men's qualifying time ahead of teammates Brady Leman and Dave Duncan in second and third, respectively.
Former alpine great, American Daron Rahlves was all smiles in the finish area with the seventh-fastest time.
"This course is awesome, these guys have built it up better than any other year I've seen it," said Rahlves who won an X Games gold medal here in 2008. "I was really surprised in that qualifying run, I had so much speed. These boards are flying."
Rahlves' only Olympic Team colleague, Casey Puckett, who continues to rehab a sore shoulder her injured in early December, awkwardly hit a jump and skied off the course wincing in pain and clutching his shoulder. With his injured shoulder, Puckett came to the X Games only to train for the Vancouver Games where he will make his fifth Winter Olympic appearance in the sport's Olympic debut.
The women's qualifying run served only to decide heat and gate positions as all 11 racers will race Sunday.
France's Ophelie David had the fastest qualifying time, earning her pick of a starting gate in Sunday's semifinal. Canadians Kelsey Serwa and Ashleigh McIvor qualified second and third, respectively.
American Caitlin Ciccone, at her first X Games, qualified seventh for the 11-woman final.
The men's and women's ski cross final will air live on ESPN on Sunday starting at 10 a.m. MST. – Eric Williams
Men
Name Bib No. Hometown Time
1. Chris Del Bosco 766 Vail, Colo. 1:28.724
2. Brady Leman 772 Calgary, AB, Canada 1:29.037
3. Dave Duncan 656 Golden, BC, Canada 1:29.195
4. Audun Groenvold 778 Hamar, Norway 1:29.719
5. John Teller 624 Mammoth Lakes, Calif. 1:29.765
6. Xavier Kuhn 796 Megeve, France 1:30.057
7. Daron Rahlves 780 Truckee, Calif. 1:30.133
8. Stanley Hayer 763 Calgary, AB, Canada 1:30.154
9. Errol Kerr 761 Truckee, Calif. 1:30.465
10. Enak Gavaggio 774 Bourg St. Maurice, France 1:30.547
11. Davey Barr 760 Whistler, BC, Canada 1:30.987
12. Andreas Steffen 764 Gstaad, Switzerland 1:31.291
13. Sylvain Miaillier 777 Alpe D'Huez, France 1:31.371
14. Armin Niederer 771 Klosters, Switzerland 1:31.440
15. Olivier Fabre 762 Alpe D'Huez, France 1:31.624
16. Brian Bennett 779 Quesnel, BC, Canada &nb
sp; 1:31.766
17. Ted Piccard 770 Les Saisies, France 1:31.947
18. Patrick Gasser 627 Fruitigen, Switzerland 1:32.248
19. Nick Zoricic 795 Toronto, ON, Canada 1:32.472
20. Biche Rudigoz 757 Ketchum, Idaho 1:33.900
21. Eric Andersson 781 Nora, Sweden 1:33.934
22. Tomas Kraus 784 Decin, Czech Republic 1:51.094
Women
Name Bib No. Hometown Time
1. Ophelie David 745 Alpe D'Huez, France 1:36.745
2. Kelsey Serwa 747 Kelowna, BC, Canada 1:36.796
3. Ashleigh McIvor 746 Whistler, BC, Canada 1:37.263
4. Fanny Smith 749 Villars-Gryon, Switzerland 1:37.282
5. Marte Gjefsen 169 Lillehammer, Norway 1:38.015
6. Aleisha Cline 743 Whistler, BC, Canada 1:38.937
7. Caitlin Ciccone 797 Wilson, Wyo. 1:39.137
8. Danielle Poleschuk 787 Calgary, AB, Canada 1:39.835
9. Gro Kvinlog 799 Hemsedal, Norway 1:40.200
10. Clara Marsan 170 Innsbruck, Austria 1:41.415
11. Magdalena Jon
sson 750 Nora, Sweden 5:50.000