January 31, 2010
/
X Games: Del Bosco, David win ski cross; Rahlves injured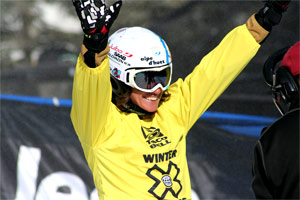 ASPEN, Colo. (Jan 31.) – French ski cross racer Ophelie David fought off an army of Canadian racers today to claim her fourth consecutive X Games gold medal on Buttermilk Mountain. Men's winner, Canadian Christopher Del Bosco led the Canuck effort as the Olympic Games host country grabbed all but David's podium spot in both races.
"I'm really proud, it's not so easy you know," said David, a 33-year-old mother of one. "Year after year I just make it one more time, I'm always the first to be surprised to make it.It's a huge feeling, as you can see I have great racers on my sides, that gives a special taste to this medal."
Canadians Ashleigh McIvor and Kelsey Serwa rounded out the women's podium in second and third, respectively.
McIvor led for most of the final heat until David made a huge move on the course's "Butter Box" feature.
"I knew it was going to be super hard to pass on the lower part," David said. "I tried to push hard on the start but missed the first kicker and thought, 'ooh la la.' But I remembered that I had to relax and I still had opportunities to pass her. I had to work hard on rollers make myself angry and push as hard as I could."
"You want to win, but Ophelie is the best in the world," McIvor said. "Second is still good with me. She drafted me and flew by. I was just glad it was only her."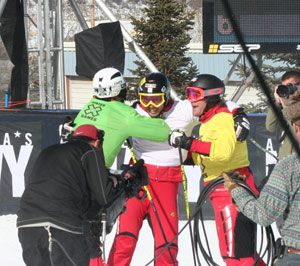 On the men's side, Canadians Dave Duncan and Brady Leman finished second and third after their legs were forced to endure a second semifinal run when a French racer charged the gate and caused a false start.
"We have a lot of great skiers, and when you have all these great skiers skiing together and learning from each other and pushing each other, the level just elevates," said Del Bosco of the Canadian Teams' dominance this season. "You can see we've all been gradually building and building and now any one of us could win every race. I think you just build off of other people's success and build off your successes."
U.S. Ski Team racer Daron Rahlves went down hard during his quarterfinal heat in the Bowling Alley section in the upper part of the course. He was taken off the course in a ski patrol toboggan. Doctors later discovered that the 36-year-old, former alpine great had dislocated his right hip, an injury he has sustained four times throughout his career. According to an Associated Press report, the hip had been popped back into place and Rahlves was putting weight on it before being released from the hospital. It is still unclear if the injury will stop him from competing in the sport's Olympic debut at the Vancouver Games.
U.S. Olympic Team member and Aspen native, Casey Puckett did not race today. He came to the X Games to take advantage of training on what the racers call the best course they see all year. Puckett continues to rehab a separated shoulder joint suffered in Les Contamines, France in early June. He is expected to compete at the Vancouver Games on Feb. 22.
The women's ski cross Olympic debut will happen Feb. 23 at Cypress Mountain near downtown Vancouver. – Eric Williams
Skier X Women's Final
Final Results from Aspen/Snowmass on Sunday, January 31, 2010


Name Bib # Hometown Time
1. Ophelie David 745 Alpe D'Huez, France 1:34.037
2. Ashleigh McIvor 746 Whistler, BC, Canada 1:34.187
3. Kelsey Serwa 747 Kelowna, BC, Canada 1:34.557
4. Fanny Smith 749 Villars-Gryon, Switzerland 1:35.244
5. Aleisha Cline 743 Whistler, BC, Canada 1:35.386
6. Marte Gjefsen 169 Lillehammer, Norway 1:36.182
7. Danielle Poleschuk 787 Calgary, AB, Canada 1:38.782
8. Caitlin Ciccone 797 Wilson, Wyo. 1:38.859
9. Clara Marsan 170 Innsbruck, Austria 1:39.118
Skier X Men's Final
Final Results from Aspen/Snowmass on Sunday, January 31, 2010


Name Bib # Hometown Time
Final:

1. Chris Del Bosco 766 Vail, Colo. 1:26.098
2. Dave Duncan 656 Golden, BC, Canada 1:26.578
3. Brady Leman 772 Calgary, AB, Canada 1:26.632
4. Andreas Steffen 764 Gstaad, Switzerland 1:27.624
5. Davey Barr 760 Whistler, BC, Canada 1:28.952
6. John Teller 624 Mammoth Lakes, Calif. 1:29.053

Consolation:

7. Stanley Hayer 763 Calgary, AB, Canada 1:28.658
8. Armin Niederer 771 Klosters, Switzerland 1:28.752
9. Errol Kerr 761 Truckee, Calif. 1:29.001
10. Olivier Fabre 762 Alpe D'Huez, France 1:29.348