December 12, 2010
/
Worley takes second consecutive World Cup giant slalom in St. Moritz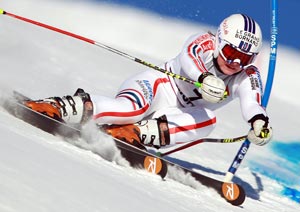 After yesterday's super G was canceled due to steady snow and winds, the skies cleared and women's World Cup racing finally got under way today (Dec. 12) in St. Moritz, Switzerland with a giant slalom.
Pulling in her second consecutive World Cup GS win was French skier Tessa Worley with a two-run time of two minutes 10.70 seconds. Just a hundredth of a second behind was World Cup veteran Finn Tanja Poutiainen in second place while Slovenia's Tina Maze rounded out the podium in third, 0.31 seconds off the winning pace.
"It was a good run, I made a lot of mistakes but not as many as my other racer friends," said Worley of her second run. "It was a big battle but it ended nice for me."
It was Worley's second win of the young season after taking the top spot two weeks ago in Aspen in another GS.
Poutiaine, a 41-time World Cup podium finisher, was tied for third place following the first run, while Worley was 0.16 seconds back in fifth position. A gutsy second run and some mistakes made by first run leaders, Germans Kathrin Hoelzl and Viktoria Rebensburg (the Olympic and world champions) gave Worley the advantage for 21-year-old's fourth World Cup win.
France's Anemone Marmottan (2:11.22) had her best World Cup race ever in fourth.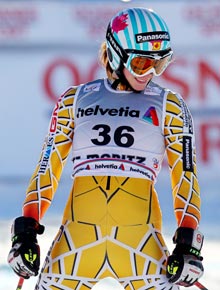 It was a great race for Canadian Marie-Michele Gagnon, who stood in 14th position after the first run, then found a tight line that was good enough for fifth place – her career high in a World Cup race. The result marked the first time a Canadian women has cracked the top ten in a World Cup gate race in a year (Anna Goodman ninth in Are slalom, Dec. 2009). Teammate Marie-Pier Prefontaine also made the points in 24th.

"I was really surprised. I was asking myself this morning if I was going to be in the top 30 because in the GS in Aspen I just missed qualifying," said Gagnon about today's result. "I am still disappointed about that, but I'm skiing well and I have been in GS since Sölden so I feel good about it."
After taking turns on the podium's top two spots last week in Lake Louise, the World Cup's top women, American Lindsey Vonn and German Maria Riesch, were temporarily out of the limelight today in both of their weakest discipline.
Vonn led the U.S. team in seventh, her best result in a giant slalom in close to two years (seventh in Maribor, 2009) and the first time she has topped Riesch (19th today) in a technical event this season. Vonn stood 16th after the first run, then put down the fourth-fasted second run as she nodded her head in satisfaction in the finish area. Vonn now stands 145 points behind Riesch in the overall World Cup standings.
"The first run, I felt like I was a little bit too relaxed, I skied too conservatively, too round," said Vonn. "The second, run I wanted to ski more aggressively and I was really happy with it. It was nice to get a race in that was more like my training."
Julia Mancuso finished eighth after standing sixth in the first run. Teammate Sarah Schelper just missed her shot at a second run, landing 32nd after the first run.
At the head of a pack of seven Austrian women in the second run, Marlies Schild was the first woman out of the gate and put down the fastest run of the day (1:04.05), climbing from 30th in the first run to finish 12th. She held the lead through 14 racers until getting bumped by Vonn.
The Germans, this season's gate skiing power team, had four women in the second run, including the first run's 1-2 in Rebensburg and Hoelzl. Things turned for the worse for them in round two as Hoelzl skied off course at the top of the run and a string of mistakes pushed Rebensburg to 10th place. Rebensburg won the season opening World Cup race, a GS in Soelden and finished second in the same discipline in Aspen two weeks ago.
The Women's World Cup tour now shifts to Val d'Isere, France, where the men raced this weekend, for a super G Dec. 17, a downhill Dec. 18 and the season's first super combined Dec. 19.
The SCOOP
By Hank McKee
Women's World Cup Giant Slalom, St Moritz, Switzerland, Dec. 12, 2010. … It is the ninth race of 37 on the women's 2010-2011 World Cup schedule. … the eighth to be held. … It is the third of eight scheduled GS's. … It is the 36th World Cup to be held at St Moritz. … the third GS and first since 2004.
It is the fourth career World Cup victory for Tessa Worley. … all in GS and all scored on or before Dec. 12. … It is her second win this season.
It is the 41st career World Cup podium for Tanja Poutiainen. … The 20th in GS. … Her first podium at St Moritz. … She is the all-time Finnish leader in alpine Cup podiums.
It is the 21st career World Cup podium for Tina Maze. … 13th in GS. … It is her fourth Cup podium at St Moritz and second in GS having won Dec. 22, 2004.
It is a career best World Cup result for Marie-Michele Gagnon. … Her previious best had been eighth in slalom at Ofterschwang March 7, 2009. … It is her first score at St Moritz. … It is the 102nd career top seven in World Cup for Lindsey Vonn and matches her third best Cup GS result. … She has never been on a GS Cup podium. … It is the 62nd career top eight in World Cup for Julia Mancuso. … 18th top eight in GS. … It is her second best result in World Cup at St Moritz having placed sixth in GS Dec. 22, 2004. … It is the second (and best) World Cup scoring result for Marie-Pier Prefontaine.
Marie Riesch (19th in race) maintains the lead of the World Cup overall standings 526-381 over Vonn. … Poutainien moves to third at 276. … Worley leads the GS standings 232-206 over Viktoria Rebensburg (10th in race) with Poutiainen third with 156. … Mancuso is the top American in ninth with 86pts. … Gagnon the top Canadian with 65. … Germany leads the women's Nations Cup 1190-995 over Austria. … The U.S. is third at 808 and Canada 10th with 127pts.
Rank
Bib
FIS Code
Name
Year
Nation
Run 1
Run 2
Total Time
FIS Points
1
7
196928
WORLEY Tessa
1989
FRA
1:06.38
1:04.32
2:10.70
0.00
2
4
185140
POUTIAINEN Tanja
1980
FIN
1:06.22
1:04.49
2:10.71
0.07
3
5
565243
MAZE Tina
1983
SLO
1:06.22
1:04.79
2:11.01
2.06
4
21
196793
MARMOTTAN Anemone
1988
FRA
1:07.14
1:04.08
2:11.22
3.46
5
36
105269
GAGNON Marie-Michele
1989
CAN
1:07.37
1:04.12
2:11.49
5.26
6
12
196725
BARIOZ Taina
1988
FRA
1:06.60
1:05.16
2:11.76
7.06
7
19
537544
VONN Lindsey
1984
USA
1:07.46
1:04.31
2:11.77
7.12
8
17
537545
MANCUSO Julia
1984
USA
1:06.58
1:05.30
2:11.88
7.85
9
16
55750
FISCHBACHER Andrea
1985
AUT
1:07.38
1:04.66
2:12.04
8.92
10
3
205218
REBENSBURG Viktoria
1989
GER
1:05.75
1:06.51
2:12.26
10.38
11
10
55576
GOERGL Elisabeth
1981
AUT
1:06.98
1:05.33
2:12.31
10.72
12
31
55590
SCHILD Marlies
1981
AUT
1:08.34
1:04.05
2:12.39
11.25
13
1
55838
ZETTEL Kathrin
1986
AUT
1:08.15
1:04.44
2:12.59
12.58
14
13
297601
BRIGNONE Federica
1990
ITA
1:06.64
1:06.00
2:12.64
12.91
15
8
296259
MOELGG Manuela
1983
ITA
1:07.14
1:05.61
2:12.75
13.65
16
22
516138
GUT Lara
1991
SUI
1:07.47
1:05.37
2:12.84
14.24
17
24
55818
KOEHLE Stefanie
1986
AUT
1:06.95
1:05.91
2:12.86
14.38
18
11
55759
KIRCHGASSER Michaela
1985
AUT
1:08.25
1:04.62
2:12.87
14.44
19
6
206001
RIESCH Maria
1984
GER
1:07.71
1:05.18
2:12.89
14.58
20
20
296379
GIANESINI Giulia
1984
ITA
1:07.06
1:06.08
2:13.14
16.24
21
26
206355
DUERR Lena
1991
GER
1:07.56
1:05.60
2:13.16
16.37
22
37
565268
DREV Ana
1985
SLO
1:07.47
1:05.94
2:13.41
18.04
23
9
505760
PIETILAE-HOLMNER Maria
1986
SWE
1:07.83
1:05.61
2:13.44
18.24
24
33
106825
PREFONTAINE Marie-Pier
1988
CAN
1:07.75
1:05.74
2:13.49
18.57
25
18
515766
SUTER Fabienne
1985
SUI
1:08.23
1:05.28
2:13.51
18.70
26
15
505483
PAERSON Anja
1981
SWE
1:07.83
1:05.70
2:13.53
18.84
27
41
505886
KLING Kajsa
1988
SWE
1:07.95
1:06.40
2:14.35
24.30
28
30
196179
BERTRAND Marion
1984
FRA
1:08.03
1:06.42
2:14.45
24.96
Did not start 1st run
60
195671
JACQUEMOD Ingrid
1978
FRA
Did not qualify 1st run
63
196806
NOENS Nastasia
1988
FRA
62
515997
FEIERABEND Denise
1989
SUI
61
565373
ROBNIK Tina
1991
SLO
59
305944
KIYOSAWA Emiko
1983
JPN
58
185271
LEINONEN Sanni
1989
FIN
57
297910
CURTONI Elena
1991
ITA
56
206367
HRONEK Veronique
1991
GER
55
505908
SMEDH Veronica
1988
SWE
54
515855
GOOD Esther
1987
SUI
53
297702
MARSAGLIA Francesca
1990
ITA
52
106022
JANYK Britt
1980
CAN
51
538573
ROSS Laurenne
1988
USA
50
206160
RIESCH Susanne
1987
GER
49
306249
HASEGAWA Emi
1986
JPN
48
537582
COOK Stacey
1984
USA
47
298084
AGERER Lisa Magdalena
1991
ITA
46
515849
DETTLING Andrea
1987
SUI
45
538284
MCJAMES Megan
1987
USA
44
515937
FUHRER Kathrin
1988
SUI
42
55806
ALTACHER Margret
1986
AUT
40
196726
BARTHET Anne-Sophie
1988
FRA
39
495065
RIENDA Maria Jose
1975
SPA
38
505632
LINDELL-VIKARBY Jessica
1984
SWE
35
705287
ZUZULOVA Veronika
1984
SVK
34
425629
LOESETH Lene
1986
NOR
32
56087
SIEBENHOFER Ramona
1991
AUT
29
296476
ALFIERI Camilla
1985
ITA
28
296509
CURTONI Irene
1985
ITA
27
55690
HOSP Nicole
1983
AUT
25
295435
GIUS Nicole
1980
ITA
23
536481
SCHLEPER Sarah
1979
USA
Did not finish 2nd run
14
55898
BREM Eva-Maria
1988
AUT
2
205993
HOELZL Kathrin
1984
GER
Did not finish 1st run
43
506399
HECTOR Sara
1992
SWE