September 26, 2013
/
World Cup women on the road to recovery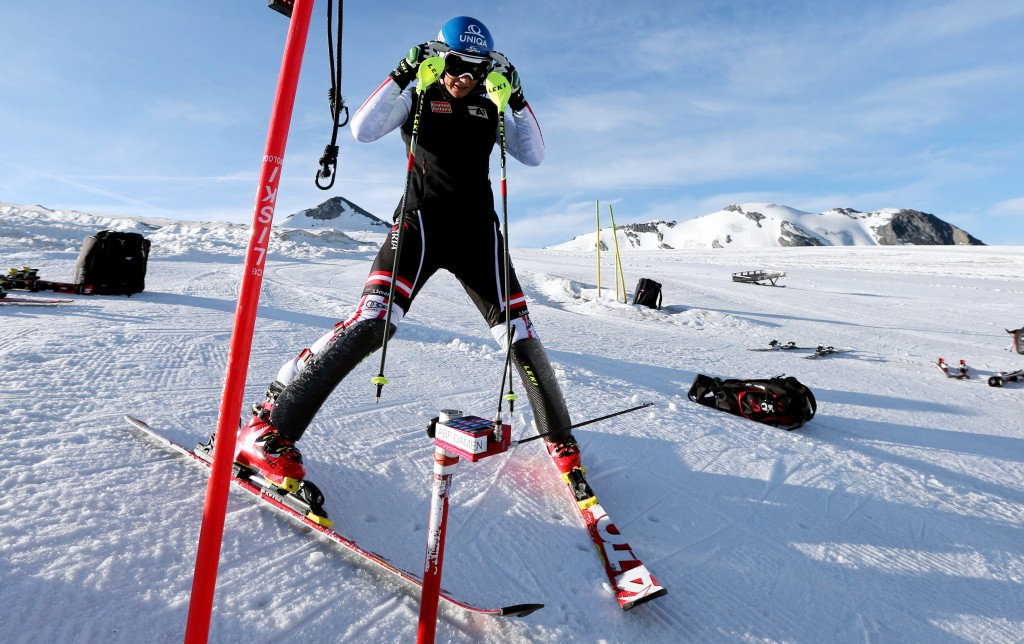 Lindsey Vonn's return to snow has been heavily covered by the worldwide media, but there are a number of other international stars who will spend the 2013-2014 season also returning from injury, including Italy's Federica Brignone and Denise Karbon, Germany's Susanne Riesch, Finland's Tanja Poutiainen, Austria's Marlies Schild, and Great Britain's Chemmy Alcott. FIS News caught up with the World Cup ladies who are mounting comebacks from a variety of injuries, melding the road to recovery with the road to Sochi.
An ankle injury forced Federica Brignone to miss the giant slalom race in Courchevel, France and sit out the rest of the season.
"I came to a point where I couldn't keep going," Federica explained. "The pain became intolerable and I was struggling to even walk properly. I tried to keep going, but skiing became a pain and stopped being fun," she added.
After having surgery on the injured ankle, Brignone was back on skis already in March and training with the team in May so she is expected to be fully ready for the Soelden opener in October.
After brutally straddling a gate during the giant slalom race at World Cup Finals in Lenzerheide, Switzerland, Denise Karbon suffered a fracture of her right ankle and had to undergo surgery. After training back on snow this summer, her coach Livio Magoni has a positive feeling: "Denise has made large progress especially towards the end of the training sessions. She can handle 1.30 minutes of giant slalom again and is on a good track for the next season."

Susanne Riesch, younger sister of Maria Hoefl-Riesch, crashed in September 2011 during a training camp in Chile. The knee injury she sustained forced her to miss the last two seasons. From the most recent reports, she is recovering well and has been back training with the team.
"I have resumed training and hope to soon start in the World Cup. A dream would be, of course, attending the Winter Olympics in Sochi," she wrote to her fans on her web page. 
After suffering an injury to her left knee during a giant slalom race in Ofterschwang, Germany, Tanja Poutiainen was quick to begin her recovery. The Finnish champion and proud owner of three small crystal globes, 11 World Cup victories, and five medals from major events is working hard towards her comeback at the same facility in Selce, Croatia which has helped Janica and Ivica Kostelic get back on their feet after their multiple injuries. During a break between her training sessions in July, she got engaged to her long-term boyfriend, Vesa, and will be back next season happier than ever.
Marlies Schild suffered a crash a few days before Christmas while training in Are, Sweden, and tore a ligament in her right knee. Despite the initial announcement that her season ended prematurely, Schild was back on skis at the end of January and attempted a comeback in Schladming at the World Championships. After a ninth place in the slalom, she decided she needed a bit more time to heal and be fully ready for the Olympic season ahead.
Reports in the popular press earlier this week that Schild decided to retire due to back pain were a source of confusion for fans. In fact, Marlies is well on track to continue her ski racing career. However, Swiss speed specialist Martina Schild (who last raced in March of 2012) did announce her retirement and was accidentally misidentified as Marlies by some reporting agencies.
British skier Chemmy Alcott hit yet another bump in her comeback from the injury she suffered during a fall in Lake Louise, Canada in 2010. While training in Saas-Fee, Switzerland this summer, she broke her leg again.
"Clean, easy break already weight bearing. Medical opinion is I will miss first races but will be good to go full speed ahead after. Unfortunate set back but I am used to the adversity, just another chapter before the Hollywood finish in Sochi!" she wrote on her Facebook page.
Despite doctors' predictions that she might have to skip the first races of the season, Alcott is keeping her spirit high and her goal in focus. The recently engaged 31-year-old is aiming to compete at the Olympic Games in Sochi and is working hard to meet her goal.
Release courtesy of FIS News
Photo: Marlies Schild prepares for training in Bormio, Italy in July 2013 (credit: GEPA/Andreas Pranter)