October 26, 2010
/
The World Cup According to Grande: A Short Men's Review (It was only 1/2 of a race)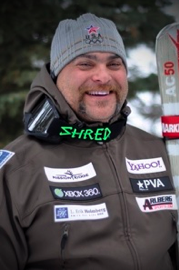 What did I learn from one men's run of GS?
First, I learned that Ted's set-up is pretty good and allows him to be aggressive with his line. He looked quick enough to the new ski and looked as if his turn-shape was high enough most of the time. This is a very difficult thing to do at Soelden because the main pitch is so steep and is very bumpy and wavy. The break-over itself is also very severe, giving it a free-fall feeling. It is easy to get stuck in any given turn and shoot off-line because of the bumps and waves. Especially on those first three turns after it breaks into the main pitch.
Second, I learned that Cyprien Richard is pretty good. He used to be an all-out aggressive line type guy and was injured often and DNFd a lot as a result. But last year he started to ski his line a little more within himself and started to see benefits of making some seemingly simple adjustments to his line. He did it again on run one in Soelden. The left-foot turn on top of the first break was a tough turn. It is usually a spot where the injection pools and can get slick. The venue also bends to the right as it breaks so when there is a big left foot turn in that spot it needs respect. Richard gave it some room to complete his turn early and was able to stay clean in the five or so turns in between pitches. A lot of guys, including Janka, made bad turns there because of a bad line choice. It is only eight gates or so into the race and it is coming off of a dead flat from the start. It is an easy section to ignore. I stood there every year I worked for the U.S. Ski Team and there was always a smart way to ski that section.
Third, Janka looked like he was not ready to race. Whether he had bad training coming in or was not confident in his skis, I do not know. But he looked timid and was not able to shorten his turn shape enough to stay ahead of the pace of the set. He also looked like maybe his set-up was not optimal for that snow but it's hard to say from a television vantage point.
Set-ups: it looked as though many of the guys who were shown on Universal Sports on Monday were struggling with their setups. A set-up includes so many variables like ramp angles, canting, base bevels, edge bevels, and edge sharpness. Many of the guys looked as if their skis were pulling in too soon, so they would need to release to a stivot move and re-apply pressure on the pitch. That would push their switch late and keep them fighting the fall-line the whole way down the pitch. The hill then slowly begins to flatten to a very flat finish (snow is pushed into the parking lot to make the finish) and if you still behind it about 5 gates above the flat, you end up carrying very little speed across it to the stadium.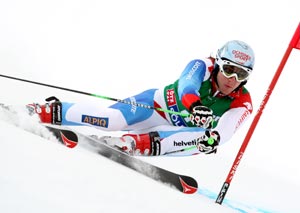 Visibility matters. Look at the results and watch the fog carefully as it comes in and out for different guys. Their time differential almost always matches the density and amount of fog.
The last thing I noticed was that the men's field in GS is very deep. As a result, it will be difficult to break into the top 30 or 25, 15 or 7. Whatever your goal might be, it is going to be tough to pass people on the WCSL in GS.
It was a very nice return to the World Cup scene for Palander. Kalle, I am sure, was not thrilled with the result. But after over 2 seasons off, it must have felt good to get out of the gate and find out that he was not too far off the pace. In a month he might be able to bring that intensity to Beaver Creek that he has always been famous for. I also think he could make a splash in a few weeks in Levi.
Click here to go to Alpine Race Consulting
Greg "Grande" Needell grew up ski racing at Stratton Mountain,
Vermont. After graduating from SMS he skied for NCAA Division 1 St.
Lawrence University in Canton, NY where he was co-captain in 1986. Greg
returned to SMS to coach there for five years serving as the Head
Women's Coach as well as the Head J2 Men's Coach. He then moved to
Mission Ridge in Wenatchee, Washington in 1992 to become the Program
Director and Head Coach of the Mission Ridge Ski Club. In 1997, Greg
became the Head Coach at Mammoth Mountain, California.
In 2002 Needell was asked to join the U.S. Ski Team staff as a World
Cup SL and GS coach. From 2002 to 2008 Needell helped lead the U.S. Ski
Team Men to 43 wins, 105 podiums and 264 top ten finishes. Now at the
helm of Alpine Race Consulting, Needell offers his knowledge and
experience to clubs nationwide.