November 29, 2009
/
The World Cup According to Grande: Men SG in Lake Louise and Women SL in Aspen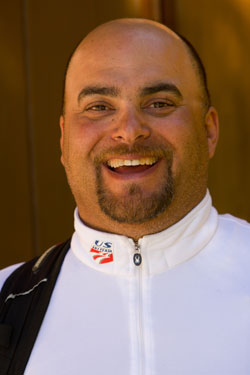 Right about now, SG course setter and Head Men's DH Coach, Chris Brigham is done creating his masterpiece in Lake Louise. His staff was with him, helping him judge speed and angles entering the many corners and pitches in Lake Louise. The Super-G typically starts down the steep pitch with a little swing in the course onto Wee Waxy Flat. Then the rest of it works similarly to the Downhill except there are 35 turns, minimum. Virgil (Brigham) set last year as well and we all helped out; giving advice, looking ahead around corners for him, standing in front of an approaching blind spot so he can measure distance. And aside from some whining from the Austrians about it being too fast, it was an uneventful affair. The course ran well and Marco did well, finishing 5th. Funny that the Austrians were crying about it, seeing as the legendary Hermann Maier won the race. Or maybe that was why they were whining? Because they thought he might win? Hard to say. Anyway, I am sure Virgil is done with the set and has checked it over and will now need to deal with the reality of checking on TJ Lanning, again. I can't remember the last time TJ made it through a full season unscathed. It seems like we are visiting him in the hospital more often than not. Get well TJ, the boys will miss having you on the hill!
On to a little SG preview.
Really, Super-G is a different kind of test than all the others. To me it's the purest version of our sport. Downhill has training runs, sometimes as many as 3. So you get to practice on the track. Super-G has no training runs. And in the tech events you get a second run to redeem your first if necessary or hopefully to defend your first run position. Super-G has one run, and one inspection on World Cup. So you better be able to judge speed and turn shape, make a good plan and execute the plan. Or it's over before you know it. It IS racing. I love Super-G, if that is not yet apparent.
Aksel Lund Svindal is the SG globe winner from last year. He does not look ready and the flat light is not helping him. Defago made some bad choices and executed poorly today. Obviously, Heel and Cuche will compete. Both guys turn well and had a great day today so they have the momentum. Look for another good performance from Carlo Janka. He is the GS World Champ and had his second DH podium at Lake Louise today. He was 21st last year starting 48. He will have a much better number this year. Walchhofer was 4th last year in the Super-G and he should be a player again.
CANADIANS:
A strong contingent this year with good start numbers. Johnny Kucera is one of the best SG skiers in the world on any hill, anytime. Johnny was 2nd last year. Erik Guay is a strong technical skier and can do well in Lake Louise as he also has good gliding skills. I am increasingly impressed with Robbie Dixon in all his disciplines. His skiing is up to par, he has a very even-keeled approach and he inspects very well. Even if his cheesy moustache is not working for him. And Manny has a lot of speed. I like him to step it up after today's showing. He is a competitor and I don't think he likes finishing where he did. I can only assume they will start Louis-Pierre again after scoring 9 World Cup Points today.
AMERICANS:
Marco Sullivan: Our highest ranked SG skier. As I mentioned yesterday he has been working hard on his GS skills and it paid off last season. He was 5th in the SG at Lake Louise last year after a similarly disappointing DH finish. Look for Marco to step up and get in the mix tomorrow. I am sure he's pissed off.
Bode Miller: Bode did not look very confident today. Which is difficult for me to say because I know him as one of the most confident people on the planet. I think he will bounce back tomorrow too.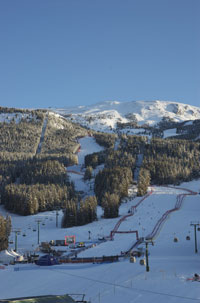 Ted Ligety:Ted is ranked 23rd on the WCSL in Super-G. Mostly due to a 7th in Beaver Creek and a 13th at the World Cup Finals, which is a limited field. He was headed for a medal in Val d'Isere in Super-G too last year. If you look at all of those results, there is not a hill with any gliding in it. Lake Louise has about 30 seconds of flat at the bottom. Ted's weaknesses are straight gliding and those low edge angle glide turns. Ted's buddy Sam Sweetser thinks it's too flat for him to do well.
Andrew Weibrecht: It will be nice if Horse sneaks into the top 30 on the board tonight so he gets a good start number. After today's performance he deserves a little luck. If not, his FIS point rank is 49. Also an excellent technical skier, he can do well in the LL Super-G.
Jeremy Transue: Worm's FIS rank is 45. With a few injuries ahead of him on the list, he will start around 40. He has skied this hill many, many times growing up on the Nor Am circuit. As I said before, he is talented, he needs to execute.
Erik Fisher: Fish has a late start number and will need to pull out his best skiing and every bit of his available grey matter to make this a successful trip to the Great White North.
OTHERS:
Hannes Reichelt(AUT) has been a good SG skier for years but has trouble in Lake Louise. I am a big fan of Marco Buechel(LIE) and he is a great Super-G skier. He is pushing the envelope on his career at 38 years old but Lake Louise could be good for him. He will need to dig deep into that 38 year old body to make it happen.
I need to throw our english speaking buddies a bone here and mention Edward
Drake(GBR). Ed was on the podium in Reiteralm, AUT earlier this season in a Europa Cup Super-G so he seems to be skiing fast. He would be the darkest of horses but he deserves some mention. And Craig "Bud" Branch(AUS) getting a few World Cup points today! Congrats and maybe a few more tomorrow?
Prediction: Cuche doubles up. Podium: Cuche, Kucera, Janka.
Swiss are tough. Just wait until Dani Albrecht makes it back.
ASPEN WOMEN'S SLALOM
Did anyone see that hill today? It was slick on the first run with some slick spots in a couple of left footed turns. That hill took it's toll today. Congrats to Kati Hoelzl(GER), Kathrin Zettel(AUT) and Federica Brignone(ITA), a 19 year old out of Ski Club Courmayeur! Also congrats to Squadra Italia with 3,7,8,9 plus two more in the points. Excellent job. The weather during the second run seemed to warm up a little and the hill began to soften. The girls definitely had more grip on run 2.
Hopefully for tomorrow's slalom is is more like run 2 than run 1. The girls have been on the hill now too, so things should look a lot better tomorrow. plus they are all far more used to skiing on injection on slalom skis than on GS equipment.
Favorites:
Maria Riesch (GER): No reason to think she won't do well in Aspen after her victory in Levi. I saw her training in Vail last week and she looked very solid, if winded and jet lagged. But she should have adjusted by now.
Sarka Zahrobska(CZE): She won here last year and I would not put it past her to repeat. The hill is pretty moderate from the slalom start down through Strawpile to the finish and Sarka is very good on that type of hill.
Tanja Poutiainen(FIN): She has pulled from the race tomorrow, but you have to give her credit, she was out there banging away on the ice and qualifying and scoring points. Competing to win year end globes.
Marlies Schild(AUT): Her comeback continues and she skis extremely well. If you are not too close to the training course when she skis, you would swear she looks like Benni Raich. Very, very solid.
Sandrine Aubert(FRA): She let me down in Levi and the was not great in Aspen last year so I am not sure she will get anything done. Although the number 1 bib could be an advantage.
Kathrin Zettel(AUT): A great result today after being sick with the flu earlier in the month. We
'll see what her recovery program is for tomorrow. But obviously, Guenther Obkircher and the rest of the staff did a great job handling her heading into today and should be on top of it for tomorrow.
CANADIANS:
Anna Goodman will start 23 which gives her a great chance to score deeper into the top 15. Anna was 24th in Aspen last season and had a great finish in Levi, finishing 16th. I like her chances to get her first top 10. Marie-Michele Gagnon starts 30 which is a great break for her. She was 14th in Levi and looks to build on that. Brigitte Acton will start 36 and also is coming off a good score in Levi in 17th. I love their chances in Aspen.
AMERICANS:
Lindey Vonn- She needs to and will bounce back tomorrow in slalom. She might be a Downhiller now but she grew up at Buck Hill, MN and knows her slalom. I am sure she will have her skis dialled and will compete for the podium again.
Hailey Duke- She will start 27 and have a shot at scoring some more points. She is a very solid skier in slalom and is coming back from an ankle injury in the fall. But she was 21st in Levi and 21st last year in Aspen.
Sterling Grant- Sterling starts 35 and she was 29th in Aspen last year.
All the other girls are going to start very late and Kaylin will have to repeat her huge move-up from Levi to get anything done. Kaylin relies on momentum and confidence and she should have some good feelings going into Aspen. Mancuso starts 52, Schleper 53 and Kaylin Richardson 63. Julia Ford starts 55 in her first ever World Cup. Good luck Julia!
Others to watch:
Fanny Chmelar(GER) has moved into the top 15 and has a lot of momentum after a 9th place in Levi. Teammate Susanne Riesch is also on a roll and looked very strong on the injection here at Vail within the last week. I was also fortunate to see Sanni Leinonen(FIN) train this week. She starts 28 and she looked very fast but did have occasional probems on the injection. Michaela Kirchgasser(AUT) also looked excellent all week. Look for Nina Loeseth starting 29 and her little sister Mona starting 48 to do something big. The hill should hold up well and they were 20th and 14th respectively in Levi. Also watch Sophie Barthet and Federica Brignone, who had the races of their careers today. They start 58 and 70 tomorrow. I have no idea if they are good slalom skiers but if momentum and confidence mean anything they will be worth watching.
Podium guess? Schild, Riesch, Vonn.
I am heading to Aspen myself in the morning to watch the slalom along with Mission Ridge Ski Team athletes Brooke Wales and Clare Wise. Both of whom will be racing Nor Am GS at Aspen on Monday and Tuesday against many of the same girls you have been watching on TV or the internet today.
Thanks one last time to Ski Club Vail and Vail Resort. It could not have been any better. I hope it snows here soon, after I leave on the 3rd!
Click here to go to Alpine Race Consulting
Greg "Grande" Needell grew up ski racing at Stratton Mountain, Vermont. After graduating from SMS he skied for NCAA Division 1 St. Lawrence University in Canton, NY where he was co-captain in 1986. Greg returned to SMS to coach there for five years serving as the Head Women's Coach as well as the Head J2 Men's Coach. He then moved to Mission Ridge in Wenatchee, Washington in 1992 to become the Program Director and Head Coach of the Mission Ridge Ski Club. In 1997, Greg became the Head Coach at Mammoth Mountain, California.
In 2002 Needell was asked to join the U.S. Ski Team staff as a World Cup SL and GS coach. From 2002 to 2008 Needell helped lead the U.S. Ski Team Men to 43 wins, 105 podiums and 264 top ten finishes. Now at the helm of Alpine Race Consulting, Needell offers his knowledge and experience to clubs nationwide.