November 16, 2009
/
The World Cup according to Grande: Men in Levi, What was that?
Every once in a while you get one of those races that just does not turn out well. Maybe it's the snow, the course set, poor light and shadows, bad tactics by the athletes, bad advice from coaches? All or any of those things can happen. Sometimes it just doesn't look great as a product on TV and maybe the smartest guys made the podium today and not the purely fastest guys?
First, I have to address course setting. And I was not standing there on the hill so I do not know for sure, but the turn totals looked high and the second run was a little out of the range for this hill to run well. Christian Hoeflehner(AUT) set and his guy won so it is all ok there. But he lost two guys of his own in a section that took out a bunch of guys. Maybe that was the plan? The hill deemed too easy for the men so he set some tricky rhythm changes? I don't know the plan but the Austrians usually have one. But, in my mind, that hill runs best in the range from 57 to 61 turns, not 65. You can set it turny and with some room to carve and you get very close, fast and fun racing. Instead, it turned into a war of attrition. To me it looked too fast entering the pitch and for a turn or two after the break and then turned them a bit too much, too late on the pitch with not enough distance to recover if necessary. Lizeroux, Grange, Ligety, Cousineau, Myhrer and many more had major problems in the same section. They were a little late with the pressure there, like Hirscher and Matt, then trapped in the very aggressive snow in the already late groove, and were done.
But enough of that. When you get the information or see it on TV at the start, change your tactics. The run 1 leaders all get to see plenty of guys make mistakes. Get on the radio and call your coach in the area, or listen to what he is already saying, or just change what you want to do based on what you are seeing.
Herbst just skied within himself, used his lead over the people who had gone before. He put himself in the lead and let the others try to catch him. Kostelic did the same thing. Very smart, and then executed well, and finished 1-2.
I want to write about Mattias Hargin(SWE). He has only one gear, all out. And he paid a little in the section in question too. It will be interesting to see if he learns over time when he needs to give away a little line and make some good turns to get through a tricky section. Usually that takes more experience in the top 7 to establish that kind of confidence. The confidence that your speed is high enough to win as it is. And then usually it takes that confidence to recognize the issue, but then also the confidence to actually do it in the heat of a slalom run. Tough stuff. He still turned in a great performance and should be very happy with the outcome.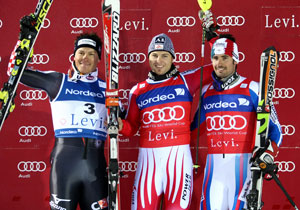 Some other things I saw. Jimmy Cochran(USA)- I was pretty happy to see him ski as well as he did. I think he skied technically better than I have even seen him recently. I hope he can fix those consistency issues a little further to make his move into the upper level once and for all.
Axel Baeck(SWE)- What can you say about him? The Swedes just seem to keep pushing new slalom guys into the show. He is the newest one and moved from 48 to 15! Good stuff.
Marc Gini(SUI)- A very strong performance from him. He started in the late 20s and finished in 10th. That type of hill is good for him, almost every time.
Lars Myhre(NOR)- He was great today. Sometimes he just has these moments of brilliance but rarely backs it up with another run or race. It will be very interesting to see if he can back it up next time.
I want to go on record to say that I jinxed the American boys. I rarely predict odd-ball wins like that. If a guy does not start in the top 7, I will rarely pick him to win. I just had one of those really good feelings about all the boys but it just didn't work out. I have done this before and should have learned my lesson. Ask Robi Kristan who tuned Bode's skis for a long time. We were in Adelboden in 2003 and riding up the tbar. I looked at him and told him "I have a good feeling about today!" He said, "Really? Awesome." We started 8 guys that day. Daron finished 22nd. Schlopy fell on run 2, 2 guys did not qualify, and 4 fell on the first run. So I should know better about my "good feelings."
Click here to go to Alpine Race Consulting
Greg "Grande" Needell grew up ski racing at Stratton Mountain, Vermont. After graduating from SMS he skied for NCAA Division 1 St. Lawrence University in Canton, NY where he was co-captain in 1986. Greg returned to SMS to coach there for five years serving as the Head Women's Coach as well as the Head J2 Men's Coach. He then moved to Mission Ridge in Wenatchee, Washington in 1992 to become the Program Director and Head Coach of the Mission Ridge Ski Club. In 1997, Greg became the Head Coach at Mammoth Mountain, California.
In 2002 Needell was asked to join the U.S. Ski Team staff as a World Cup SL and GS coach. From 2002 to 2008 Needell helped lead the U.S. Ski Team Men to 43 wins, 105 podiums and 264 top ten finishes. Now at the helm of Alpine Race Consulting, Needell offers his knowledge and experience to clubs nationwide.
Click here for "The World Cup According to Grande" archive.
Levi Podium image by Gepa