November 18, 2009
/
The World Cup according to Grande: Lake Louise snow check approved
Men's World Cup DH is the coolest thing on earth. The start is almost always at the top of a ski area, and ends at the bottom. At the top there are amazing views. In between there are turns, rolls, flats, jumps, sidehills. Whatever you can think of. It is the ultimate challenge. Fastest to the bottom wins, end of story. It's like when I was a kid growing up at Stratton and we would all line up on Sunday afternoon at the top of the ski area and race to the bottom down Wanderer…or even better, Work Road/Wanderer. It was flat but fun and had some jumps and a lot of tucking. Just legs burning at the bottom trying to get your skis as flat as possible. So much fun trying….and winning. It's the same thing for the big boys on the World Cup and it all starts in 11 days in Lake Louise.
The area around Lake Louise is absolutely beautiful. Huge peaks, enormous trees and solitude. It is truly breathtaking. The World Cup is housed in the Chateau Lake Louise which compliments the surroundings. I took my family there during the races last season and they had a ball hiking and skiing and checking out the pioneer-era history of the area.
With Lake Louise passing their snow check today, the game is on. World Cup DH is only 11 days away. Lake Louise has three training runs, the men will be heading there soon.
The track at Lake Louise is widely considered very easy by Men's World Cup standards. And I would agree with that opinion if you base downhill only on guts. It is not only about that in Lake Louise. It is still a fast track with a lot of terrain, tricky turn sections, tactical adjustments as well as some jumping. You can be the ballsiest downhiller in the world and not win in Lake Louise. All the skills are tested. Guts, gliding, turning skills, tactical awareness,jumping. It is a strong and fun opener. A lot plays into it. The flat light of late November, stormy winds, the cold canadian weather. The three training runs themselves can take a mental and physical toll. I saw Andrew Weibrecht, at the end of a potentially top 15 run, totally bonk on a dead-flat straight glide section above Claire's Corner and almost hit the fence. He corrected and held it together but ended up outside the points. I can only point to stress and fatigue from the three trainers for the cause.
The hill opens with a straight shot schuss down the start chute onto a flat with a little compression. Then it bends to the right with some rolling terrain in a very narrow section. It breaks over into the super G start and down another steep shot with very little swing. Another compression bending to the left into an open meadow and on to the steeper, turnier sections. Add an off-kilter, left-footed take off jump and the technical prowess and tactical awareness come into play. Then the downhiller's downhill begins again. Big sweeping turns down a good pitch through a compression and into a narrow flat chute. Just pinning it as hard as possible. The trail bends to the left and then another straight shot crossing under the lift and into Claire's. This is where I saw Weibrecht sit on his bindings. Then Claire's, which is a turn to the right where you need to get way out near the fence as you are carrying good heat and finish your turn early enough to stay on line. There is another big roll/jump just below Claire's. Then a highway to the finish.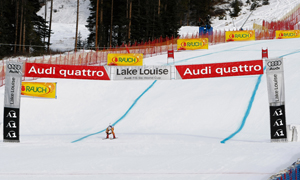 This section near the bottom is typical of Lake Louise. It is not visibly intimidating but there are tricks everywhere. If you don't have a good mental grasp of the plan, and/or you don't execute the plan you leave there with an empty feeling. A feeling of what should have been. This race has left a lot of excellent racers scratching their heads.
I am currently in Vail training with the Mission Ridge Ski Team, my home club. The training is fantastic and I would like to thank Ski Club Vail and Vail Resort for having us here. It could not be better!
Click here to go to Alpine Race Consulting
Greg "Grande" Needell grew up ski racing at Stratton Mountain, Vermont. After graduating from SMS he skied for NCAA Division 1 St. Lawrence University in Canton, NY where he was co-captain in 1986. Greg returned to SMS to coach there for five years serving as the Head Women's Coach as well as the Head J2 Men's Coach. He then moved to Mission Ridge in Wenatchee, Washington in 1992 to become the Program Director and Head Coach of the Mission Ridge Ski Club. In 1997, Greg became the Head Coach at Mammoth Mountain, California.
In 2002 Needell was asked to join the U.S. Ski Team staff as a World Cup SL and GS coach. From 2002 to 2008 Needell helped lead the U.S. Ski Team Men to 43 wins, 105 podiums and 264 top ten finishes. Now at the helm of Alpine Race Consulting, Needell offers his knowledge and experience to clubs nationwide.