August 22, 2010
/
The World Cup According to Grande: La Parva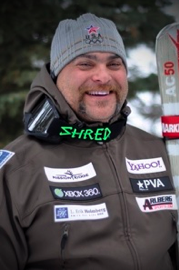 La Parva
Nine days ago, I got on a plane in Seattle and after a stop in Atlanta, landed at 7:35 AM in Santiago de Chile. With 11 Western Region athletes and 2 other coaches, we headed for La Parva. Not far from Santiago, it is one of the most convenient training scenarios of Southern Hemisphere training. In the same neighborhood with El Colorado and Valle Nevado, La Parva boasts a great speed track with a couple of awesome training jumps and enough room to stretch out the turns.
We rolled in to the ski area and checked in to our condos. We set up the ski room, got the gates ready and had the kids get a little work-out in to get the kinks out. Then we had dinner at La Marmita and our first of 7 consecutive fantastic sunsets.
We went to work in the morning, moving the equipment into place. We checked snow depth on all the trails we might ski on and looked at safety issues on the speed track. We made plans for building jumps before meeting the athletes at 10:30 to do some drills after they had a chance to explore the ski area and get an idea how to get around. Then we are back to Marmita at lunch and a little more skiing before knocking off for the day and getting ready to do a little jump practice off the smaller jump with some free-ski glide turn and hand position work.
After 3 SG sessions, 2 DH sessions, 3 GS sessions and 2 free ski days, we were ready for a day-off. 7 days on in a row is not normal, but it is good to not have to fight the crowds at La Parva on the weekend. So the WEST group did 7 days on snow, carefully monitoring the volume and fatigue levels. And now we have 2 days off down at sea level in the Vina del Mar area. After sleeping at about 9000 feet and training as high as 12,500, it is very nice to be able to breathe deeply and get oxygen! We will do 2 days here in Vina and then head back up for 5 more days and a chance to finish an already fantastic camp with more of the same.
All of the athletes have been doing a fantastic job with all aspects of camp. We have been very impressed with the obvious improvement from everyone in all areas on the hill. And while La Parva does not have a ton of snow, they have enough to get the job done, and they are moving snow around to make it happen. Clare Wise, Tara Hines, Courtney Altringer, Paige Minana, Jordan Schweitzer, Kyle Coxon, Alec Jones, Tyler Horton, Austin Dean, Ritch Carr and Averill Rennie…Great job so far and keep up the good work!
Middlebury College and the Park City Ski Team are here, so is Rowmark. The Aspen Valley Ski Club was leaving as we arrived and there is a group from Sunshine, Alberta as well. All things have been very easy to work out with regard to training space and plans. But now the European national teams are arriving and the space will be at a premium. With a French squad coming in along with the Germans and Slovenians, it will get tight and it will get stressful for the coaches battling for what they want and paring it down to what they NEED so everyone can get quality training.
Click here to go to Alpine Race Consulting
Greg "Grande" Needell grew up ski racing at Stratton Mountain,
Vermont. After graduating from SMS he skied for NCAA Division 1 St.
Lawrence University in Canton, NY where he was co-captain in 1986. Greg
returned to SMS to coach there for five years serving as the Head
Women's Coach as well as the Head J2 Men's Coach. He then moved to
Mission Ridge in Wenatchee, Washington in 1992 to become the Program
Director and Head Coach of the Mission Ridge Ski Club. In 1997, Greg
became the Head Coach at Mammoth Mountain, California.
In 2002 Needell was asked to join the U.S. Ski Team staff as a World
Cup SL and GS coach. From 2002 to 2008 Needell helped lead the U.S. Ski
Team Men to 43 wins, 105 podiums and 264 top ten finishes. Now at the
helm of Alpine Race Consulting, Needell offers his knowledge and
experience to clubs nationwide.