June 10, 2010
/
The World Cup According to Grande: June News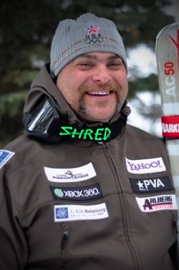 COMMENTS ON THE LATEST NEWS
Sorry for the extended time away from the computer keys. But I needed a break and needed some news to break to be motivated to comment. I spent 10 days in Mammoth in wintry conditions and mostly winter snow to ski on. It was a great camp and if you get a chance to ski there prior to their closing date of July 4, you should get it done. Thanks to the Mammoth Race Department, Mammoth Ski Team and of course the grooming department for all you did to make our camp a success.
There are so many good little pieces of news to comment on right now. We have Sandrine Aubert jumping ship from the French team and heading out on her own. I have some first-hand experience with this and I have do have something to say. The Vail/Beaver Creek bid for the 2015 World Championships was a success. Bringing the prestigious event back to the USA and giving us all a chance to watch live ski racing in the USA, I hope. One of the more interesting developments will be the dual format in Munich and also the season opening with a Team Event in Soelden. This one really piques my interest as I would HATE it if I were trying to prep my team for the GS on Saturday or Sunday.
SANDRINE AUBERT
Sandrine Aubert, a strict slalom specialist from France, will go out on her own and separate from Equipe France with their blessing. She had not done much until she broke out two years ago on the slalom tour. She's won a few races and she is a good slalom skier. But I am not a big fan of the solo program. From an athlete perspective, it tends to put you in a situation where you are alone more than you would like to be. With only your staff there to interact with and often without your old teammates to talk to, commiserate with or to socialize with; it can get lonely.
I have watched friends and athletes go this route before with limited success. Kristina Koznick was on this type of program and she can tell you about the expense, the personal ups and downs, the positives and negatives. Bode could tell you too. But I think he would likely not talk about it too much. Some people choose to separate from their National teams for personal reasons. Some do it to get the specific training they think they need (like slalom specialists) and some people do it to prove a point. Sometimes it is all of the above. But Ski Racing reported that it will cost Sandrine 160,000 Euros to run her team. And granted, that sounds like a lot of cash. But ask Koz, or Bode what it cost them and I would bet it is far beyond 160k. I know that Sandrine is based in Europe and that saves a lot of money. But those others had cheap or free places to base out of in Europe. Rent is a drop in the bucket. But I heard stories of 250k to 750k depending on who you were and how you wanted to live. But if you ask me, just her staff and staff expenses would cost at least 160,000 Euros. Regardless, it is a huge move by Sandrine and she will soon find out what it means to be on your own.
From a coaching standpoint, it is very difficult. You had better have a great relationship with your athlete. Coaching at that level is about managing the ego of a premier athlete while trying to create an atmosphere of work-ethic, analysis, innovation and improvement. Where do you go if your athlete becomes resistant to your coaching methods? What happens if she just decides you aren't telling her what she wants to hear? Chemistry can go away quickly. If she goes to Levi and fails, a DNF at Aspen (a high attrition hill) and then a slalom at Courchevel and a chance in the home country. But going into the Christmas season with less than stellar results can wear on a small team and the coaching staff has nowhere to turn. They have one horse to race. No back-up plan. She straddles on run 1 and the whole team is done for the day and that is a horrible feeling. I remember talking to Dan Stripp, John Mulligan, John McBride, Robi Kristan or Forest Carey on those days. They were not happy. I wish her the best of luck and I hope it works out for the best.
VAIL/BEAVER CREEK
Congratulations to Vail and Beaver Creek for winning the race for the 2015 Alpine World Championships. With 2011 in Garmisch, 2013 in Schladming and 2015 in Vail, we are staring down the barrel at the 3 best venues for World Championships that we can possibly see. And they are all happening in a row. The FIS has done a good job in choosing World Championship venues over the past years with St. Moritz, Bormio, Are and Val d'Isere in the past decade. All are major resorts with excellent race venues. It was interesting being in all of those venues and seeing how it went down. St. Moritz was a sellout crowd. 20,000 people at every race, big crowds at the awards shows. It felt big. Bormio was solid but mostly on the weekend races. And the 2005 Men's GS race was marred by a cancelation driven by a camera-man strike in Italy. In 2007 we went to Are, Sweden. And I have to say I absolutely love it there. But Are is far away from everything and the ski racing world of central Europe. So the crowds were generally small. Put the very cold weather and fog in play and some of the crowds were non-existent. But I loved those races nonetheless. And in 2009, Val d'Isere put on a great show. I know I have been critical of the race hill there. And that opinion will not change. But Val d'Isere brought in huge crowds and put on a first-rate show. It was fantastic and it was proven why it is a famous resort. And now we head into these 3 venues through 2015.
Garmisch is a big town in the Alps. Not far from Munich and very close to Innsbruck. The crowds should be huge and the town will embrace the whole show. A real downhill track and a stadium slalom hill. It should be a great show this winter. Then comes Schladming in 2013. An unreal slalom hill, an historic speed venue and a very tough GS will highlight the show. And with the heart of Steiermark running the venue, you can bet on gigantic crowds, insane Austrian patriotism and just one of the best atmospheres you can ever hope for. And in 2015, we get Vail/Beaver Creek. The race organization is unparalleled, the race hills among the best in the world. From a USST Men's Team perspective, you cannot ask for anything better than Birds of Prey for a World Championship venue.
Congratulations to all involved with the bid and I cannot wait to see it happen. Do you think we might get to watch live ski racing in the USA for 2 weeks in 2015? Maybe ESPN will bid on it?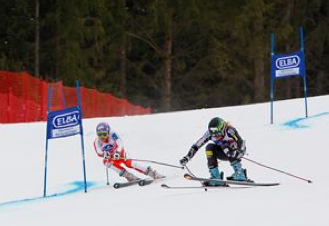 SOELDEN TEAM EVENT AND MUNICH PARALLEL
I know what the FIS wants. They want to create more interest, they want to create an event that they can take to the IOC and get another medal event at the Olympics. The more medals awarded, the more time on TV, the more chance to promote the sport through the Olympic movement. I get it. But I do not understand the Team Event. I never have. I have coached at the Team Event a number of times and found it less than compelling. The scoring is difficult to understand. The event has very little flow when watching it on TV. I have a lot of friends in Europe who are knowledgeable racing fans and they don't understand it and don't like it. Now they don't watch it. And if you cannot draw the most hard-core fans to the TV set to watch it, then who is watching it? I know, more star power on TV, etc. But there are many times when the big stars opt out of the Team Event. Bode has opted out at times, as have Lindsey and Julia. They pulled out for legitimate reasons, but out of the event anyway. And now they are kicking off the season with the Team Event. It is in the way of the women's GS f
ree ski day. It disrupts the rhythm of the preparation for the GS in Soelden which is already difficult to truly be prepared for.
The GS in Soelden is a fantastic spectacle. It is a race with a big crowd and a lot of excitement. The town of Soelden and the Oetztal both embrace the races with gusto and put on a great show. It is early but everyone works hard to get ready for that one. You get to find out if your GS guys and girls are ready to go and then you get a month to either continue on course or re-vamp the training a bit. To me, the Team Event on the Friday before the races is just a wrench in the works that the teams need to work around. It will be interesting to see how each nation handles entries in the race. Will we race Lindsey and Julia? Bode (if he is still racing) and Ted? And while I like the parallel format better than the old format of SG and Slalom, it still lacks some punch if the best don't race. Last year we started Ted, Jimmy, Sarah and Stacey. And while there is nothing wrong with that line-up, which is not our best line-up. We all know it, and we can't change it if the best ranked athletes don't want in. And what of Soelden as a venue choice to unveil this in a regular World Cup season? They will likely run the event on the bottom of the Soelden GS hill which is very, very flat. This benefits a specific group of athletes. And what if we, or any other nation, don't bring all of our athletes to Soelden?
The obvious reason that the FIS has chosen this particular situation is that it is MORE likely that the stars will race BECAUSE they will get a few more runs on the bottom of the race hill. And that brings another issue to light. The 4th, 5th and 6th starters, etc. in the GS race for each nation will not have this advantage of running on the race hill, leaving the group of athletes struggling to qualify for run 2 at an even bigger disadvantage.
MUNICH PARALLEL
I love this idea. Munich is centrally located. The German TV viewing public is the key to FIS World Cup skiing staying in prime television slots in Europe. We need those viewers and ratings, no doubt. The exhibition in downtown Munich is great and much more convenient than Moscow. My only problem I have with this is awarding Overall World Cup points for the race and even worse, awarding 15 points to the top 16 slalom athletes for just showing up. If I were Cuche and Lara Gut and trying to win the big globe, I would be irate that Lindsey, Maria, Ivica and Benni will get 15 points just for showing up! Just put big prize money up and put it on TV. It is a made for TV show, not a real ski race. Treat it as such. It is a great promotional idea and go after it, just don't award any World Cup points.
ALPINE RACE CONSULTING
As of today, the ARC Fundamental Clinics in June are closed for registration. July is still available as are any custom program clinics to be planned. Please check out the schedule at www.alpineraceconsulting.com. Thanks for reading and keep checking in!
Click here to go to Alpine Race Consulting
Greg "Grande" Needell grew up ski racing at Stratton Mountain, Vermont. After graduating from SMS he skied for NCAA Division 1 St. Lawrence University in Canton, NY where he was co-captain in 1986. Greg returned to SMS to coach there for five years serving as the Head Women's Coach as well as the Head J2 Men's Coach. He then moved to Mission Ridge in Wenatchee, Washington in 1992 to become the Program Director and Head Coach of the Mission Ridge Ski Club. In 1997, Greg became the Head Coach at Mammoth Mountain, California.
In 2002 Needell was asked to join the U.S. Ski Team staff as a World Cup SL and GS coach. From 2002 to 2008 Needell helped lead the U.S. Ski Team Men to 43 wins, 105 podiums and 264 top ten finishes. Now at the helm of Alpine Race Consulting, Needell offers his knowledge and experience to clubs nationwide.