July 12, 2010
/
The World Cup According to Grande: Getting ready for a hard freeze at Hood!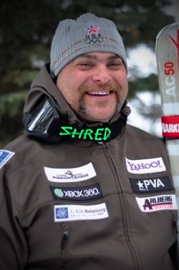 As we enter our 3rd day of skiing at www.pvalpine.com the temperature is supposed to drop a bit and we should see some hard snow. It'll be nice to reduce the salt-tossing and focus on doing some work on their skiing; to truly try to progress rather than only keeping it as skiable as possible.
There is a lot of a big business going on out here: Fuxi has his place, SRD, all the camps, Mt. Hood Alpine Race Center, run by Bob Olsen is doing great boot work. Speedy continues to beat prices. And with all of that, the World Cup Dreams Foundation has their annual summer fundraiser coming up.
July 16-18 this summer will be the dates of their fundraiser at Hood. I need a little soapbox for this foundation because I believe in what they do.
First and maybe foremost, they spearheaded a project to get insurance coverage for the USST athletes for disability in the event of a career ending injury! This is their hard work and your dollars at work to help get everything an athlete needs to succeed.
In addition, and most people do not know this, NOT all US Ski Team athletes are fully funded to compete and train. And over the years that number has lessened. When I first went to work for the World Cup Team, we named 30 fully-funded men to the team NOT including the D team. Now that number is down to 20 with less than 100% fully funded. The World Cup Dreams Foundation donations help FUND those athletes.
Todd Lodwick, as an example, would never have reached the heights he did in Nordic Combined without World Cup Dreams. Caroline Lalive was helped, as was Jake Zamansky. This year, the foundation fundraiser at Mt Hood will be attended by: Hailey Duke, Kevin Francis, Keely Kelleher, Scott Macartney, Dane Spencer, Alice McKennis, Laurenne Ross, Leanne Smith and Jake Zamansky. It is a great time and a wonderful cause. Please sign up at http://www.worldcupdreams.org.
Click here to go to
Alpine Race Consulting
Greg "Grande" Needell grew up ski racing at Stratton Mountain,
Vermont. After graduating from SMS he skied for NCAA Division 1 St.
Lawrence University in Canton, NY where he was co-captain in 1986. Greg
returned to SMS to coach there for five years serving as the Head
Women's Coach as well as the Head J2 Men's Coach. He then moved to
Mission Ridge in Wenatchee, Washington in 1992 to become the Program
Director and Head Coach of the Mission Ridge Ski Club. In 1997, Greg
became the Head Coach at Mammoth Mountain, California.
In 2002 Needell was asked to join the U.S. Ski Team staff as a World
Cup SL and GS coach. From 2002 to 2008 Needell helped lead the U.S. Ski
Team Men to 43 wins, 105 podiums and 264 top ten finishes. Now at the
helm of Alpine Race Consulting, Needell offers his knowledge and
experience to clubs nationwide.