November 12, 2010
/
The World Cup According to Grande: Fantasy Ski Racer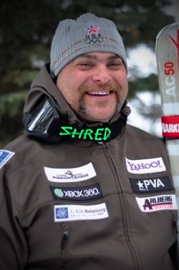 U.S. World Cup Downhiller, Steven Nyman and his brother Michael have launched a fantasy ski racing site called www.fantasyskiracer.com and will provide a platform for playing the alpine World Cup just like people do with football and other main-stream sports. Steven and I have agreed that I would provide guidance on a weekly basis on my site, linked to Fantasy Ski Racer. The site has great up side and I think it can take-off and provide good-natured fun in a league format for all of us skiing junkies.
From what I understand, there will be input from other athletes on the World Cup for you to use as a research base and make your predictions. It is a very simple format with a drag and drop into the top 10 by finish predicted finish position. The scoring allows you to gain more points for a long-shot type prediction and more points for exact placements, etcetera. The Beta test goes off this weekend with Levi and will launch into a full-time league experience with the men's race in Lake Louise and the women in Aspen.
Without further ado, I will give you my advice for women's Levi race and see how it goes. There are some things you need to take into consideration about the hill in Levi as well as other factors.
1. Take into account that there is about 35 seconds of flat on this hill. 20 seconds right out of the start so good starters, good flat skiers and bigger women are the way to go.
2. The snow tends to be very hard and injected. Cold weather and cold snow also increase friction, which again gives the bigger athletes an advantage.
3. Don't bother with Zettel or Karbon as they are out with injuries. Zettel's hip is still bad and Denise had meniscus surgery the other day, which should delay her return until after the North American swing. I would also not bet on Anne-Sophie Barthet as she had an MRI on her back after Soelden. And while she feels ok now and is going to Levi, it would make me nervous to make her a top-ten pick due to lost training time and the possibility of pain returning.
So where do we go? Do you go with Lindsey who has a great history on the hill but almost dropped out of the top 15 last year? What about Maria Riesch? She won last year and also has done well in Levi over the years. I think with the hard snow and the flatter hill helping the bigger girls, you go with any skier who has good skills and is big. So that means you pick Maria, Lindsey, Tanja Poutiainen, Marlies Schild and Sandrine Aubert in some order in the top five. I would not be surprised to see Tanja win at home. Also look for girls with a good track record in Levi who are also big. And I mean tall and strong. That means you need to find room for Susanne Riesch and Fanny Chmelar somewhere in your top 10. That leaves three more spots in the top 10. I think you go for a Swede, either Therese Borssen or Maria Pietilae-Holmner. Also possibly Manu Moelgg (ITA) and Michaela Kirchgasser (AUT). She has done well in Levi in the past and seems to be ready to go in the early season every year. One other outside shot to look at would be Nicole Hosp (AUT) in her comeback.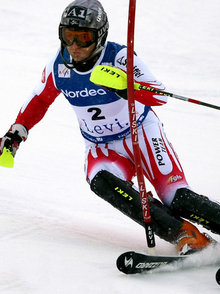 For the guys, I would say there are a lot of interesting choices and I think you would have to go with a slalom specialist like Herbst, especially with his coach setting. I would not count Pranger out or Hirscher. But I think Raich struggles here as does Matt so I see three Austrians in the top 10. Herbst wins, Pranger and Raich will hang around the top 10, or Hirscher. But I think one of those four will ski out by pushing the line too hard; so three of them in the top 10 with Herbst winning. Other guys to look at are Grange on a comeback from injury, which I think will set him back for a few more starts. I think Lizeroux could make a splash. Absolutely look for Felix Neureuther on a great hill for him. Hargin will charge this hill and can easily be in your top five, as can Kostelic. My outside shot at the top 10 will be Andre Myhrer and Lars Elton Myhre from Norway. And watch out for the return of Kalle Palander at home in Finland! He will be excited and pushed by the home crowd.
Log on to www.fantasyskiracer.com and open an account and make your picks! It should be fun.
Click here to go to Alpine Race Consulting
Greg "Grande" Needell grew up ski racing at Stratton Mountain,
Vermont. After graduating from SMS he skied for NCAA Division 1 St.
Lawrence University in Canton, NY where he was co-captain in 1986. Greg
returned to SMS to coach there for five years serving as the Head
Women's Coach as well as the Head J2 Men's Coach. He then moved to
Mission Ridge in Wenatchee, Washington in 1992 to become the Program
Director and Head Coach of the Mission Ridge Ski Club. In 1997, Greg
became the Head Coach at Mammoth Mountain, California.
In 2002 Needell was asked to join the U.S. Ski Team staff as a World
Cup SL and GS coach. From 2002 to 2008 Needell helped lead the U.S. Ski
Team Men to 43 wins, 105 podiums and 264 top ten finishes. Now at the
helm of Alpine Race Consulting, Needell offers his knowledge and
experience to clubs nationwide.