July 23, 2010
/
The World Cup According to Grande: The Darling of the ESPYS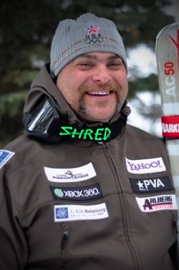 While I was in Mt. Hood last week finishing up another PV Alpine Session (www.pvalpine.com) and an ARC Clinic (www.alpineraceconsulting.com) a few things happened on the bigger stage with regard to our sport and specifically with our U.S. Ski Team alpine stars.
The training was solid at Hood once again last week. We were still skiing to the parking lot and training on Lower West. That is good news for August for everyone booked in as the days get a little shorter and the shade stretches across the Palmer Snowfield a little earlier. If we get some cooler temperatures, we could have some excellent morning snow on which to train.
And while we were there the Men's team had their Hockey Camp in Park City. It's a great activity for the guys in the middle of summer to get the athletes and the coaches together out on the ice for some good-natured competition, possibly along with a little hitting? I have seen the gloves drop between guys in the past; maybe some long-burning rivalry or just plain disdain. Sometimes the heat of the game ramps it up between a couple of guys trying to win a puck. I saw gloves drop in Val d'Isere at World Championships in 2009 between a Canadian coach and a service guy from one of the companies. No punches were thrown, no wrestling even. Just some shoving and yelling. It's good. It gets the bad out. It gets the blood flowing. It gets the boys and coaches together on a little deeper level than when they started out. In short it is a difficult camp that the boys all love to attend. The only thing that is ever negative about it is if someone does not attend for any reason. If it seems like the excuse is thin or lame, it can drive a wedge between that person and the rest of the team. It usually does not last long, but when someone does not attend, it simply translates to an opportunity missed to be able to work together on a closer level.
Also happening last week was Stacey Cook's Sierra Club sponsored tour of the Gulf Coast Oil Spill and the damage done to the area. As I have stated many times in these pages, I had the pleasure of coaching Stacey at Mammoth prior to her making the National Team. She always put forth her greatest effort, even when she felt like she couldn't. Because she knew that what was at the end of the road was what she wanted, and still wants. She knew it could be a long road that would be relentless. And that she would need to be relentless as well. She toured the area with athletes like: Mike Richter of the New York Rangers, Ovie Mughelli of the Atlanta Falcons, pro tennis player Chandra Rubin and track star Loree Smith. All of these athletes are people who have worked hard for something they wanted and they know that it came from deep inside them. Some call it passion, some call it work ethic, and some call it heart. It is all of those things rolled into one but sport is a self-centered pursuit. This kind of trip takes the same types of traits but externally directed to bring attention to something bigger than all of us that begs to be taken care of. The Gulf Region already had to endure and rebound from the hurricanes of a few years ago, and now they have to bounce back from this. Heart, passion and work ethic is being tested at the highest of levels in that area. And they need to do it as a whole, as a region and as a people. And we need to do it as a nation. One nation…Thanks to Stacey to bringing it into our world, we need to respond.
And on a lighter note, but no less impressive, Lindsey Vonn won not one but two ESPY Awards last week. Alpine Ski Racers do not normally win this award. It is a popularity award, voted on by fans all over the world but mostly in this country. Lindsey and Bode have been nominated over and over again. And our little world gets on-line and burn our fingers trying to vote for OUR athletes. But we are a drop in the bucket. What do we add up to, 20,000 votes? So why even bring it up? And why do we care?
I can tell you that I care because for the last 8-10 years our sport from top to bottom have been looking to Bode Miller to be the one to cross us over to the mainstream. And for a brief moment there in 2004 or so it looked like it just might happen. But in the last few seasons, we have seen the rise of Lindsey Vonn. Not just of an athlete in her prime kicking everyone's butts. We are watching a woman grow up in front of our eyes and make a lot of people outside of our sport stand up and notice. She is attractive, she is not afraid of herself, she is confident and cool. She makes off-hand comments to Jay Leno, down home wisecracks to Jamie Foxx, and works the audience. She appeared in Sports Illustrated Swimsuit issue (which hit the stands during the Olympics) and graced the cover of that magazine twice. She appeared on the ESPY show looking stunning and called Mark Wahlberg "Markie Mark" which was said in her usual down-home surprise with the Minnesota accent. She is a juggernaut and we should all take a moment to appreciate what we are seeing. She is a young woman in the prime of her career, in control of her destiny, who seems like she is on auto-pilot.
Good luck always Lins and put the hurt on them this winter again. Keep that high-heel firmly on the accelerator.
Click here to go to Alpine Race Consulting
Greg "Grande" Needell grew up ski racing at Stratton Mountain,
Vermont. After graduating from SMS he skied for NCAA Division 1 St.
Lawrence University in Canton, NY where he was co-captain in 1986. Greg
returned to SMS to coach there for five years serving as the Head
Women's Coach as well as the Head J2 Men's Coach. He then moved to
Mission Ridge in Wenatchee, Washington in 1992 to become the Program
Director and Head Coach of the Mission Ridge Ski Club. In 1997, Greg
became the Head Coach at Mammoth Mountain, California.
In 2002 Needell was asked to join the U.S. Ski Team staff as a World
Cup SL and GS coach. From 2002 to 2008 Needell helped lead the U.S. Ski
Team Men to 43 wins, 105 podiums and 264 top ten finishes. Now at the
helm of Alpine Race Consulting, Needell offers his knowledge and
experience to clubs nationwide.