October 24, 2013
/
Women's race preview: Soelden starters set to go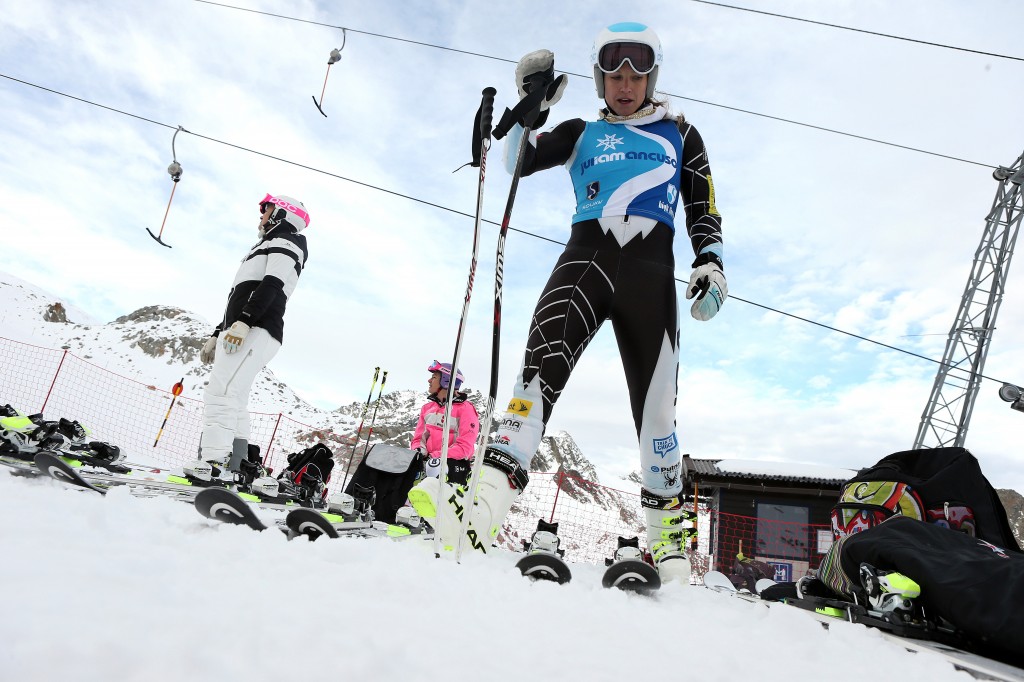 In the days leading up the women's World Cup opener in Soelden, the racers are all asking themselves the same thing: How fast am I really skiing?
"You never really know how fast you are until the race actually starts, until you get to the finish and see where you stack up," said American Mikaela Shiffrin, who will be kicking out of the Soelden start house for just the second time in her career on Saturday. "That's what makes this race so exciting. That's also what makes this race really nerve-racking. But right now, I feel really good. I feel comfortable on my GS skis."
Shiffrin is joined on the giant slalom start list by Americans Julia Mancuso and Megan McJames. Canada's Marie-Michèle Gagnon, Marie-Pier Préfontaine and Erin Mielzynski round out the North American representation. After teasing the media for weeks that she might race, Lindsey Vonn hopped a plane back to North American on Wednesday.
"While I physically feel great, I have decided to not race this weekend and instead will focus on returning in Beaver Creek," said Vonn. "I am confident the extra month of training will ultimately put me in the best position to have a successful season."
In her Soelden debut last season, Shiffrin failed to qualify for the second run by a mere hundredth of a second. It likely added some fuel to the fire for the 18-year-old who went on to win a World Championship gold medal and capture the season slalom title. This year, Shiffrin is on the hunt to match her success in slalom with similar results in GS.
Soelden is a good place to start.
"My giant slalom is really starting to take off and I'm making huge improvements in figuring some stuff out with equipment and how my boots and skis work together," Shiffrin told Ski Racing in the offseason. "I love GS. Five years ago I was better at GS than I was at slalom. I know that I'm a good GS skier, but slalom was just what clicked in my mind first."
Shiffrin's best career result in GS came at the World Championships, where she finished sixth. She also has a few World Cup top tens under her belt. But perhaps most telling is her performance in the second runs of these races, on several occasions finishing with a single-run time within the top three, even clocking the fastest second run in Courchevel last winter.
Julia Mancuso is also looking to build some early momentum heading into the Olympic season, and she spent the summer dialing in her setup. The 29-year-old finished second in Soelden in 2007, but hasn't otherwise cracked into the single digits at the World Cup opener.
"I feel good. You never really know how it's going to go. I think a can ski fast. I'm not expecting a win, but you never know what can happen," Mancuso said with a laugh.
Also representing the Red, White and Blue, Megan McJames is back on the scene after a stellar season on the NorAm circuit where she won the overall title and earned a start on the World Cup tour this winter. The former U.S. Ski Team member, who is now racing independently, has reportedly been training fast alongside the young gun Shiffrin. This will be McJames' sixth Soelden appearance; while she's failed to qualify for second run in four previous races, in 2008 she was the best American after Vonn and finished 14th.
"I worked hard this summer to prepare myself and my program for the winter," said McJames. "(I'm) looking forward to the race. I am excited to get the season started and feel happy to be a part of World Cup racing for another season."
If this October is anything like last, it could mean a good result for 24-year-old Québécois Gagnon, who was the fastest North American at the Soelden opener last year; she finished sixth, which turned out to be her best GS result of the season.
"I am just super excited to race, really that's what I love the most about skiing," said Gagnon. "I love the elevated heart rate in the start, the atmosphere, the 'good' stress, the exhilaration of a good performance, the feeling of ripping in the course, and the loud European crowds.… I feel like I've had a great prep this summer. I'm healthy and strong. My skiing has progressed a lot over the summer, and I'm stoked to go try it on Soelden, one of my favorite hills to race on."
Certainly, all eyes will be on the 2013 World Cup overall champ Tina Maze, who last season got things rolling with a win at Soelden, the first in a four-race GS winning streak for the Slovenian. Maze is optimistic that she can match her record-setting success of last winter this season, admitting however, Sochi is the priority.
"The Olympics is the ultimate goal for this season," Maze said through the aid of a translator. "This is an important race for me now, and it's still a bit too early to focus on that. But (the Olympics) is certainly the most important race. I think that Olympic gold is the greatest achievement. During the World Cup, there are 40 races, you cannot compare it."
Photo: Julia Mancuso prepares for training in Soelden (credit: GEPA/Andreas Pranter)