November 25, 2010
/
Wind cancels 2nd training run at Lake Louise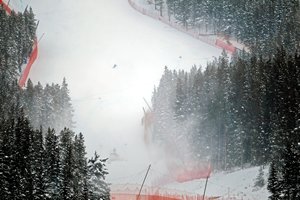 The second training run ahead of the Bombardier presents Lake Louise Winterstart World Cup races was canceled today (Nov. 25) by winds gusting over 100km per hour.
The unpredictable winds made the track unsafe and unfair for all the racers. Darrell MacLachlan, Chief of race, decided to pull the plug.
"It was really windy outside, it was gusty winds. We checked with a number of our weather services and the systems were coming rapidly at us with wind gust up to 140 km/h," said MacLachlan. "We couldn't have the racers go down the race course, it was a matter of safety. The wind gusts were unpredictable and we needed to make sure that we could provide a fair race for everyone and that wasn't the case today."
"Tomorrow the system will be improving and there will certainly be a better chance to hold training," added MacLachlan.
Friday (Nov. 26), weather permitting, will be the final downhill training run before the official speed season kicks off Saturday with the first downhill race following by a super-G race on Sunday at Bombardier Lake Louise Winterstart.