December 17, 2010
/
Walchhofer wins Val Gardena super G, Guay third for Canada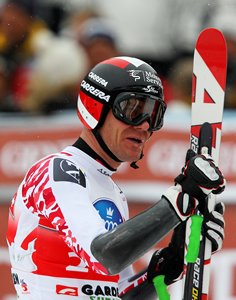 Michael Walchhofer had won twice before in super G, and one of those was at Val Gardena. But this win, six years after his first SG win on the track in 2004, was an unexpected kiss for his farewell tour.
Walchhofer dominated the field on a slick Saslong track and in a light snowfall with a .67 of a second margin over German Stephan Keppler, left still looking for his first Cup win but reveling in making his first podium.
Defending World Cup super G champion Erik Guay was third, his first venture into a top 10 this season, keeping him in sight of the tour leaders.
Guay said the course was "good firm snow," adding that it started snowing, "about 15 (starters) which didn't effect me that much but I think it slowed things down for the later skiers. Visibility wasn't great, but they put a lot of color on the course."
He said the result might have been better but entering the Mauer, "…it's a blind gate and I aimed for the outside gate and not the inside. That may have cost me."
Walchhofer credited a relaxed attitude for helping him with the success he has already experienced this season. He said his exit of the Ciaslat was "really perfect," and immediately set his sites on winning the Val Gardena downhill on Saturday (Dec. 18).
It was the fourth win for Walchhofer at Val Gardena, matching him with Franz Klammer and Kristian Ghedina for the record. A win in the downhill would give him that record alone.
Visibility continued to deteriorate throughout the race, but as gray as it was, the day was still a good one for the Austrians. Aside from Walchhofer the team got fourth from Benjamin Raich and fifth from Romed Baumann, plus two additional top 10 finishes from Klaus Kroell and Georg Streitberger.
Bode Miller again led the U.S. Team, but again not in the fashion he'd like. A critical error on course left him scrambling to regain his line and he dropped two seconds off Walchhofer's pace to finish 16th, just behind Canadian Manuel Osborne-Paradis. Marco Sullivan got his first point of the season in 30th. The rest of the U.S. squad was lodged between Steven Nyman in 40th and Andrew Weibrecht in 48th.
"Bode was putting the hammer down, really hard," said coach Sasha Rearick. "He wanted to go as hard as he could." Rearick said Miller got too tight on a delay gate at the Mauer section of the course. "It was just too aggressive for that situation and he just couldn't bring back."
That was a killer mistake as the Mauer leads to a flat before entering the Camel bumps. "Once he got back up to speed," Rearick said, "he skied really well."
The coach said Marco Sullivan has been improving every race, but still isn't where the coaches expect him to be. "He's committing more down the fall line and looking for speed which is good to see, but he's not skiing as fast as we know he can and will."
There were a handful of big name DNF's as Aksel Lund Svindal and Mario Scheiber missed gates and Canadian Robbie Dixon was also registered as did not finish. None appeared badly injured. "Just some bruises," said Svindal, who felt he would have had a podium result had be completed the race.
Walchhofer photos by GEPA

The SCOOP
by Hank McKee
Equipment
Men's super G, Val Gardena, Italy, Dec. 17, 2010
Skier, skis/boots/bindings
1 Walchhofer, Atomic/Atomic/Atomic
2 Keppler, Head/Head/Head
3 Guay, Atomic/Atomic/Atomic
4 Raich, Atomic/Atomic/Atomic
5 Baumann, Salomon/Salomon/Salomon
6 Zurbriggen, Rossignol/Lange/Rossignol
7 Heel, Head/Head/Head
8 Janka, Atomic/Atomic/Atomic
9 Streitberger, Fischer/Fischer/Fischer
10 Kroell, Salomon/Salomon/Salomon
Men's World Cup super G, Val Gardena, Italy, Dec. 17, 2010. … It is the 10th race on the original 38 race men's World Cup schedule. … It is the eighth race held with one cancellation and one postponed race. … It is the third of seven scheduled super G's. … It is the 70th World Cup event held at least in part at Val Gardena (including parallel slaloms and combineds). … It is the tenth Cup super G at the site. … The last four SG winners (Aksel Svindal '09, Werner Heel '08, Didier Cuche '07 and Bode Miller '06) are all participating.
It is the 17th career World Cup win for Michael Walchhofer. … His third in super G and second in super G at Val Gardena, the previous coming Dec. 17, 2004. … It is his fourth Cup win at Val Gardena. … It is his second win of the season, the other in DH at Lake Louise.
It is the first career World Cup podium for Stephen Keppler. … His previous best result had been eighth, scored once in DH at Lake Louise (Nov. 25, 2006) and once in super G at Val Gardena (Dec. 15, 2006).
It is the 14th career World Cup podium result for Erik Guay, his sixth in super G. … It is his second SG podium at Val Gardena having finished second in 2005.
Manuel Osborne-Paradis matches his fifth best career World cup SG result. … four of those six results have come in the current calendar year. … He has just one top 10 result, a win at Lake Louise in November 2009. … It is the 12th best World Cup result at Val Gardena for Bode Miller. … Francois Bourque matches his 17th best career Cup SG result. …. It is the 49th career scoring result for Marco Sullivan and his first of the season.
Walchhofer takes the lead of the World Cup overall standings 249-238 over Benjamin Raich (4th in race). … Aksel Lund Svindal (DNF) is third at 236. … Ted Ligety (did not race) is fourth overall with 221pts. … Erik Guay is top Canadian in 25th with 84pts. … Walchhofer leads the super G standings 149-147 over Georg Streitberger (9th in race). … Tobias Gruenenfelder (13th in race) is third at 130. … Guay is 12th with 77pts. … Bode Miller is top U.S. skier on the super G chart in 21st place with 37pts.
Austria extends its lead for the men's Nations Cup 1549-999 for Switzerland. … France is third at 608. … Canada holds sixth place with 386 and the U.S. seventh with 327pts.
Place
Val
Gardena-Groeden (ITA)
Discipline
Super G
Date
17.12.2010
Category
FIS World Cup
Race codex
0743
Gender
M
Valid for FIS Points
YES
TD Name
Gurzeler Thomas (SUI)
Rank
Bib
FIS Code
Name
Year
Nation
Total Time
FIS Points
1
21
50041
WALCHHOFER Michael
1975
AUT
1:34.35
0.00
2
7
201606
KEPPLER Stephan
1983
GER
1:35.02
7.53
3
20
102263
GUAY Erik
1981
CAN
1:35.16
9.10
4
9
50625
RAICH Benjamin
1978
AUT
1:35.32
10.90
5
1
51215
BAUMANN Romed
1986
AUT
1:35.58
13.82
6
28
510890
ZURBRIGGEN Silvan
1981
SUI
1:35.68
14.94
7
26
292514
HEEL Werner
1982
ITA
1:35.74
15.62
8
18
511313
JANKA Carlo
1986
SUI
1:35.76
15.84
9
11
50858
STREITBERGER Georg
1981
AUT
1:35.82
16.52
10
29
50753
KROELL Klaus
1980
AUT
1:35.85
16.85
11
16
510030
CUCHE Didier
1974
SUI
1:35.95
17.98
12
13
192746
THEAUX Adrien
1984
FRA
1:36.00
18.54
13
17
510747
GRUENENFELDER Tobias
1977
SUI
1:36.13
20.00
14
15
292455
FILL Peter
1982
ITA
1:36.26
21.46
15
14
102899
OSBORNE-PARADIS Manuel
1984
CAN
1:36.32
22.13
16
10
532431
MILLER Bode
1977
USA
1:36.45
23.59
17
24
500150
JAERBYN Patrik
1969
SWE
1:36.47
23.82
18
25
380260
KOSTELIC Ivica
1979
CRO
1:36.61
25.39
19
31
102814
BOURQUE Francois
1984
CAN
1:36.62
25.50
20
35
560447
SPORN Andrej
1981
SLO
1:36.65
25.84
21
45
191591
BERTRAND Yannick
1980
FRA
1:36.77
27.19
22
30
560332
JERMAN Andrej
1978
SLO
1:36.81
27.64
23
62
191740
CLAREY Johan
1981
FRA
1:36.87
28.31
24
27
290998
STAUDACHER Patrick
1980
ITA
1:36.88
28.42
25
50
293550
MARSAGLIA Matteo
1985
ITA
1:37.00
29.77
26
39
50600
GOERGL Stephan
1978
AUT
1:37.05
30.33
27
8
293006
INNERHOFER Christof
1984
ITA
1:37.07
30.56
28
52
511529
GISIN Marc
1988
SUI
1:37.09
30.78
29
4
421483
JANSRUD Kjetil
1985
NOR
1:37.13
31.23
30
6
533131
SULLIVAN Marco
1980
USA
1:37.26
32.69
31
49
291459
PARIS Dominik
1989
ITA
1:37.27
32.81
32
32
511352
VILETTA Sandro
1986
SUI
1:37.49
35.28
32
2
511139
KUENG Patrick
1984
SUI
1:37.49
35.28
34
41
561087
MARKIC Gasper
1986
SLO
1:37.68
37.41
35
57
201811
STECHERT Tobias
1985
GER
1:37.72
37.86
36
38
510498
ZUEGER Cornel
1981
SUI
1:37.73
37.97
37
46
510767
HOFFMANN Ambrosi
1977
SUI
1:37.74
38.09
38
61
200379
SANDER Andreas
1989
GER
1:37.83
39.10
39
33
191746
DE TESSIERES Gauthier
1981
FRA
1:37.84
39.21
40
56
533866
NYMAN Steven
1982
USA
1:37.88
39.66
41
36
102271
HUDEC Jan
1981
CAN
1:37.98
40.78
42
48
193034
BOUILLOT Alexandre
1985
FRA
1:38.10
42.13
43
53
294911
PATSCHEIDER Hagen
1988
ITA
1:38.12
42.36
44
60
534939
FISHER Erik
1985
USA
1:38.18
43.03
44
54
534289
FRANK Chris
1983
USA
1:38.18
43.03
46
47
103090
HELIE Louis-Pierre
1986
CAN
1:38.34
44.83
47
43
530874
GANONG Travis
1988
USA
1:38.36
45.05
48
3
530939
WEIBRECHT Andrew
1986
USA
1:38.47
46.29
49
40
220656
DRAKE Ed
1986
GBR
1:38.61
47.86
50
44
561085
KRIZAJ Andrej
1986
SLO
1:38.96
51.79
51
64
103271
THOMSEN Benjamin
1987
CAN
1:39.02
52.47
52
55
511142
LUEOEND Vitus
1984
SUI
1:39.28
55.39
53
58
910004
DEFLORIAN Mirko
1980
MDA
1:39.82
61.45
54
68
20324
OLIVERAS Marc
1991
AND
1:40.51
69.21
55
70
670037
ZAKURDAEV Igor
1987
KAZ
1:43.79
106.06
Did not start 1st run
37
150421
ZAHROBSKY Petr
1980
CZE
Did not finish 1st run
69
60159
VAN BUYNDER Frederik
1988
BEL
67
700724
BABUSIAK Jaroslav
1984
SVK
66
380298
SIROKI Tin
1987
CRO
65
491129
TERRA Ferran
1987
SPA
63
990081
CASSE Mattia
1990
ITA
59
380292
ZRNCIC-DIM Natko
1986
CRO
51
501076
OLSSON Hans
1984
SWE
42
51327
PUCHNER Joachim
1987
AUT
34
50833
GRUGGER Hans
1981
AUT
23
560406
GORZA Ales
1980
SLO
22
421328
SVINDAL Aksel Lund
1982
NOR
19
51005
SCHEIBER Mario
1983
AUT
12
50742
REICHELT Hannes
1980
AUT
5
102961
DIXON Robbie
1985
CAN