March 12, 2011
/
Walchhofer wins to take DH lead, Kostelic ices overall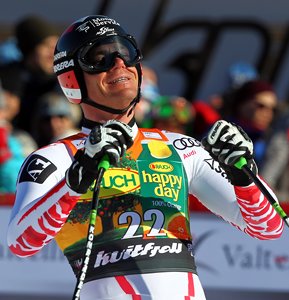 Michael Walchhofer will not go easily into retirement. The three time downhill champion is looking to add the fourth title in his final season of World Cup racing. In the next to last downhill at Kvitfjell, Norway Saturday (March 12), he collected the win and leapfrogged into the lead of the standings over Didier Cuche.
From the start house down Walchhofer led at each of five interval timing points to cement his 19th career win. It was his fourth win of the season, and third in downhill, but his first win of 2011. Though he started the season in a blaze he had not been on a podium since Bormio's downhill Dec. 29 until he got to Kvitfjell. Friday he finished third in a race that favored the early starters. Saturday the conditions remained consistent through the race and he displayed the best of his form. He was clocked over 84mph down the Olympiabakken speed track.
Walchhofer edged teammate Klaus Kroell and Friday's winner Beat Feuz for his 14th career downhill victory. With one race remaining he leads January's juggernaut Didier Cuche for the downhill title by 14points. Cuche finished seventh Saturday nearly a second off the pace and the fourth Swiss finisher on the day. Feuz was third, Patrick Kueng fifth and Carlo Janka sixth. Cuche was tied by the 52nd starter, Matteo Marsaglia of Italy.
Cuche was reeling from more than losing the standings lead after being fined 5000SF for a verbal attack on FIS officials for the condition of a jump on the course. Race Director Gunther Hujara said he no problem with fielding a complaint about the course, but said the manner in which Cuche presented his discontent was no acceptable.
For Walchhofer the course conditions were, "perfect, just perfect," and he joked he might stick around another season just to race at the site again. It was his first win at Kvitfjell.
He called the win "very casual," saying his skis had "the right bite," and that he skied in a "loose" or relaxed manner.
Kroell said he was "very satisfied," with his result after a pair of small errors high on the hill.
Canadian Erik Guay, second on Friday, led the North American racers in 12th with teammate Jan Hudec 15th. Steven Nyman led the U.S. squad in 20th.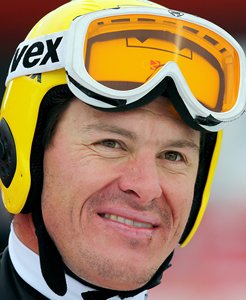 Finishing 21st was Croate Ivica Kostelic with just enough points to secure the World Cup overall title. With five races (worth 100pts a piece) remaining his margin over Cuche, his closest competitor is 518pts.
"Finally it is all even mathematically over," said Kostelic. "To secure a big Crystal Globe (the overall trophy) even five races before the end of the World Cup season, that is something really special for me. I am full of emotions right now. I want to thank all of my team for being beside me through the whole season. Surely this is an emotional day for all of us."
Among his "team" is sister Janica Kostelic, a three time winner of the overall trophy. Ivica has been in the top seven overall five previous seasons, but had never finished better than fourth.
Walchhofer&Kostelic photos by Gepa
The SCOOP
by Hank McKee
Men's World Cup downhill, Kvitfjell, Norway, March 12, 2011.
Equipment
Skier, skis/boots/bindings
1 Walchhofer, Atomic/Atomic/Atomic
2 Kroell, Salomon/Salomon/Salomon
3 Feuz, Salomon/Salomon/Salomon
4 Sporn, Elan//Elan
5 Kueng, Salomon/Salomon/Salomon
6 Janka, Atomic/Atomic/Atomic
7 Marsaglia, Rossignol/Rossignol/Rossignol
7 Cuche, Head/Head/Head
9 Jerman, Stoeckli/Lange/Atomic
10 Hoffmann, Nordica/Nordica/
Men's World Cup downhill, Kvitfjell, Norway, March 12, 2011… It is the 32nd race held of the men's 38 race schedule with one cancellation. … The second of three to be held at Kvitfjell. … There are five men's races remaining. … It is the eighth of nine scheduled downhills, the eighth to be held. … It is the 45th Cup race at Kvitfjell and 22nd downhill.
It is the 19th career World Cup win for Michael Walchhofer. … his 14th in downhill. … It is his first win at Kvitfjell but his fourth podium result at the site including a third place March 11. … It is his fourth win of the season, third in DH and first since Dec. 29 at Bormio.
It is the 11th career World Cup podium for Klaus Kroell. … 10th in DH. … It is his fourth career podium at Kvitfjell having won the 2009 DH and placing third in 2008 and 2010. … It is his third podium of the season including a win at Wengen and third at Chamonix.
It is the second career World Cup podium for Beat Feuz and second in two days having won Friday. … It is his sixth top 10 result this season including a ninth in DH at World Championships.
It is the 56th time Erik Guay has finished a World Cup race in the top 12. … 10 of those have come at Kvitfjell. … The result matches his fifth best of the season including the World Championship gold medal in DH. … It is the 14th time Jan Hudec has completed a World Cup race in 15th or better. … It is his third best finish of the season, the best scored at Kvitfjell March 11 (tenth). … It is the 30th time Steven Nyman has finished a World Cup race 20th or better. … the third time this season. … He was also 13th at World Championships in DH. … It is the 12th career World Cup scoring result for Erik Fisher. … His second this season and second in two days. … It is his best result this season.
Ivica Kostelic (21st in race) leads the World Cup overall standings 1324-806 (518pts) over Didier Cuche (7th in race) with five races remaining and cannot be beaten for the overall title. … Carlo Janka (6th in race) is third with 736pts. … Ted Ligety (46th in race) is the top American overall in eighth place with 588pts. … Erik Guay (12th in race) is top Canadian overall in 31st with 259pts. … Walchhofer takes over the lead of the downhill standings 474-460 (14pts) over Cuche with one race remaining. … Kroell is third with 395pts. … Only those three men can win the DH title. … Bode Miller (did not race) is the top U.S. skier on the downhill list in ninth with 190pts. … Guay is top Canadian in 15th with 158pts. … Austria leads the men's Nations Cup 5191-3751 over Switzerland. … France is third at 2777 and Italy fourth at 2736. … The US is sixth with 1457pts and Canada ninth with 1125pts.
Place
Kvitfjell
(NOR)
Discipline
Downhill
Date
12.03.2011
Category
FIS World Cup
Race codex
1196
Gender
M
Valid for FIS Points
YES
TD Name
Lang Roine (SWE)
Rank
Bib
FIS Code
Name
Year
Nation
Total Time
FIS Points
1
22
50041
WALCHHOFER Michael
1975
AUT
1:45.92
0.00
2
20
50753
KROELL Klaus
1980
AUT
1:46.05
1.63
3
13
511383
FEUZ Beat
1987
SUI
1:46.23
3.89
4
9
560447
SPORN Andrej
1981
SLO
1:46.48
7.03
5
8
511139
KUENG Patrick
1984
SUI
1:46.61
8.66
6
14
511313
JANKA Carlo
1986
SUI
1:46.66
9.29
7
52
293550
MARSAGLIA Matteo
1985
ITA
1:46.88
12.05
7
21
510030
CUCHE Didier
1974
SUI
1:46.88
12.05
9
11
560332
JERMAN Andrej
1978
SLO
1:46.94
12.81
10
23
510767
HOFFMANN Ambrosi
1977
SUI
1:47.00
13.56
11
7
192746
THEAUX Adrien
1984
FRA
1:47.04
14.06
12
18
102263
GUAY Erik
1981
CAN
1:47.07
14.44
13
10
293006
INNERHOFER Christof
1984
ITA
1:47.10
14.82
14
16
51215
BAUMANN Romed
1986
AUT
1:47.12
15.07
15
30
102271
HUDEC Jan
1981
CAN
1:47.13
15.19
15
29
191740
CLAREY Johan
1981
FRA
1:47.13
15.19
17
3
511529
GISIN Marc
1988
SUI
1:47.22
16.32
18
26
191591
BERTRAND Yannick
1980
FRA
1:47.26
16.83
19
25
501076
OLSSON Hans
1984
SWE
1:47.27
16.95
20
24
533866
NYMAN Steven
1982
USA
1:47.34
17.83
21
1
380260
KOSTELIC Ivica
1979
CRO
1:47.48
19.59
22
15
292455
FILL Peter
1982
ITA
1:47.49
19.71
23
4
500150
JAERBYN Patrik
1969
SWE
1:47.55
20.47
24
48
150398
BANK Ondrej
1980
CZE
1:47.63
21.47
25
47
534939
FISHER Erik
1985
USA
1:47.64
21.60
25
2
51327
PUCHNER Joachim
1987
AUT
1:47.64
21.60
27
43
180570
ROMAR Andreas
1989
FIN
1:47.74
22.85
27
31
421483
JANSRUD Kjetil
1985
NOR
1:47.74
22.85
29
19
510890
ZURBRIGGEN Silvan
1981
SUI
1:47.82
23.86
30
36
511142
LUEOEND Vitus
1984
SUI
1:47.85
24.23
31
12
292514
HEEL Werner
1982
ITA
1:48.05
26.75
32
42
380292
ZRNCIC-DIM Natko
1986
CRO
1:48.08
27.12
33
38
50742
REICHELT Hannes
1980
AUT
1:48.10
27.37
34
27
510747
GRUENENFELDER Tobias
1977
SUI
1:48.17
28.25
35
41
53817
FRANZ Max
1989
AUT
1:48.24
29.13
36
44
294911
PATSCHEIDER Hagen
1988
ITA
1:48.25
29.26
37
17
421328
SVINDAL Aksel Lund
1982
NOR
1:48.36
30.64
38
6
291459
PARIS Dominik
1989
ITA
1:48.37
30.76
39
28
192932
FAYED Guillermo
1985
FRA
1:48.39
31.01
40
51
103271
THOMSEN Benjamin
1987
CAN
1:48.42
31.39
41
40
53981
KROELL Johannes
1991
AUT
1:48.44
31.64
42
50
561216
KLINE Bostjan
1991
SLO
1:48.49
32.27
43
37
191964
POISSON David
1982
FRA
1:48.84
36.67
44
45
930024
MAPLE Wiley
1990
USA
1:48.96
38.17
45
33
294277
KLOTZ Siegmar
1987
ITA
1:48.97
38.30
46
32
534562
LIGETY Ted
1984
USA
1:48.99
38.55
47
46
100558
COOK Dustin
1989
CAN
1:49.02
38.93
48
34
510498
ZUEGER Cornel
1981
SUI
1:49.16
40.68
49
55
50600
GOERGL Stephan
1978
AUT
1:49.36
43.19
50
54
103656
HALBERT Kelby
1990
CAN
1:49.47
44.58
51
56
191746
DE TESSIERES Gauthier
1981
FRA
1:49.66
46.96
52
57
531799
FORD Tommy
1989
USA
1:50.94
63.03
Did not finish 1st run
53
501230
ERICSSON Daniel
1987
SWE
49
561087
MARKIC Gasper
1986
SLO
39
561067
PERKO Rok
1985
SLO
35
53837
KRAMER Manuel
1989
AUT
5
201606
KEPPLER Stephan
1983
GER