December 19, 2010
/
Vonn takes two in a row with World Cup super combined win in Val d'Isere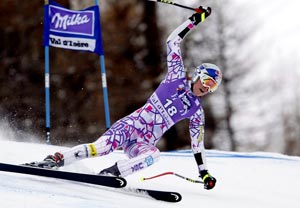 A day after pulling in her first World Cup downhill win of the season, American Lindsey Vonn topped the podium again today (Dec. 19) in Val d'Isere, France, taking the first super combined of the season and the lead in the overall standings for the first time this year.
Vonn, who was named the 2010 AP Female Athlete of the Year yesterday, had a stranglehold on the event all day long as she charged through the morning's super G leg with a 0.20-second lead going into the afternoon slalom. She won with an overall advantage of 0.46 seconds to match her result in last season's super combined on the same hill.
A chain of three Austrian women followed Vonn down the result sheet as Elisabeth Goergl took second place with a speedy slalom run after standing sixth in the super G. Teammate Nicole Hosp grabbed the last podium spot in third after maintaining her positioning in the morning's leg of the race. For Hosp, the last overall champion (2007) not named Lindsey Vonn, it was her first World Cup podium in nearly two years after she sat out last season with an injury. Anna Fenninger jumped from 12th in the first run to fourth overall with the third-fastest slalom run.
In contrasts to yesterday's sunny, frigid conditions, today dawned overcast with temperatures in the low 20s, making racers more comfortable while playing tricks on their eyes.
"It was really flat light so it was hard to see where the snow was good a where it was a little bit bumpy," said Vonn who was the 18th racer out of the super G start. "It was definitely worse for later number but I just tried to make the best of it and ski the best I could. I definitely made mistakes but I think I skied well in the bottom part of the course in the super G. In the slalom, I just tried to ski well in the bottom flat section. It worked out, it was a great day."
Maria Riesch, the Olympic champion in the discipline and the lone German women make the top 30, also made up time in the slalom to move from 16th in the firs run to fifth overall.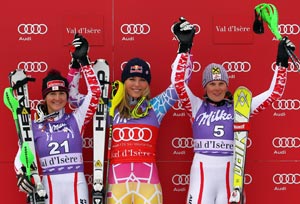 Michaela Kirchgasser, one of eight Austrian women to finish in the top 30, had the fastest slalom run of the day (48.20) to jump from 24th in the super G all the way to finish sixth.
For Vonn, Val d'Isere is a home away from home. Since 2005 she has tallied seven World Cup podiums here including five victories. She also earned two World Championship gold medals (downhill, super G) at the resort in the beautiful French Alps in 2009.
"It's been an awesome weekend, I'm really happy," said Vonn. "It's always great to have a weekend like this but especially before Christmas, it gives me a lot of confidence going into the new year."
The U.S. put four women in the top 30 today. Julia Mancuso battled with a technical upper section of the slalom course to finish 15th after standing 12th in the super G. Right behind was Laurenne Ross in 16th for her career best result in a World Cup. Her previous high was an 19th in a Lake Louise downhill earlier this month. Leanne Smith finished 26th.
"Julia skied really well, she over skied the super G a little bit at the bottom and in the slalom she was skiing really well and had a pretty good mistake in the middle and that's why she dropped back," said U.S. women's head coach Alex Hoedlmoser. "I'm really happy with Laurenne Ross's performance, she had a good super G portion and in the slalom she did a really good job."
Canadian Marie-Michele Gagnon followed up her fifth-place result in the St. Moritz giant slalom last week with another second-run breakthrough. After standing 25th in the super G, the 21-year-old threw down the second-fastest slalom run to finish 12th.
Things got exciting on paper today as well. Coming into today's race, Vonn trailed her good friend Riesch in the overall standings by 52 points. With her win today, Vonn brought her total up to 581 points, overtaking Riesch who has 578. Riesch has finished second to Vonn in the overall rankings in both of the last two seasons. Goergl stands third with 366 points ahead of Mancuso in fourth with 284.
"It definitely feels good but at this point I'm not looking at the overall points too much," said Vonn. "I'm trying to ski the best I can every day, trying to ski fast and win races, but there are a lot more races left in the season."
The women of the World Cup are back at it Tuesday Dec. 21 in Courchevel, France with a slalom race.
Image by Gepa.

The SCOOP
By Hank McKee
Equipment
Women's World Cup super Combined, Val d'Isere, France, Dec. 19, 2010
Skier, skis/boots/bindings
1 Vonn, Head/Head/Head
2 Goergl, Head/Head/Head
3 Hosp, Volkl/Tecnica/Marker
4 Fenninger, Head/Head/Head
5 Riesch, Head/Lange/Head
6 Kirchgasser, Atomic/Atomic/Atomic
7 Merighetti, Salomon/Salomon/Salomon
8 Maze, Stoeckli/Lange/Atomic
9 Schnarf, Volkl/Tecnica/Marker
10 Altacher, Head/Head/Head
Women's World Cup super combined, Val d'Isere, France, Dec. 19, 2010. … It is the 11th race on the women's 37 race 2010-2011 World Cup schedule. … The tenth to be held. … It is the first of three combineds on the schedule. … It is the fourth of five races scheduled at Val d'Isere with one (women's super G) having been moved to St Moritz due to heavy snow. … It is the 156th Cup race to be held at least in part at Val d'Isere. … and the 20th combined.
It is the 36th career World Cup win for Lindsey Vonn extending her U.S. record. … It is her fourth combined win, the last a year and a day ago at the same site. … It is her fifth career Cup win at Val d'Isere and she also won won World Championships in DH and SG at the site. … It is the 217th US Cup wins and the sixth this season (evenly split between Vonn and Ligety). … She has won in three different disciplines this season (SG Lake Louise, DH and CMB Val d'Isere). … She has tied Katja Seizinger for fifth all-time among women for Cup victories.
It is the 25th career World Cup podium result for Elisabeth Goergl. … and her second of the season after a third place finish in DH at Lake Louise. … It is her career best combined result. … one placing better than at Val d'Isere Dec. 18, 2009.
It is the 48th career World Cup podium result for Nicole Hosp. … and her first since March 7, 2009 when she was third in slalom at Ofterschwang. … It is her third Cup podium in combined.
It is the 11th career scoring result for Marie-Michele Gagnon and sixth this season. … It is her first in combined. … It is the eighth scoring result of the season for Julia Mancuso. … It is the seventh career scoring result for Laurenne Ross and first in combined. … It is her fifth score of the season. … It is the 19th career scoring result for Leanne Smith and her fifth of the season.
Vonn leads the World Cup overall standings 581-578 over Maria Riesch (5th in race). … Goergl is third with 366pts and Mancuso fourth with 284. … Gagnon is the top Canadian in 19th with 122pts.
Austria leads the women's Nations Cup standings 1399-1251 over Germany. … The U.S. is third at 1098 and Canada tenth at 169pts.
Rank
Bib
FIS Code
Name
Year
Nation
Run 1
Run 2
Total Time
FIS Points
1
18
537544
VONN Lindsey
1984
USA
1:18.66
49.14
2:07.80
0.00
2
21
55576
GOERGL Elisabeth
1981
AUT
1:19.44
48.82
2:08.26
4.07
3
5
55690
HOSP Nicole
1983
AUT
1:18.96
49.53
2:08.49
6.10
4
9
55947
FENNINGER Anna
1989
AUT
1:19.86
48.71
2:08.57
6.81
5
17
206001
RIESCH Maria
1984
GER
1:20.28
48.77
2:09.05
11.05
6
20
55759
KIRCHGASSER Michaela
1985
AUT
1:21.04
48.20
2:09.24
12.73
7
2
296008
MERIGHETTI Daniela
1981
ITA
1:18.86
50.39
2:09.25
12.82
8
11
565243
MAZE Tina
1983
SLO
1:19.68
49.67
2:09.35
13.71
9
12
296427
SCHNARF Johanna
1984
ITA
1:19.32
50.28
2:09.60
15.92
10
3
55806
ALTACHER Margret
1986
AUT
1:19.40
50.37
2:09.77
17.42
11
6
515747
GISIN Dominique
1985
SUI
1:19.52
50.34
2:09.86
18.21
12
34
105269
GAGNON Marie-Michele
1989
CAN
1:21.35
48.60
2:09.95
19.01
13
19
515766
SUTER Fabienne
1985
SUI
1:19.67
50.37
2:10.04
19.81
14
29
515997
FEIERABEND Denise
1989
SUI
1:20.85
49.37
2:10.22
21.40
15
22
537545
MANCUSO Julia
1984
USA
1:19.80
50.52
2:10.32
22.28
16
38
538573
ROSS Laurenne
1988
USA
1:20.99
49.66
2:10.65
25.20
17
23
196968
BAILET Margot
1990
FRA
1:20.70
50.13
2:10.83
26.79
18
8
516138
GUT Lara
1991
SUI
1:20.45
50.41
2:10.86
27.06
19
14
565320
FERK Marusa
1988
SLO
1:20.51
50.36
2:10.87
27.14
20
10
196460
MARCHAND-ARVIER Marie
1985
FRA
1:20.09
50.92
2:11.01
28.38
21
39
516280
HOLDENER Wendy
1993
SUI
1:21.86
49.21
2:11.07
28.91
22
1
505632
LINDELL-VIKARBY Jessica
1984
SWE
1:19.95
51.38
2:11.33
31.21
23
36
297910
CURTONI Elena
1991
ITA
1:21.38
50.10
2:11.48
32.54
24
27
55750
FISCHBACHER Andrea
1985
AUT
1:19.59
52.08
2:11.67
34.22
24
26
195972
AUBERT Sandrine
1982
FRA
1:22.69
48.98
2:11.67
34.22
26
25
538305
SMITH Leanne
1987
USA
1:20.79
50.93
2:11.72
34.66
27
4
196812
PELLISSIER Marion
1988
FRA
1:20.65
51.08
2:11.73
34.75
28
37
55818
KOEHLE Stefanie
1986
AUT
1:21.62
50.15
2:11.77
35.10
29
42
196793
MARMOTTAN Anemone
1988
FRA
1:22.63
49.37
2:12.00
37.14
30
48
55913
MOSER Stefanie
1988
AUT
1:21.53
50.74
2:12.27
39.52
31
28
206323
STIEPEL Isabelle
1990
GER
1:22.00
50.34
2:12.34
40.14
32
24
515692
GRAND Rabea
1984
SUI
1:22.41
50.14
2:12.55
42.00
33
7
515806
KAMER Nadja
1986
SUI
1:20.27
52.66
2:12.93
45.36
34
31
537582
COOK Stacey
1984
USA
1:21.72
51.65
2:13.37
49.25
35
33
205168
DUERR Katharina
1989
GER
1:24.61
50.19
2:14.80
61.89
36
40
538284
MCJAMES Megan
1987
USA
1:24.33
50.82
2:15.15
64.99
37
45
35079
SIMARI BIRKNER Maria Belen
1982
ARG
1:24.30
51.65
2:15.95
72.06
Disqualified 1st run
13
155415
ZAHROBSKA Sarka
1985
CZE
Did not start 2nd run
43
196573
REVILLET Aurelie
1986
FRA
Did not finish 2nd run
32
296623
MAZZOTTI Lucia
1985
ITA
Did not finish 1st run
49
495763
JARDI Andrea
1990
SPA
47
297702
MARSAGLIA Francesca
1990
ITA
46
106825
PREFONTAINE Marie-Pier
1988
CAN
44
505886
KLING Kajsa
1988
SWE
41
565333
BRODNIK Vanja
1989
SLO
35
515855
GOOD Esther
1987
SUI
30
515782
ABDERHALDEN Marianne
1986
SUI
16
505483
PAERSON Anja
1981
SWE
15
206175
STECHERT Gina
1987
GER