June 28, 2010
/
Vonn takes her place in Austrian walk of fame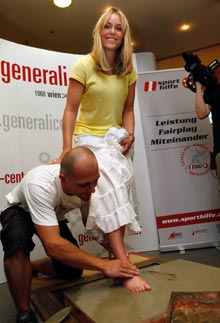 American Olympic gold medalist and three-time overall World Cup champion ski racer Lindsey Vonn became part of Austria's Strasse der Sieger (Street of Champions) today (June 28) in Vienna.
The 25-year-old, Minnesota-born athlete, who captured her first Olympic gold medal in the downhill at the Vancouver Games in February, took time out of her busy training schedule to fly to Austria where she was honored by putting her hand and foot prints in the cement of the street's walk of fame.
"I'm so thrilled that they asked me to do this! I hope to see some of my Austrians fans there," wrote Vonn to her Facebook fans.
Vonn's prints and signature will join the collection of about 150 outstanding Austrian and international sports heroes such as Arnold Schwarzenegger, Franz Klammer and U.S. Ski Team teammate Bode Miller.
Image by Gepa