February 7, 2011
/
Vonn may skip championship SG on "Icy," "danergous" course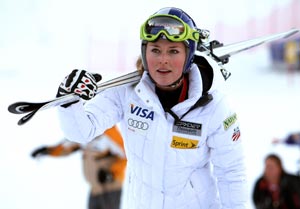 Lindsey Vonn says the slope for the speed races at the Garmisch-Partenkirchen World Championships is "too icy," and "dangerous," and said she will not make a decision until warm-up runs race day (Feb. 7) if she will ski in the super G or not.
The 2009 World Champion in both super G and downhill is still feeling the effects of a training crash where she struck her head sharply. "I can ski through pain," she said, "but this is different."
She said the decision to pull herself from the slalom at Zweisel was the correct one, but could not really define why she felt that way. "I feel pretty good, but I think, right now, the main problem for me is skiing," said Vonn. "I'm having a difficult time maintaining concentration from the top of the course to the bottom. I pulled myself out of the slalom in Zwiesel because I knew I couldn't safety ski down, so I just have to see how I feel in the morning. I feel pretty good about racing tomorrow but I want to make sure it's a safe decision."
She said although she felt good enough to race the GS at Zweisel, she began to lose concentration part way down on both runs. She estimated she lost as much as a second of time in the last third of the course over the two runs.
The Kandahar slope at Garmisch-Partenkirchen presents a big challenge by design and conditions aren't making it any easier.
"It is the first time I've seen my reflection in the snow," Stacey Cook posted on her Facebook page. "That is some ice."
"I think it is too dangerous for the women," said Vonn. "It's too icy, it's unsafe. There are already people crashing just in the warmup runs. I'm basically shocked by it, it's unbelievable."
She said warm-up runs were delayed as helicopters airlifted course workers off the hill after they slid to injury.