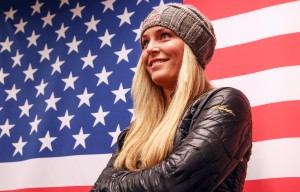 Minnesota-born Lindsey Vonn is set to make two Midwestern appearances this week as part of her responsibilities as a representative for Vail Resorts and its Epic Pass. In between training sessions where she has readied her comeback season after a devastating injury at last year's world championships, Vonn will make public appearances at Afton Alps in Hastings, Minn., and Mt. Brighton in Michigan on Fri. and Sat., Oct. 4-5.
The small, Midwestern resorts of Afton Alps and Mt. Brighton were acquired by Vail Resorts in Dec. 2012 for $20 million, and the company has since invested nearly $10 million in enhancements and upgrades to Mt. Brighton, including improved snowmaking, a new quad chairlift, and a state-of-the-art terrain park. Afton Alps wasn't left out of the giving as it too has received a $10 million makeover, including 72 new snowmaking guns, a renovated guest services facility, and a completely electronic lift ticketing and scanning system.
Vonn is returning to her home state of Minnesota and nearby Michigan to greet fans and aspiring ski racers, sign autographs, and spread the message about her journey from learning to ski on a small hill to winning World Cup races and Olympic medals.
"It's always a treat to return to my roots in Minnesota and meet my youngest fans who remind me so much of myself when I was just starting out," said Vonn. Until she moved to Colorado as a J3 athlete, Vonn grew up skiing at Buck Hill, a ski area that's just a 45-minute drive from Afton Alps. Vonn's visit to Afton Alps is timed during its annual Fall Fair and Swap, Minnesota's unofficial kick-off to the ski season. She will meet with 50 young skiers from the local ski team from 5-5:30 p.m. on Fri., Oct. 4 before speaking and signing autographs at a public event starting at 6:00 p.m. Additional weekend activities include hay rides, char lift rides, and a ski and snowboard swap.
Both the public event at Afton Alps and Vonn's appearance the next day, on Sat., Oct. 5 at Mt. Brighton in Michigan are free of charge.
"I grew up learning how to ski and being introduced to the sport of ski racing at a small ski hill in Minnesota, one very similar to Mt. Brighton. It never gets old for me to see the sparkle in a young skier's eyes and talk to them about the sport of ski racing and how Mt. Brighton can be the foundation for their ski racing careers," said Vonn. "I've heard a lot about the enthusiasm surrounding skiing in the Detroit area and look forward to my trip there this coming weekend."
Similar to the schedule at Afton Alps, Vonn will first meet privately with local ski racers from Mt. Brighton's Team XLR8 before signing autographs and speaking to the public audience at 10:00 a.m.
As one of her sponsorship deals, Vonn represents all of Vail Resorts' mountain resorts, including Vail, Beaver Creek, Breckenridge, Keystone, Arapahoe Basin and Eldora in Colorado; Canyons in Park City, Utah; Heavenly, Northstar and Kirkwood at Lake Tahoe; Mt. Brighton in Michigan; and Afton Alps in Minnesota. This season, Epic Pass holders also have the opportunity to extend their skiing and riding adventures to Europe with additional free days at the resorts of Verbier, Switzerland, Arlberg, Austria and Les 3 Vallées, France.
Photo: Lindsey Vonn (credit: GEPA/Christopher Kelemen)
The headline of this article was changed on Oct. 2 from "Vonn heads out on hometown tour."