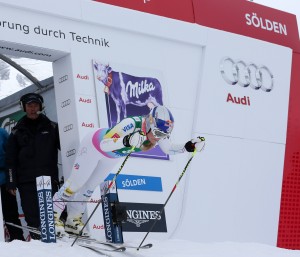 Lindsey Vonn's knee feels 100 percent, good enough that she's no longer ruling out a return to racing at the World Cup opener in Soelden later this month.
The four-time overall champ made the announcement via video conference at the U.S. Olympic media summit in Park City on Wednesday. Vonn checked in with reporters from Ohio, where boyfriend Tiger Woods will play the Presidents Cup this week.
"My knee is great. I'm quite a bit further along than I had anticipated. I look forward to skiing again in a few weeks," said Vonn.
Vonn returned to on-snow ski training on Aug. 31 in Portillo, Chile, during a camp with the national team. She started with a return to snow progression but quickly found her way to GS gate training at the two-week camp.
"I'm still up in the air on returning to racing. I'm going to Europe in a few weeks to train. For sure, Beaver Creek (Nov. 29-Dec. 1) is the latest I will start racing. I'm further along than I anticipated. But I'm not going to race until I'm 100 percent," she added.
Vonn, who blew out her right knee at the World Championships on Feb. 5, had been expected to return Nov. 29, at the World Cup stop in Beaver Creek. She said she hasn't pushed her knee to the maximum yet, but had "no doubt" it will hold up.
"I haven't really reached that final stage of my skiing yet. It's not that I don't trust my knee or don't feel 100 percent physically up to par but I haven't pushed it yet. I put the option of Soelden back into the fold. I'm feeling so strong and ready that I'm bringing the possibility of racing in Soelden (Oct. 26) back into the mix," said Vonn.
Vonn also told reporters at the media summit she doesn't plan on skiing slalom this season, but that could change: "It's still a possibility that I may get back on my slalom skis but I'm really focusing on speed events and GS. It's actually easier on my knee in speed events."
Vonn also criticized international ski officials, saying she was "not confident that safety is at the forefront of their minds."
Photo: Lindsey Vonn pushes out of the start in Soelden in 2012 (credit: GEPA/Markus Oberlaender)