One day after vocally criticizing the safety of course conditions on the speed track in Bansko, Bulgaria, Lindsey Vonn found the podium under sunny skies on a much smoother slope.
She rebounded after a disastrous super G run in the combined yesterday to finish third a day after calling the conditions a "joke" and calling out specific FIS officials, including World Cup Race Director Atle Skaardal, for not protecting the safety of the athletes. Vonn was sent during a period of heavy fog and finished the super G portion of the combined over two-and-half seconds behind Fenninger and then chose not to race in the slalom portion. They had a brief hold after Vonn crossed the line and the fog lifted for the remainder of the day.
"I'm trying to make sure the athletes are safe and hopefully someone is listening to me at some point, but I think giving them a little bit of pressure was good because the snow today was excellent so … I don't know, I was just a little bit frustrated with the FIS and their approach to the safety," Vonn told the media after today's super G.
Vonn still struggled on the challenging upper turns of the course and appeared to take some time to find her rhythm and touch on her skis. After falling behind by more than a half second at the first two intervals, she was able to find some time on the bottom and make up speed to finish behind Anna Fenninger and Tina Maze, in a mirror of the World Championship super G podium.
"I'm happy with today's race, it was definitely difficult, but the snow conditions were much better today and I definitely made some mistakes on the top part of the course," said Vonn. "But I thought my skiing on the bottom was really good and I'm looking forward to Garmisch."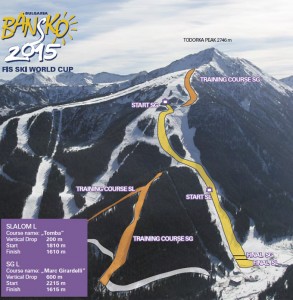 Much like she did last year after a successful trip to the Olympics, Fenninger has been on an absolute tear since returning from the World Championships. A day after winning the first World Cup alpine combined of her career, she added another victory. This time it was in super G, only the second time she has won in that discipline on the World Cup tour. The steep and turny Bansko course was designed for the technicians much like the Beaver Creek Raptor course utilized for the World Championship race, which Fenninger also won.
"Today was a pretty good day," said Fenninger. "The course was difficult and technical, which suits me well. The track was hard and we could feel the snow under the skis."
Fenninger's high level of confidence has been evident every time she pushes out of a starting gate as of late. Her skiing has become relaxed, yet aggressive and on point — and it doesn't matter the event. Her last three victories have come in three different disciplines, despite entering the weekend with nine of her 10 career wins coming in giant slalom.
"It is new for me to win in two different disciplines in two days," Fenninger added. "Yesterday was really special with the slalom run in the alpine combined. It's so good to win a super-G again because I have two gold medals at the Olympics and the World Championships, but won only one World Cup super-G before today."
Today she skied technically sound and aggressively, barely running into any trouble that plagued most of the other athletes. She stayed clean on her edges at the top of the tun on the course that favored GS skiers. With her win, she overtook Vonn for the lead in the super G standings 372 to 340 points.
"Obviously you know Anna is a little bit ahead of me in the super G standings, but I've had a lot of success in Garmisch so I'm going to try my best and I think it's going to be a good fight going into finals," said Vonn of the remaining races.
Maze had another strong showing with her second straight second-place finish, but on each occasion she finished behind Fenninger and has seen her overall lead quickly dwindle. She now holds a 44-point advantage heading into another speed weekend in Garmisch, the only other hill on which Fenninger has won a super G.
"It's close now, but I don't know if it is possible win it," explained Fenninger. "I'll simply try to keep on going like this and will see what happens. I cannot tell for now."
"To have one more discipline for sure helps (Fenninger does not ski slalom ), but it is so easy to lose points like I did in Maribor and St-Moritz," Maze said. "Now I just have to ski fast and we will see what happens at end."
Maze skied well but lacked the necessary punch to be able to overcome the speed and precision of Fenninger. For the second day in a row she was pleased to find herself on the podium after a string of unfortunate DNF's.
"I had three zeros on my account in my last three World Cup races," Maze commented. "I am happy I managed to secure some points theses two days. Being on the podium twice here was really important for me and my self confidence. Now I feel good and I am happy about it."
Vonn's success in her comeback season has not been without trials. She has risen to the top of the podium more times than most expected after she missed a majority of the past two seasons. But it is clear that she is still not comfortable when the conditions are not ideal, and after the race her comments directed towards the FIS were what people wanted to hear.
"Yeah, well, I said the fact that we were racing in those conditions was a joke because it's up to the FIS to have the safety of the athletes as their number one priority and I don't think the conditions were safe enough to be racing … for the fog and also the snow conditions, you know, it was really bally and when I was skiing it was broken and for the later numbers it did get better," said Vonn of Sunday's conditions. "But you know for me I've been on the World Cup now for 15 years and I feel like it's never changing. Situations happen like in Schladming when I blew my knee out, they had the same situation where they kept delaying the race and the snow conditions weren't good, but they still sent us."
Vonn acknowledged that when conditions are as they were on Sunday, her goal is to make it to the finish safely. Today under sunny skies, she was able to find her more aggressive gear to finish on the podium for the eighth time this season.
"I'm definitely very happy with my comeback season. You know, it was difficult being away from the sport for almost two seasons and this year has gone much better than I expected," admitted Vonn. "I always believed I could be back on the top, but I didn't know it would come so quickly so I'm happy with my skiing."
The remaining Americans struggled a bit more on the challenging course. Julia Mancuso was the next best American finishing 16th. She was followed by Stacey Cook in 21st and Laurenne Ross in 22nd. Alice McKennis and Abby Ghent finished 47th and 48th, respectively, and Jackie Wiles did not finish. Canadian Marie-Michele Gagnon tied with Mancuso for 16th, besting her previous best super G result from this season in St. Moritz where she was 17th.
With today's successful running of the super G race, Bansko organizers salvaged a tough weekend where only one race was ultimately lost due to weather.
The women now move onto Garmisch for a downhill and super G next weekend.
The Scoop
By Hank McKee
Women's World Cup super G, Bansko, Bulgaria, March 2, 2015:
It is the 24th of 34 races on the women's World Cup schedule to be held. … The race was originally scheduled at Bad Kleinkircheim in January but was canceled due to unfavorable weather. … It was then rescheduled for Bansko Feb. 27 where it again fell to fog and was reset for March 2.
It is the sixth of eight super G's on the women's schedule … the fifth to be held. … It is the 10th World Cup held at Bansko. … It is the third super G. … The previous two (March 1, 2009 & Feb. 26 2012) were both won by Lindsey Vonn. … The first World Cup race at Bansko was in 2009.
It is the 12th career World Cup victory for Anna Fenninger … her sixth of the season including two World Championships. … It is her second career World Cup super G win, the first coming March 3, 2013 at Garmisch. …It is her second win at Bansko this season having also collected the combined yesterday. … The winning margin is 0.16 of a second … top nine skiers are within the same second … top 14 within two seconds.
It is the 77th career World Cup podium placing for Tina Maze … her 12th of the season including three medals at World Championships.
It is the 110th career World Cup podium for Lindsey Vonn … her 17th third-place finish. … It is her eighth podium of the season including a World Championship medal. … It is her 36th World Cup podium in super G.
Marie-Michele Gagnon matches her 49th best World Cup result of 79 finishes. … It is the 17th time Julia Mancuso has finished 16th in a World Cup race. … It is the eighth best finish of the season for Stacey Cook … her fourth best in super G this season. … It is the ninth World Cup scoring finish of the season for Laureene Ross.
Tina Maze holds the lead of the World Cup overall standings 1145-1101 over Fenninger. … Mikaela Shiffrin (did not race) holds third at 750pts. … Lindsey Vonn is fourth with 706pts. … Gagnon leads Canada in 26th place with 234pts.
Fenninger takes the lead of the super G standings 372-340 over Vonn. … Maze is third with 250pts. … Julia Mancuso is eighth with 1132pts.
Austria leads the women's Nations Cup 4362-2385 over the U.S. … Italy is third with 1848pts and Canada ninth with 639pts.
Results