March 4, 2011
/
Vonn clenches season super combined title in second at Tarvisio, Maze wins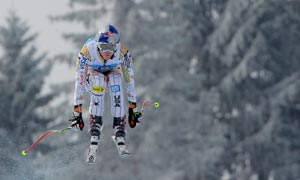 It came down to the third and final World Cup super combined of the season today (March 4) in Tarvisio, Italy. A second-place finish was enough for American Lindsey Vonn to take the 2011 super combined title from previous leader, German Maria Riesch in third today.
Slovenian Tina Maze took today's win, the first combined victory of her career, with a combined time of two minutes, 13.54 seconds, 0.18 seconds ahead of Vonn, who was never happier to finish second as she jumped for joy in the finish area. Riesch was 0.55 seconds back to finish third on the day as well as in the combined standings. With a second-place finish last week and today's win, Maze landed second in the season combined standings.
This season's combined title could have gone to several women today. Coming into today's race Riesch, the overall leader and winner of last week's combined in Are, had a five-point advantage over Vonn (winner of the season's first super combined in Val d'Isere) and Austrian Elizabeth Goergl (fifth today), who were tied for second. Vonn, who lost the discipline lead with a sixth-place finish in last weekend's super combined, finally secured the title with 220 points, eight points ahead of Maze and 15 points ahead of Riesch.
It is Vonn's second super combined season title, her first came just last season.
"It feels awesome, it was a great day," said Vonn. "I knew it was really close with Maria only five points a head of me, I knew I had to ski a great slalom run if I wanted to get the title."
Continuing her recent trend, Maze, who stood fifth after the morning downhill, had a monster second run down the Di Prampero slalom course, coming down to crush the previous lead by 1.74 seconds. None of the top four first-run leaders could catch her as the recently crowned GS world champion claimed her first World Cup win of the season and the tenth of her career.
"I'm very proud of this, I had never made it on to the podium of a super-combined before this season," Maze told Reuters. "Today I knew I had a chance and I tried very hard because I had a lot of fans from Slovenia, which is just across the mountain."
The start for the morning downhill leg was run from the same lowered position that was used on Wednesday's training run in a light snow storm. Continued snow accumulation canceled yesterday's training run. The lowered start took about 30 seconds off the course. The snow and fog were long gone today as sunny skies and temperatures climbed to around freezing for the afternoon slalom leg.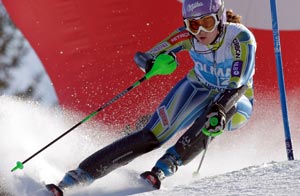 Vonn led the morning downhill leg by 0.42 seconds and came out of the slalom start house with a 0.79-second lead on Maze. Though she couldn't match Maze's intensity on the slalom course, her downhill lead server her well as she claimed her seventh career discipline season title. Vonn currently has three downhill titles (2008, 2009, 2010), two super G titles (2009, 2010) and two super combined titles (2010, 2011) as she continues to fight for her fourth consecutive overall globe.
"I just came out fighting. I don't think it was a pretty slalom run but I made it down and I was aggressive the whole way," said Vonn, who has struggled on the slalom course this year with four consecutive first-run DNFs in World Cup slaloms. "I've bee struggling a lot in slalom this year and have been training well, especially in the last few weeks, but I just haven't been able to put it through on race day. Today, I knew I had nothing to lose and I had to go out and take the title if I wanted it, and believe me I wanted it badly."
With eight races remaining on this season's World Cup schedule, Riesch maintains a 176-point lead on Vonn in the overall standings (1576-1400). Vonn owns the lead in both the downhill (103 points) and super G (131 points) standings ahead of Reisch with both those events ahead this weekend.
"I got some good points today," Riesch told the Associated Press. "It wasn't enough for the globe, which is a little bit sad, but I didn't have a great slalom run and Lindsey deserved it today."
"There are definitely some titles on the line this weekend, both downhill and super G," said Vonn. "At this point in the season I don't have much to lose, Maria is quite a bit ahead of me in the overall title hunt. I'm skiing relaxed and having fun and like I have nothing to lose, so I'm still positive and have a good attitude."
Vonn's title win was the cherry on top of a great day for the U.S. Team as all five American women skied to top-20 results. Julia Mancuso put down the fourth-fastest slalom time to jump from 14th in the downhill leg to sixth. Leanne Smith recorded her second-best World Cup career result in ninth place. Laurenne Ross and Stacey Cook finished 19th and 20th, respectively.
"The girls were all in communication today and they knew they had to be smart," said U.S. head coach Alex Hoedlmoser. "This was obviously great results for the whole team. Having everyone in the top 20 and three in the top 10 is awesome. Everyone is pumped for tomorrow's downhill."
After pulling out of last weekend's super G half way down the course with a hurt knee, Swede veteran Anja Paerson looked as strong as ever today with a fourth-place finish after standing third in the downhill portion. Early in the week, MRIs came back negative for any damage of the knee and Paerson rejoined her team for physical therapy in Tarvisio.
Racing continues Saturday with a downhill. A super G is scheduled for Sunday, March 6.
Images by Gepa
The SCOOP
By Hank McKee
Women's World Cup combined, Tarvisio, Italy, March 4, 2011
Equipment
Skier, skis/boots/bindings
1 Maze, Stoeckli/Lange/Atomic
2 Vonn, Head/Head/Head
3 Riesch, Head/Lange/Head
4 Paerson, Head/Head/Head
5 Goergl, Head/Head/Head
6 Mancuso, Voelkl/Lange/Marker
7 Borsotti, Head/Head/Head
7 Schnarf, Voelkl/Lange/Marker
9 Smith, Rossignol/Lange/Rossignol
10 Fischbacher, Atomic/Atomic/Atomic

Women's World Cup combined, Tarvisio, Italy, March 4, 2011. … It is a make up race from Sestriere where it was originally scheduled Jan. 30 and succumbed to heavy snow and fog. … Originally scheduled as a super g-slalom event, it is held as a downhill-slalom. … It is the 27th race on the women's 38 race schedule. … the second combined scheduled and third of three to be held. … eight races remain (2dh, 2sl, 2gs, 2sg) on the women's slate. … Prior to this race Maria Riesch leads the combined standings by five points over Lindsey Vonn and Elisabeth Goergl, tied in second 145-140.
It is the 10th career World Cup win for Tina Maze. … her first in combined. … It is her second podium at Tarvisio having placed third in super G Feb. 22, 2009. … It is her second win of the season, the other the gold medal in the World Championship GS.
It is the 77th World Cup podium for Lindsey Vonn. … her 10th in combined. … It is the third time she has finished second at Tarvisio. … She also has a win at the site (DH, Feb. 21, 2009) in four scored races. … It is her 14th podium of the season including a silver medal at Worlds (DH).
It is the 57th career World Cup podium for Maria Riesch. … her eighth in combined and second in combined at Tarvisio having won Feb. 20, 2009. … It is her 17th podium of the season including two bronze medals at Worlds (SG&DH).
It is the 51st career top six placing in World Cup for Julia Mancuso. … Her sixth in combined. … It is her fourth top six at Tarvisio hacing scored three podium results in 2007 (2nd CMB, 1
st DH, 3rd SG). … It is her 11th top six of the season including a silver medal (SG) and a 6th (DH) at Worlds. … Leanne Smith misses her career best by one placing and .11 of a second. … It is her second best placing of the season after an eighth in SG at Cortina Jan. 21. … It is the 10th best career Cup placing for Marie-Michele Gagnon. … and her second best in combined. … It is her seventh best placing of the season. … Laurenne Ross matches her second best career Cup placing overall and in combined. … She matches her second best result of the year, the best a 16th in SG at Worlds. … It is the 25th top 20 Cup placing for Stacey Cook's career. … matching her third best career combined placing. … and her third best of the season.
Riesch leads the World Cup overall standings 1576-1400 over Vonn with eight races remaining. … Tina Maze is third overall with 807pts. … Gagnon is the top Canadian overall in 27th place with 195pts. … Lindsey Vonn wins the World Cup combined title 220-212 over Maze. … Riesch is third at 205. … Mancuso makes the top 10 in eighth place with 88pts. … Gagnon leads Canada in 15th with 48pts. … Austria leads the women's Nations Cup standings 3882-3018 over Germany. … The US is third with 2667pts. … Canada 10th with 433pts.
Rank
Bib
FIS Code
Name
Year
Nation
Run 1
Run 2
Total Time
FIS Points
1
22
565243
MAZE Tina
1983
SLO
1:28.94
44.60
2:13.54
0.00
2
20
537544
VONN Lindsey
1984
USA
1:28.15
45.57
2:13.72
1.52
3
21
206001
RIESCH Maria
1984
GER
1:28.57
45.52
2:14.09
4.65
4
16
505483
PAERSON Anja
1981
SWE
1:28.66
45.73
2:14.39
7.19
5
18
55576
GOERGL Elisabeth
1981
AUT
1:29.45
45.83
2:15.28
14.72
6
12
537545
MANCUSO Julia
1984
USA
1:29.70
45.71
2:15.41
15.82
7
33
297134
BORSOTTI Camilla
1988
ITA
1:29.88
46.43
2:16.31
23.44
7
15
296427
SCHNARF Johanna
1984
ITA
1:30.13
46.18
2:16.31
23.44
9
2
538305
SMITH Leanne
1987
USA
1:29.54
46.88
2:16.42
24.37
10
30
55750
FISCHBACHER Andrea
1985
AUT
1:30.00
46.53
2:16.53
25.30
11
13
515766
SUTER Fabienne
1985
SUI
1:30.38
46.22
2:16.60
25.89
12
27
196812
PELLISSIER Marion
1988
FRA
1:30.46
46.18
2:16.64
26.23
13
3
206323
STIEPEL Isabelle
1990
GER
1:30.26
46.40
2:16.66
26.40
14
8
515747
GISIN Dominique
1985
SUI
1:30.05
46.69
2:16.74
27.08
15
11
55690
HOSP Nicole
1983
AUT
1:30.84
46.16
2:17.00
29.28
16
17
55759
KIRCHGASSER Michaela
1985
AUT
1:30.64
46.41
2:17.05
29.70
17
9
565320
FERK Marusa
1988
SLO
1:30.58
46.55
2:17.13
30.38
17
7
105269
GAGNON Marie-Michele
1989
CAN
1:30.83
46.30
2:17.13
30.38
19
5
538573
ROSS Laurenne
1988
USA
1:30.18
47.02
2:17.20
30.97
20
42
537582
COOK Stacey
1984
USA
1:29.34
47.88
2:17.22
31.14
21
40
297702
MARSAGLIA Francesca
1990
ITA
1:30.05
47.25
2:17.30
31.82
22
1
425880
SEJERSTED Lotte Smiseth
1991
NOR
1:30.88
46.57
2:17.45
33.09
23
24
515782
ABDERHALDEN Marianne
1986
SUI
1:29.78
47.84
2:17.62
34.52
24
32
296623
MAZZOTTI Lucia
1985
ITA
1:30.39
47.94
2:18.33
40.53
25
41
55766
MADER Regina
1985
AUT
1:29.71
48.64
2:18.35
40.70
26
43
55978
VOGLREITER Mariella
1989
AUT
1:29.18
49.18
2:18.36
40.79
27
37
55913
MOSER Stefanie
1988
AUT
1:30.63
47.90
2:18.53
42.22
28
29
505632
LINDELL-VIKARBY Jessica
1984
SWE
1:30.91
47.65
2:18.56
42.48
29
19
55947
FENNINGER Anna
1989
AUT
1:30.91
47.74
2:18.65
43.24
30
44
375018
COLETTI Alexandra
1983
MON
1:30.17
48.52
2:18.69
43.58
31
38
516145
KUENG Mirena
1988
SUI
1:29.91
48.81
2:18.72
43.83
32
26
297910
CURTONI Elena
1991
ITA
1:31.41
47.55
2:18.96
45.86
33
4
155415
ZAHROBSKA Sarka
1985
CZE
1:31.67
47.30
2:18.97
45.95
34
39
565369
KOBAL Ana
1991
SLO
1:31.06
49.62
2:20.68
60.42
35
10
296008
MERIGHETTI Daniela
1981
ITA
1:30.40
50.44
2:20.84
61.77
36
48
245066
MIKLOS Edit
1988
HUN
1:32.63
49.63
2:22.26
73.79
37
46
35089
SIMARI BIRKNER Macarena
1984
ARG
1:34.68
48.24
2:22.92
79.37
38
6
196460
MARCHAND-ARVIER Marie
1985
FRA
1:29.41
59.27
2:28.68
128.11
Disqualified 2nd run
47
196573
REVILLET Aurelie
1986
FRA
Disqualified 1st run
35
515573
AUFDENBLATTEN Fraenzi
1981
SUI
Did not start 2nd run
50
106022
JANYK Britt
1980
CAN
49
495318
RUIZ CASTILLO Carolina
1981
SPA
45
515560
SCHILD Martina
1981
SUI
36
195983
ROLLAND Marion
1982
FRA
34
195671
JACQUEMOD Ingrid
1978
FRA
31
205218
REBENSBURG Viktoria
1989
GER
Did not finish 2nd run
25
516138
GUT Lara
1991
SUI
14
515997
FEIERABEND Denise
1989
SUI
Did not finish 1st run
28
55806
ALTACHER Margret
1986
AUT
23
196968
BAILET Margot
1990
FRA