December 4, 2013
/
Vonn 22nd in Lake Louise training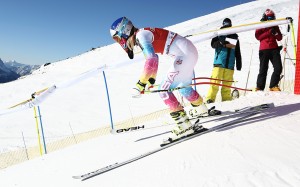 For the first time since her season-ending crash in February, Lindsey Vonn kicked out of a World Cup start house Wednesday. With 14 total wins — seven in a row — at Lake Louise, it's a track the four-time overall champ knows well.
"I'm really happy to be back here in Lake Louise. It was my first run, so I was of course a little bit nervous," said Vonn. "First training run, first real race situation since February, so it's been a long time."
Vonn, who re-injured her knee last month in a training crash at Copper Mountain and was forced to miss the speed opener on the much more demanding Beaver Creek slope, finished the first of two scheduled training runs in 22nd. In recent years at Lake Louise, Vonn's training results have not always reflected her dominance on race day. Last season, she finished first, ninth (standing up toward the end of the run) and did not start Day 3. In 2011, she finished first, third and second.
However, 22nd is certainly another matter, and she refused to say how hard she skied in the training run: "I can't really put a percentage on it, just happy to be back."
Vonn partially tore her right ACL in the November crash and this week said she will forgo surgery, which would effectively end her season, for as long as possible in hopes of defending her title in Sochi. Swelling and whether or not the knee remains stable will determine if she races this weekend.
"The knee feels good. It feels stable," said Vonn. "(I'm) just going to play it by ear tomorrow and make a decision on the race."
Vonn also said the confidence factor on the Lake Louise track is what pushed her to attempt the comeback this weekend.
Meanwhile, Stacey Cook, who earned her first two World Cup podiums at Lake Louise last year, had the best American training result in sixth. Julia Mancuso, who has not been skiing her best, also had a positive result in ninth. Leanne Smith, who is looking to bounce back after a disappointing weekend in Beaver Creek, finished 28th. Laurenne Ross was 47th, followed by Julia Ford in 59th.
Asked how the run felt, Cook said, "It felt cold. (The) course is in really nice shape, and it felt good to go so fast and get in the tuck a bit more than in Beaver Creek. I'm excited for this week."
Carolina Ruiz Castillo clocked the fastest time of 1 minute, 57.40 seconds. Germany's Maria Hoefl-Riesch wasn't far behind and Tina Maze, last season's overall champ, is again showing signs she might be getting things back on track with a third-place result.
Results — Downhill Training, Lake Louise