October 9, 2013
/
Velez Zuzulova injures knee, season uncertain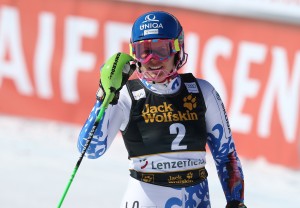 There may be one less contender for the women's World Cup slalom title this season.
While training in Hintertux, Austria, Veronika Velez Zuzulova caught an edge on a flat section of the slope, took a tumble and injured her knee. With the Soelden World Cup opener a little more than two weeks away, it is uncertain if she will be able to race at all this season. The team initially suspected she could miss several weeks with a torn MCL, but a more dire diagnosis recently came to light after an MRI.
"A first MRI showed a broken ACL, but there is still some hope that it might not be fully broken so I am going for a second MRI next Wednesday and based on those results we will make a plan," said Velez Zuzulova.
Velez Zuzulova, who is recovering at her home in Annecy, France, said there are two possible options for dealing with the injury: "If it's completely broken and I can't ski, I will have surgery and plan to come back next season. But if there is a chance the knee might hold, I'll skip the first races of the season, Soelden and Levi, and hopefully rehab well enough to be back on the tour after Levi."
The Slovakian, who last season celebrated her first World Cup victories and finished third in the slalom standings behind Mikaela Shiffrin and Tina Maze, is said to be in good spirits despite the ill-timed injury.
"I am not really sad or disappointed, there is no time for that and it won't help the situation," she said. "I am focused on finding the best option which will allow me to be back on skis."
Photo: Veronika Velez Zuzulova in last year's final World Cup slalom race (credit: GEPA/Christian Walgram)