November 6, 2011
/
Vail fans Welcome 2012 U.S. Alpine Ski Team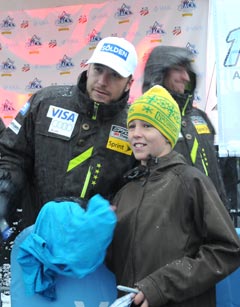 Vail is ready for racing.
The town's Mountain Plaza, which will host award ceremonies and celebrations during the 2015 FIS Alpine World Championships, was packed with excited fans today (Nov. 5) as this season's U.S. Alpine Ski Team was presented in a special season-kick-off event. Right on cue, a blustery snow storm came in the area just an hour before the event, but the Lindsey Vonn loyalists and Bode Miller maniacs would not be deterred.
Julia Mancuso and Ted Ligety joined Vonn and Miller to headline the event and draw deafening applause from the ski-crazed city's racing fans.
"Every one of us feels amazing support from our hometowns, but the reception the U.S. Ski Team receives in Vail is always something special," said Vonn, who became the first woman in American history to win in all five alpine disciplines with her season opening giant slalom win at Soelden, Austria in late October.
Young fans got a chance to ask their heroes some burning questions. Miller was asked what he likes best about going fast. "You feel like you are breaking some sort of rule and someone is going to tell you to slow down," responded Miller. "It's also fun when you are going so fast you feel like you might crash but you don't."
Another young skier asked Mancuso how she liked living in Hawaii during the summer. "I get guaranteed sunshine," said Mancuso. "In the mountains you never know what you are going to get."
Of course, Vonn was grilled about the homecoming dance she attended the previous night. "My date Parker was a perfect gentleman," confessed Vonn of her 16-year-old date, who stood proudly in the crowd. "He kept his hands above my waist when we danced, my husband was really happy about that."
Fans cheered as Team athletes from all levels, Development to World Cup, took the stage. Many of them hope to return to the Rocky Mountain village for their shot at gold when the FIS Alpine World Ski Championships return to Vail and Beaver Creek in 2015.
"There is an incredible amount of momentum with this team," said U.S. Ski Team Alpine Director Patrick Riml. "We closed the last winter with multiple Audi FIS Alpine World Cup titles and opened 2012 with back-to-back wins by Lindsey and Ted in Soelden. Now it's time to take that momentum and continue to execute."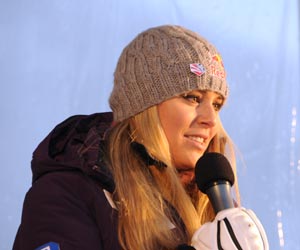 Vonn, who currently owns more World Cup victories than any American (male or female with 42) will seek to capture her fourth overall World Cup title after missing the mark by three points last season.
It will be the 15th World Cup season for Miller, the most decorated U.S. Olympic alpine skier.
Ligety, the 2011 giant slalom World Champion, showed strong signs of defending his World Cup giant slalom title (his third) with victory in Soelden, but hopes to move his slalom skiing back to the World Cup podium.
For Mancuso, who won the final downhill of the World Cup season, 2012 is about continuing to stride back towards World Cup title contention after finishing third in both downhill and super G standings and fifth in the overall ranks in 2011.
"Lindsey, Bode, Julia and Ted have their goals and we have a clear plan in helping them to attain those goals," added Riml. "But we have a strong group of young athletes ready for the World Cup podium and we're also looking forward to strong returns from a number of injured athletes."
Olympic bronze medalist Andrew Weibrecht is back from a shoulder injury, while World Cup podium finishers Marco Sullivan and Nolan Kasper should both see full seasons.
On the women's side, Alice McKennis rejoins an already deep women's speed team that includes Laurenne Ross and Leanne Smith. U.S. speed women won both the downhill and super G standings for the 2011 World Cup season, besting traditional powerhouses like Austria and Switzerland.
World Cup action hits full stride in North America with the Nature Valley Aspen Winternational featuring Vonn and Mancuso on Thanksgiving weekend in Aspen, Colo. followed by the Audi Birds of Prey races Dec. 2-4 in nearby Beaver Creek where Ligety is the defending giant slalom champion.
2012 U.S. Alpine Ski Team Roster
Name, Date of Birth, Hometown, Club (Skis, Boots, Bindings, Poles)
* Denotes Olympian
**Indicates Westminster student
A TEAM
Men
Jimmy Cochran (5/29/81; Keene, NH; Cochran's/Mount Mansfield Ski&Snowboard Club, Volkl, Fischer, Marker, Swix)*
Tommy Ford (3/20/89; Bend, OR; Mount Bachelor Ski Education Foundation, Fischer, Fischer, Fischer, Swix)*
Nolan Kasper (3/27/89; Warren, VT; Burke Mountain Academy, Rossignol, Lange, Rossignol, Swix)*
TJ Lanning (8/27/84; Park City, UT; Park City Ski Team, Head, Head, Head, Swix)**
Ted Ligety (8/31/84; Park City, UT; Park City Ski Team, Head, Head, Head, Komperdell)*
Bode Miller (10/12/77; Franconia, NH; Carrabassett Valley Academy/Franconia Ski Club, Head, Head, Head, Leki)*
Steven Nyman (2/12/82; Provo, UT; Park City Ski Team/Sundance, Fischer, Fischer, Fischer, Komperdell)*
Marco Sullivan (4/27/80; Squaw Valley, CA; Squaw Valley Ski Team, Rossignol, Lange, Rossignol, Swix)*
Andrew Weibrecht (2/10/86; Lake Placid, NY; New York Ski Education Foundation, Rossignol, Rossignol, Rossignol, Swix)*

Women
Stacey Cook (7/3/84; Mammoth, CA; Mammoth Mountain Ski Team, Rossignol, Rossignol, Rossignol, Komperdell)*
Julia Mancuso (9/9/84; Olympic Valley, CA; Squaw Valley Ski Team, Volkl, Lange, Marker, Swix)*
Alice McKennis (8/19/89; Glenwood Springs, CO; Rowmark Ski Academy, Atomic, Atomic, Atomic)* **
Laurenne Ross (8/17/88; Klamath Falls, OR; Mount Bachelor Ski Education Foundation, Atomic, Atomic, Atomic, Leki)
Sarah Schleper (2/19/79; Vail, CO; Ski&Snowboard Club Vail, Rossignol, Lange, Rossignol, Leki)*
Leanne Smith (5/28/87; Conway, NH; Mt. Washington Valley Ski Team, Rossignol, Lange, Rossignol, Swix)*
Lindsey Vonn (10/18/84; Vail, CO; Ski & Snowboard Club Vail/Buck Hill Ski Team, Head, Head, Head, Leki)*

B TEAM
Men
Thomas Biesemeyer (1/30/89; Keene, NY; New York Ski Education Foundation, Rossignol, Rossignol, Rossignol, Swix)
Will Brandenburg (1/1/87; Spokane, WA; Schweitzer Alpine Racing, Fischer, Fischer, Fischer, Swix)*
David Chodounksy (6/25/84; Crested Butte, CO; Crested Butte Ski Team, Nordica, Nordica, Swix)
Ryan Cochran-Siegle (3/27/92; Starksboro, VT; Mt Mansfield Ski Club, Rossignol, Rossignol, Rossignol, Komperdell)
Erik Fisher (3/21/85; Middleton, ID; Bogus Basin, Atomic, Atomic, Atomic, Komperdell)*
Travis Ganong (7/14/88; Squaw Valley; Squaw Valley Ski Team, Atomic, Atomic, Atomic, Leki)
Colby Granstrom (9/21/90; Lake Stevens, WA; Mission Ridge Ski Education Foundation, Fischer, Fischer, Fischer,Swix)**
Will Gregorak (9/30/90; Longmont, CO; Ski & Snowboard Club Vail, Rossignol, Rossignol, Rossignol, Leki)
Tim Jitloff (1/11/85; Reno, NV; Park City Ski Team, Fischer, Fischer, Fischer, Leki)*
Wiley Maple (5/25/90; Aspen, CO; Aspen Valley Ski and Snowboard, Atomic, Atomic, Atomic, Komperdell)

Women
Hailey Duke (9/17/85; Boise, ID; Park City Ski Education Foundation/McCall Ski Team, Atomic, Atomic, Atomic, Swix)* **
Chelsea Marshall (8/14/86; Pittsfield, VT; Green Mountain Valley School, Head, Head, Head, Swix)* **
Megan McJames (9/24/87; Park City, UT; Park City Ski Education Foundation, Fischer, Fischer, Fischer, Swix)* **
Mikaela Shiffrin (3/13/95; Avon, CO; Burke Mountain Academy/ Ski & Snowboard Club Vail, Atomic, Atomic, Atomic, Leki) &nb
sp;
Kiley Staples (2/2/89; Park City, UT; Rowmark Ski Academy, Head, Head, Head, Head, Head, Swix)
Resi Stiegler (11/14/85; Jackson Hole, WY; Park City Ski Team/Jackson Hole, Rossignol, Lange, Rossignol, Leki)*

C TEAM
Men
Michael Ankeny (1/17/91; Deephaven, MN; Buck Hill Ski Team, Fischer, Fischer, Fischer, Leki)
Nick Daniels (4/5/91; Tahoe City, CA; Squaw Valley Ski Team, Atomic, Atomic, Atomic, Leki)
Mark Engel (10/1/91; Truckee, CA; Sugar Bowl Ski Team, Atomic, Atomic, Atomic, Komperdell)
Jared Goldberg (6/17/91; Holladay, UT; Team Flow, Head, Head, Head, Leki)**
Robby Kelley (5/26/90; Starksboro, VT; Cochran's Ski Club / Mt Mansfield Ski Club, Head, Head, Head, Komperdell)
Keith Moffat (2/3/91; Berkeley, CA; Squaw Valley Ski Team, Atomic, Atomic, Atomic, Leki)
Brennan Rubie (4/8/91; Salt Lake City, UT; Snowbird Ski Team, Nordica, Nordica, Swix)**
Seppi Stiegler (11/28/88; Wilson, WY; Jackson Hole Ski Club, Rossignol, Lange, Rossignol, Leki)
Ace Tarberry (2/4/88; North Conway, NH; MWVST-Mount Washington Valley Ski Team, Rossignol, Rossignol, Rossignol, Swix)

Women
Julia Ford (03/30/1990; Plymouth, NH; Holderness Ski Team, Atomic, Atomic, Atomic, Leki)**
Brooke Wales (08/28/1990; Sammamish, WA; Mission Ridge Ski Education Foundation, Rossignol, Lange, Rossignol, Swix)**

Development Team
Men
Bryce Bennett (7/14/92; Olympic Valley, CA; Squaw Valley Ski Team)
Kieffer Christianson (8/11/92; Anchorage, AK; Burke Mountain Academy)
Robert Cone (1/12/92; Killington, VT; Middlebury College)
Tanner Farrow (5/21/93; Ketchum, ID; Sun Valley Ski Education Foundation)
Nicholas Krause (5/12/93; Northboro, MA; Stratton Mountain School)
Brian McLaughlin (6/24/93; Topsfield, MA; Green Mountain Valley School)
Scott Snow (7/8/93; Sagle, ID; Independence Racing)
Matthew Strand (5/14/93; Lakeville, MN; Buck Hill Ski Team)

Women
Abigail Ghent (9/25/92; Edwards, CO; Ski & Snowboard Club Vail)
Libby Gibson (12/15/94; Jamaica, VT; Stratton Mountain School)
Katharine Irwin (6/5/94; Vail, CO; Ski & Snowboard Club Vail)
Lila Lapanja (12/3/94; Incline Village, NV; Sugar Bowl Academy/Diamond Peak)
Brittany Lathrop (3/20/95; S. Londonerry, VT; Stratton Mountain School)
Anna Marno (11/23/92; Steamboat Springs, CO; Steamboat Springs Winter Sports Club)
Paula Moltzan (4/7/94; Lakeville, MN; Ski & Snowboard Club Vail)
Foreste Peterson (9/9/93; Berkeley, CA; Sugar Bowl Academy)
Katie Ryan (1/3/93; Aspen, CO; Aspen Valley Ski and Snowboard)
Sydney Staples (2/16/93; Park City, UT; Park City Ski Team)