June 17, 2014
/
Utes to build new on-campus facility for ski team
SALT LAKE CITY – Fundraising efforts are underway for an on-campus facility for the University of Utah ski team. The 2,400 square foot building will house the men's and women's alpine and nordic locker rooms, ski tuning rooms with modern ski drying racks, and a multi-use film and conference room. There will also be space for equipment storage and covered parking for the ski trailer and vehicles.
The building will be located north of the McCarthey Family Track and Field complex, between the track and Ute Softball Stadium. It will be within walking distance of the Huntsman Basketball Center (currently under construction) that will house a strength and conditioning room, athletic training center and other wellness services for several Utah varsity teams, including skiing.
"The goal of the new facility is to provide excellence in support for our athletes' requirements," Utah Director of Skiing Kevin Sweeney said. "This is truly an amazing opportunity for us to build a state-of-the-art building that will enhance our performance and exposure, and no doubt support the legacy and tradition of the Utah ski team."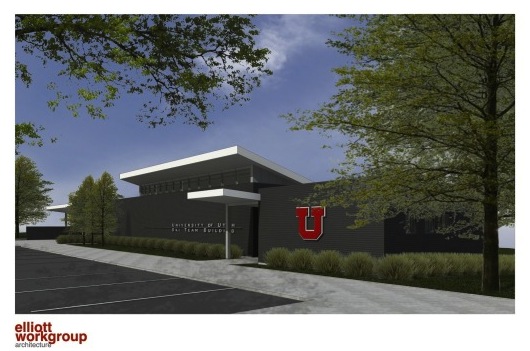 "The new facility will be a great addition for us because it will provide a place we can call home," Utah first-year skier Kevin Bolger noted. "This facility will provide us with the tools to remain in the top tier of NCAA skiing."
A start date for construction is still to be finalized, but plans are for the Utah ski facility to open in the spring of 2015. The project carries an estimated cost of $750,000 and private donations are being solicited. So far, $410,000 has been raised toward completion of the building.
"Men's and women's skiing has a rich history of success," Utah Director of Athletics Chris Hill said. "With 11 national championships, Utah skiing is one of the most accomplished programs in the country. This project has been long overdue. As with all of our sports, we need to provide our coaches and student-athletes with the resources to win on a national level."
Release courtesy of Utah Athletics