February 13, 2014
/
USSA to celebrate National Club Day with countrywide parade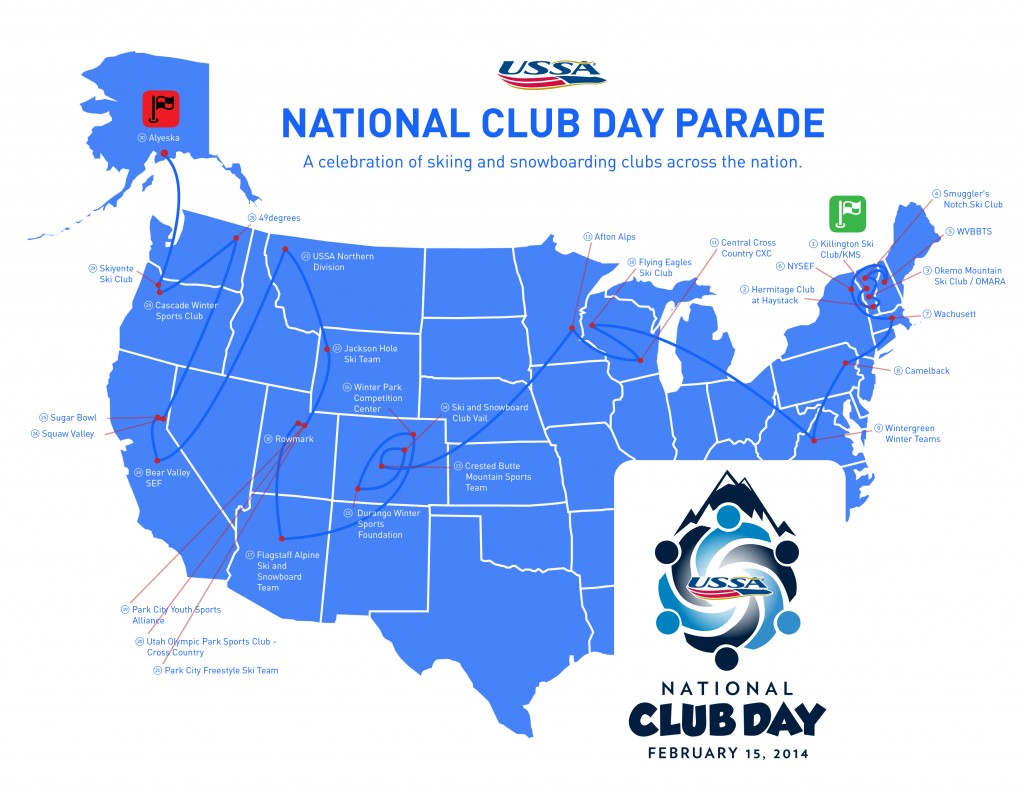 PARK CITY, Utah – A parade of snowsport athletes spanning from Vermont to Alaska will take place on Saturday, Feb. 15 as part of the U.S. Ski and Snowboard Association's (USSA) first annual National Club Day. All Olympic snowsports will be represented including alpine skiing, snowboarding, cross-country skiing, ski jumping, freestyle and freeskiing. This event is a celebration of the more than 400 skiing and snowboarding clubs across the nation that educate and train skiing and snowboarding athletes, some of whom go on to be Olympic competitors. The parade will also rally support coast-to-coast for Olympic athletes competing in Sochi, Russia.
"This parade shows off our clubs who put in the hard work to make Olympic dreams come true – it connects clubs with each other, the USSA and our Olympic team," said Brian C. Krill, USSA club development manager.
This event recognizes over 400 USSA clubs that help educate and train future Olympians. Follow the action live on Twitter at #ussaclubday.
Parade route and times:
| | |
| --- | --- |
| Killington Ski Club/KMS – VT | 9:00 – 9:20 EST |
| Hermitage Club at Haystack – VT | 9:20 – 9:40 EST |
| Okemo Mountain / OMARA – VT | 9:40 – 10:00 EST |
| Smuggler's Notch Ski Club – VT | 10:00 – 10:20 EST |
| WVBBTS – NH | 10:20 – 10:40 EST |
| NYSEF – NY | 10:40 – 11:00 EST |
| Wachusett – MA | 11:00 – 11:20 EST |
| Camelback – PA | 11:20 – 11:40 EST |
| Wintergreen Winter Teams – VA | 11:40 – 12:00 EST |
| Flying Eagles Ski Club – WI | Noon – 12:20 EST |
| Central Cross Country CXC – WI | 12:20 – 12:40 EST |
| Afton Alps – MN | 12:40 – 1:00 EST |
| Crested Butte Mountain Sports Team – CO | 1:00 – 1:20 EST |
| Ski and Snowboard Club Vail – CO | 1:20 – 1:40 EST |
| Durango Winter Sports Foundation – CO | 1:40 – 2:00 EST |
| Winter Park Competition Center – CO | 2:00 – 2:20 EST |
| Flagstaff Alpine Ski and Snowbaord Team – AZ | 2:20 – 2:40 EST |
| Rowmark – UT | 2:40 – 3:00 EST |
| Park City Youth Sports Alliance – UT | 3:00 – 3:20 EST |
| Utah Olypic Park Sports Club – Cross Country – UT | 3:20 – 3:40 EST |
| Park City Freestyle Ski Team – UT | 3:40 – 4:00 EST |
| Jackson Hole Ski Team – WY | 4:00 – 4:20 EST |
| USSA Northern Division – MT | 4:20-4:40 EST |
| Bear Valley SEF – CA | 4:40 – 5:00 EST |
| Sugar Bowl – CA | 5:00 – 5:20 EST |
| Squaw Valley – CA | 5:20 – 5:40 EST |
| 49degrees – WA | 5:40 – 6:00 EST |
| Cascade Winter Sports Club – OR | 6:00 – 6:20 EST |
| Skiyente Ski Club – OR | 6:20 – 6:40 EST |
| Alyeska – AK | 6:40 – 7:00 EST |
Release courtesy of USSA