March 19, 2010
/
USSA names Flanagan high performance director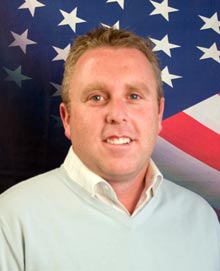 PARK CITY, UT (March 19) – The U.S. Ski and Snowboard Association (USSA) has promoted its current Director of Sport Science Troy Flanagan to the new position of director of high performance. The appointment was announced this week by USSA Vice President, Athletics Luke Bodensteiner following strong performances by U.S. athletes at the recent Olympic Winter Games.
In his new position, Flanagan will oversee the coordination of all areas of high performance services which will continue to be generated out of the sport science, sports medicine and sport education departments.
"The success of our athletes is directly related to the delivery of high performance services in science, medicine and education to our coaches and teams," said Bodensteiner. "We saw the benefits of strong high performance programs with our athletes in Vancouver. Troy's responsibility now will be to ensure a clean linkage between all high performance services in our sport programs, including taking that message into our grassroots programs at USSA clubs nationwide."
Flanagan will continue to oversee sport science under his new role, while USSA Medical Director Richard Quincy will manage the organization's highly-regarded sports medicine program. Bodensteiner expects to hire a sport education director in the near future.
Flanagan took over the USSA Sport Science program in March, 2007, playing a key role in the preparation of athletes for the 2010 Olympic Winter Games and the rollout of the new USSA Center of Excellence national training center which opened last May.
"We have some exciting new plans to build on our success in Vancouver 2010 by taking our high performance programs to a whole new level," said Flanagan.
An Australian native, Flanagan holds an honors degree from RMIT University in Melbourne, and has recently submitted a PhD in aerospace engineering. Prior to his role with the USSA, he worked as head of sport science at the Victorian Institute of Sport in Australia. He has been working with Olympic athletes since 1992.
"Our focus will be on improving the services provided to our elite and developmental teams. We will also enhance our support to the next generation of athletes by providing better education throughout the national network of USSA clubs", says Flanagan.
He will remain based at the USSA Center of Excellence in Park City.