July 30, 2010
/
USA Ski Jumping hosts Nationals Press Conference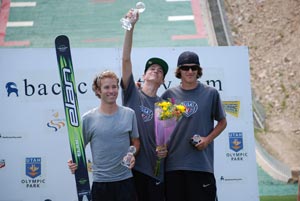 With a backdrop of the famed Utah Olympic Park (UOP) and amid the excitement of the U.S. National Ski Jumping&Nordic Combined Championships, the exciting new program, USA Ski Jumping was officially introduced to the world today (Friday, July 30) at a press Conference and open meeting.
USASJ top team athletes taking part at the event included Nick Fairall, (Andover,NH)
Anders Johnson (Park City, UT), Mike Glasder (Cary, IL), and the event's winner Peter Frenette (Saranac Lake, NY).
Frenette laid down a pair of long jumps of matching 100.5 meters leaps on the K90 hill. U.S. Nordic Combined Ski Team member Brett Camerota (Park City, Ut), an Olympic silver medalist at the Vancouver Games in the combined team event, was second with a pair of rides of 99.5 meters, while local favorite Anders Johnson was third with jumps of 92.5 and 99.5 meters. USASJ's Mike Glasder was 10th and Nick Fairall ended the day in 12th place.
Two members of USASJ top team did not compete, as both Chris Lamb and Nick Alexander are currently training in Europe.
In other action at the backcountry.com US Nationals, Park City native, Lindsey Van took her 11th national title by winning the women's overall crown on the K90. Van, is the defending FIS Women's world champion. Sarah Hendrickson, also of USA-WSJ, was second with her teammate Abby Hughes in third. Van recorded jumps of 91.5 and 92 meters with near flawless form.
U.S. Nordic Program Director and former Olympian John Farra said USSA was thrilled to have this program up and running.
"The good work of the USASJ group is really exciting for us and we will support this program in every way we can, we are very excited about the potential," said Farra.
Alan Johnson, a founding Board of Directors also spoke calling the event "a historic step forward in the evolution of ski jumping in American and that this program is on the threshold a great things already."
USASJ has absorbed the fine work that has been done by the Project X Development program. USA Ski Jumping, founded only three months ago, is on a fast-track towards offering American ski jumpers travel and coaching support, to help them achieve their dreams of international success. – Peter Graves