September 27, 2010
/
USA Ski Jumpers Enjoy Strong Weekend In Falun
Following a weekend of FIS Cup ski jumping in the well-know nordic village of Falun, Sweden, the USA jumping men turned in some strong results to keep the pre-season going upon even keel. In Saturday's day one comp, the USA lead with a second-place finish from Peter Frenette, and a fourth from Anders Johnson, both members of the 2010 USA Olympic Ski Jumping Team. Incredibly, a trio of American jumpers: Mike Glasder, Nick Fairall and Chris Lamb were all tied for seventh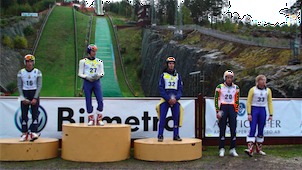 place. In a day that saw rain shower's blanket the area, the USA also scored Alex Haupt in 17th and Will Rhoads in 26th. USASJ coach Casey Colby said that despite the results for Frenette, he is still suffering the effects of his crash last week in Norway.
"Pete felt like he had two average jumps, but with his groin still sore from Norway, he felt it restricts his in-run position and really effects his V-style," said Colby.
The dawn of Sunday was clear and cold with a hint of shifting winds. Frenette lead the way for the Yanks by grabbing a skilled victory, with his first round jump, landing at an eye-pleasing 104 meters, on the K-90, Hill Size HS 98. He had the longest jump by six meters of the entire event, and landed a strong telemark on both jumps. Frenette won both rounds on Sunday. Park City's Anders Johnson soared to a second place finish overall. Other top Americans included a sixth-place finish by Chris Lamb and an eleventh place by Nick Fairall.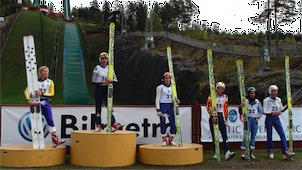 QUICK NOTES:
This weekend offered coaches a first-look at Chris Lamb, who has been living in Trondheim, Norway since May. Will Rhoads enjoyed a good weekend, watching his teammates do well and then scoring points on his first trip, "that's a huge relief for anyone to score points like that," said Coach Colby.
-Peter Graves
The ski jumping women were also in action over the weekend as American Lindsey Van took home two podium finishes at the Continental Cup event also held in Falun. The Park City, Utah native was second on Saturday and third on Sunday, finishing ahead of teammate Jessica Jerome in third and fourth.
Daniela Irashko of Austria grabbed both wins, posting the longest jump on Saturday, 97 meters, and the longest jump on Sunday, 102 meters. Van jumped 86.5 and 94.5 meters on Saturday moving her into second, with Jerome jumping 92.5 and 87.5 meters to take third.
Americans Alissa Johnson and Abby Hughes rallied into the top 15 in eighth and 14th.
On Sunday, Iraschko led the field again, with fellow countryman Austria's Jacqueline Seifriedsbeger in second. Van posted a third place finish with 91.5 and 92.0 meter jumps.
Jerome landed in fourth, just shy of the podium. Johnson and Hughes finished in seventh and 14th, respectively.