May 31, 2011
/
U.S. Ski Team Retools Alpine Coaching Staff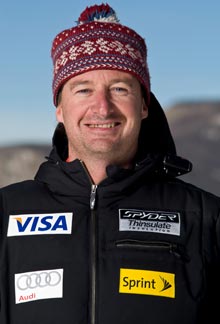 U.S. Ski Team Alpine Program Director Patrick Riml today (May 31) announced several elite-level coaching changes, including the promotion of 2011 USSA Alpine International Coach of the Year Forest Carey to men's speed head Coach. Former Austrian World Cup racer Roland Pfeifer has also been hired to lead the women's technical team.
A former U.S. Ski Team athlete turned veteran coach, Carey led the men's Europa Cup on a successful 2011 campaign that included nine podium finishes as well as the Europa Cup slalom title for Nolan Kasper – the first season-long Europa Cup crown for the U.S. Ski Team since 1989. Prior to his return to the U.S. Ski Team in 2009, Carey coached Bode Miller's independent Team America from 2007-2009.
Pfeifer comes to the U.S. Ski Team after serving as the program director for Vorarlberg Ski Team, a prominent feeder program to the Austrian Ski Team. Prior to that, he was a long-time coach for Vorarlberg and was the 1990 overall champion on the U.S. Ski Pro Tour.
"Forest has shown leadership at every level of this program and is tremendously talented at motivating athletes to perform," said Riml. "As a former World Cup and professional athlete, Roland brings tremendous experience to the women's technical team, but he also brings a unique perspective in having coached for a highly respected program in Austria."
Carey's charge will include overall skiers Miller and Ted Ligety in addition to speed standouts Andrew Weibrecht, Marco Sullivan and Steven Nyman.
"Forest will need to boost our veteran athletes back onto the podium and also guide our young athletes through their first World Cup experience," said Riml.
Pfeifer will work directly with overall skiers Lindsey Vonn and Julia Mancuso plus Olympians Sarah Schleper, Resi Stiegler and Hailey Duke among others as the technical women attempt to gain any momentum. Last season saw one GS podium from Vonn and just 10 top-10 placings from the entire team.
"Roland has a good plan to bring our women's technical group back to fighting for the podium and will make sure Lindsey and Julia have exactly what they need when they transition into training with his group."
Pfeifer was on snow with the women's technical program in early May at Mammoth Mountain, Calif., while Carey recently wrapped a men's speed camp at Mammoth.
2012 U.S. ALPINE SKI TEAM STAFF
Director – Patrick Riml
Men
Head Coach – Sasha Rearick
World Cup Speed
Head Coach – Forest Carey
Assistant – Chris Brigham
Assistant – Mike Kenney
Assistant – Tommy Eckfledt
Assistant – Dane Spencer
World Cup Tech
Head Coach – Mike Day
Assistant – Ben Black
Assistant – Josh Applegate
Europa Cup
Head Coach – Peter Korfiaits
Assistant – Brad Saxe
Development
Head Coach – Randy Pelkey
Assistant – Ian Garner
Women
Head Coach – Alex Hoedlmoser
World Cup Speed
Head Coach – Chip White
Assistant – Jeff Fergus
Assistant – Chris Knight
Assistant – Wade Bishop
Assistant – Andreas Moser
World Cup Tech
Head Coach – Roland Pfeifer
Assistant – Pete Anderson
Europa Cup
Head Coach – Trevor Wagner
Assistant – Jeff Pickering
Development
Head Coach – Seth McCadam
Assistant – Mike Prado