October 20, 2009
/
U.S. Ski Cross hopes high for 2010
With only two members, the U.S. Ski Cross Team may be small, but what it lacks in numbers it more than makes up for in experience. Led by head coach Tyler Shepherd, the daunting duo of Daron Rahlves and Casey Puckett are aiming at 2010 to put U.S. ski cross on the map.
The exciting young sport will make its Olympic debut in Vancouver, but don't count on these guys being star struck come February. Between the two racers they have more Winter Olympic experience (seven appearances) than some small countries. They've also collected their share of hardware (three gold medals) at the X-Game, the sport's biggest sage before the Olympics came along.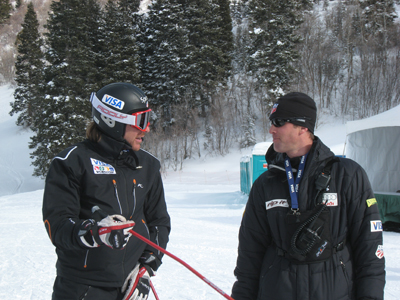 Now at 36 (Rahlves) and 37 (Puckett) and with two kids apiece, the former alpine experts are giving the American public something to cheer about. Something about watching two thirty-something dads rally down the course, slamming into their opponents, has struck a chord with America's skiing public. Suddenly the weekend warriors of the country's ski resorts can identify with an all-out brawl to the bottom without having to count milliseconds as guys in speed suits come down the mountain one at a time over the course of an hour. It's simple, quick, exciting, everything the web surfing, social networking consumer is after.
The seasoned athlete's intriguing stories have caught the eye of blog followers and documentary filmmakers. The up-coming documentary "Appointment in Vancouver" follows Puckett's journey from childhood to his fifth Olympics. The film also documents the history of the sport and Puckett's relationships with his coach and teammate.
"I think it's cool, not only to highlight Casey's accomplishments and journey in ski cross, but it also gives a wide picture of where ski cross has come from and where we're going to be in Vancouver," said Shepherd.
Rahlves also got some camera time last season as a part of Match Stick Production's "In Deep."
The team has kept the focus on competitive success, however, reuniting this June at Mt. Hood for some valuable off-season snow time. With equipment dialed in, the team will take a slightly different approach to 2010's competition schedule. Last season Puckett was on the World Cup tour fulltime while Rahlves opted to only race in two North America World Cup races and the World Championships. In Japan
"We'll have Daron on a little bit busier schedule to give him the best chance at qualifying for the Olympics," said Shepherd. "As good as he is, I'm willing to venture that he won't need much more than one race to get that done."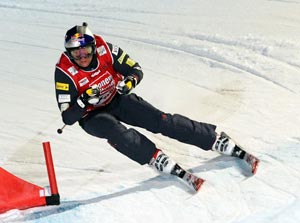 Once the objective criteria is met for the pair to qualify for the Olympics, Shepherd plans to "back off" on the schedule to ensure his team is firing on all cylinders at the Games.
"We certainly want them to go into Vancouver as healthy as possible," said Shepherd. "In this sport, even if you are doing well in each heat, you are getting beat up learning the course and training. So it's give and take, we want to be careful going into this."
While it's likely Vancouver will be both Puckett and Rahlves' final Olympic appearance, they are striving to build a strong foundation for the sport in the U.S.

"After this Olympics I think people will start to see the ski cross medal holds as much weight as any other Olympic medal," said Shepherd. "We have to stop looking at ski cross as an offshoot event. We have to start feeding athletes into the sport as another option."
Progress is being made at the domestic level. This season the Nor-Am schedule will be bumped up to seven races from last year's meager three. A sign, Shepherd says, that the country is taking strides toward strengthening the sport's athlete pipeline. "Once everything starts falling into place, I see clubs getting behind it and putting more emphasis into it," he says.
Where are the women?
"We have a women's [ski cross] program, it's just that no women have met the objective criteria that's in place to be named to the team," said Shepherd. "We're not in a position right now to just name people arbitrarily, by discretion just because we want a women's team."
Over the last two seasons only Langely McNeal and Caitlin Ciccone have given the World Cup a chance and neither has ever netted any better than a 16-place finish.
"It's a huge battle for these women that are going to try to make it to the Olympics," said Shepherd. "First they have to do better than they've ever done, earn quota spots that we don't have right now and then meet the Olympic criteria."
For more on the status of the U.S. women's ski cross team, check out Ski Racing's next digital issue early November.
The ski cross World Cup season kicks off in Innichen, Italy Dec. 22.
By Eric Williams
Image: Top: Casey Puckett and Tyler Shepherd talk it over while training in at Aspen. (USSA)
Bottom: Daron Rahlves. (GEPA)