January 20, 2010
/
U.S. Olympic ski jumping team named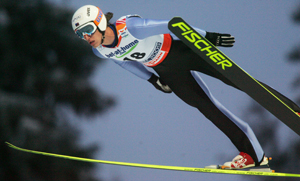 PARK CITY, UT (Jan. 20) – An Olympic veteran and two newcomers highlight the three-athlete 2010 U.S. Olympic Ski Jumping Team announced Thursday by the U.S. Ski and Snowboard Association.
Anders Johnson (Park City, UT), 20, a 2006 Olympic veteran, will be joined by first-time Olympians Nick Alexander (Lebanon, NH), 21, and Peter Frenette (Lake Placid, NY), 19.
The Team was announced by U.S. Ski and Snowboard Association (USSA) President and CEO Bill Marolt, along with Olympic and Team sponsor Visa. The USA had earned three Olympic quota spots based on World Cup results.
"We've seen some strong progress by our American ski jumpers in the last two seasons," said USSA Nordic Director John Farra. "Nick Alexander has become a regular qualifier in World Cups and there was also strong competition amongst a growing group of U.S. athletes on the Continental Cup for the Olympic spots."
Alexander, who grew up jumping in the Lebanon (NH) Outing Club, broke onto the world jumping scene this year qualifying to compete in six International Ski Federation (FIS) World Cups. The 2010 U.S. champion was the top American in the FIS Continental Cup last season and the current American leader after strong results in Neustadt, Germany in mid-January.
A Lake Placid native, Frenette jumps out of the New York Ski Educational Foundation. He has been a regular on the Continental Cup with three point-scoring finishes this season highlighted by a top-20 on the final weekend of selection in Sapporo, Japan. Johnson, who made the 2006 Olympic Team at the age of 16, suffered a knee injury in July but has made a comeback, breaking into the points twice in the Sapporo Continental Cup.
The Team will be coached by former East German jumper Jochen Danneberg, a 1976 Olympic silver medalist who works with the athletes as a part of the Project X jumping program.
All Olympic Teams are subject to the approval of the U.S. Olympic Committee.
The athletes are continuing to compete on the World Cup and Continental Cup leading up to the Olympics. A pre-Olympic camp is planned early February at the Utah Olympic Park in Park City.
Image: Anders Johnson (Gepa)
2010 U.S. OLYMPIC SKI JUMPING TEAM
(name, hometown, age as of opening ceremonies, birthdate, past Olympics)
Nick Alexander, Lebanon, NH, 21, 8/24/88
Peter Frenette, Lake Placid, NY, 19, 2/24/92
Anders Johnson, Park City, UT, 20, 4/3/89, 2006