December 16, 2009
/
U.S. moguls skier Byron Wilson leaps to A Team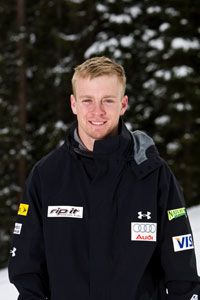 U.S. national champion moguls skier Bryon Wilson has made the jump to the A level of the National Team this week after a stellar performance in last weekend's freestyle World Cup season premier in Suomu, Finland.
The 21-year-old, Butte, Montana native arrived in Finland not to compete, but to get some training as a member of the B-Team and an alternate for the competition. Things changed when a starting teammate was injured and Wilson got the nod.

"I went over for the Europa Cup (where he finished second) and had no expectations to ski the World Cup," said Wilson. "Everything fell into place and I don't know how to explain how it happened. It just did. No one expects it, but it's an amazing thing."


Wilson capitalized on the unexpected opportunity, pulling in the first and second World Cup podiums of his career with a pair of second-place finishes.
"I went in and wasn't expecting to podium at all. I just wanted to lay one down with the double full," Wilson said. "When I go to bottom they announced 'second place Bryon Wilson' and I was like 'what?' There were eight to go, but as I was watching everyone come down I just stayed in second place. I was thinking 'Am I going to get a podium in the first World Cup of the season?'"


Even one World Cup podium finish is a top Olympic-qualifying hurdle Wilson now has under his belt.
"With his two World Cup podiums, Bryon is now eligible to be on the A team," U.S. Freestyle Ski Team head coach Jeff Wintersteen said. "He is a great athlete and his success this past weekend has been impressive. We are happy to be able to have him move up and hopefully we will see more great things out of him this season."


Wilson will have a chance to seal his Olympic birth at the U.S. Olympic Trials in Steamboat Springs, Colo. Dec. 23-24 where one man and one women moguls skier will get an early ticket to Vancouver.
"Now I'm on the A team just like that, without expecting it at all," Wilson said. "I was supposed to be training and two days later I'm on the A team it's amazing. I'm just excited about the start to season."
Image by Jonathan Selkowitz/USSA