September 3, 2010
/
U.S. Men, Swiss women charging in New Zealand
Without the big guns in the neighborhood, the U.S. men and Swiss women have done the major damage over the last couple days in Australia/New Zealand Cup action at Coronet Peak, New Zealand.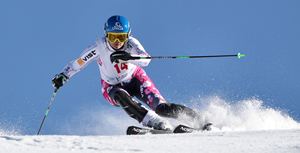 In today's (Sept. 3) slalom 17-year old Swiss skier Wendy Holdener decimated an international field with a 1.20 second margin over teammate Nadja Vogel. Norwegians Lene Loeseth and Rikke Gasmann-Brott placed third and fourth respectively.
The men's slalom win went to David Chodounsky with Canada's Patrick Biggs second and British skier Noel Baxter in third. Warner Nickerson placed sixth, well off the pace.
In GS on Thursday Slovakian Veronika Zuzulova snared the win and her seventh podium in a row dating back to Europa Cup races last March with a narrow margin win over Norway's Lotte Smiseth Sejersted. The Swiss group, though, jammed three skiers into the top six and four of eight with Andrea Dettling, Vogel, Marianne Abderhalen and Nadja Kamer finishing three-four-six and eight respectively.
Nickerson got the men's win over a couple of Swede's, Tim Lindgren in second and Jon Olsson in third. Grant Jampolsky posted fourth for the U.S.and Charles Christianson eighth. -h
Michael Thomas photo of Veronika Zuzulova.
Place
Coronet
Peak (NZE)
Discipline
Giant Slalom
Date
02.09.2010
Category
Australian New Zealand Cup
Race codex
0009
Gender
M
Valid for FIS Points
YES
TD Name
May Peter (AUS)
Rank
Bib
FIS Code
Name
Year
Nation
Run 1
Run 2
Total Time
FIS Points
1
1
534038
NICKERSON Warner
1981
USA
55.26
57.54
1:52.80
6.00
2
4
501384
LINDGREN Tim
1989
SWE
56.25
57.21
1:53.46
11.09
3
8
500933
OLSSON Jon
1982
SWE
56.55
57.23
1:53.78
13.56
4
2
531392
JAMPOLSKY Grant
1989
USA
57.15
57.45
1:54.60
19.88
5
23
501255
OEHAGEN Johan
1987
SWE
58.98
55.72
1:54.70
20.65
6
5
410266
GRIFFIN Benjamin
1986
NZE
57.00
57.80
1:54.80
21.43
7
6
370022
JENOT Olivier
1988
MON
57.12
57.79
1:54.91
22.27
8
10
534507
CHRISTIANSON Charles
1984
USA
57.75
57.56
1:55.31
25.36
9
21
561032
JAZBEC Janez
1984
SLO
58.71
57.19
1:55.90
29.91
10
25
103078
DONALDSON David
1986
CAN
59.52
56.64
1:56.16
31.91
11
9
40349
RISHWORTH Mike
1987
AUS
59.30
57.53
1:56.83
37.08
12
29
934523
ENGEL Mark
1991
USA
58.79
58.06
1:56.85
37.24
13
16
192590
ANTONIOLI Richard
1984
FRA
59.91
57.29
1:57.20
39.94
14
11
501203
SOEDERBERG Fredrik
1986
SWE
58.70
58.52
1:57.22
40.09
15
17
410365
BARWOOD Adam
1992
NZE
59.42
57.83
1:57.25
40.32
16
14
40489
LAIDLAW Luke
1992
AUS
59.71
57.68
1:57.39
41.40
17
18
410334
PREBBLE Jamie
1991
NZE
58.89
58.61
1:57.50
42.25
18
15
530644
HAMMER Maximilian
1988
USA
58.55
59.10
1:57.65
43.41
19
3
40332
STEVENS Hugh
1986
AUS
58.59
59.11
1:57.70
43.79
20
34
6530234
MARSHALL Craig
1992
USA
58.72
59.04
1:57.76
44.26
21
12
410372
PREBBLE Nick
1993
NZE
58.74
59.59
1:58.33
48.65
22
39
6530108
BROOKS Dylan
1992
USA
1:00.07
58.53
1:58.60
50.73
23
41
422301
HAUGEN Per Torstein
1994
NOR
59.78
59.00
1:58.78
52.12
24
38
6530266
SCANNELL Jake
1992
USA
1:00.16
58.92
1:59.08
54.44
25
36
303047
TANAKA Yuto
1988
JPN
1:03.45
59.87
2:03.32
87.14
26
40
410364
FEASEY Willis
1992
NZE
1:01.59
1:01.95
2:03.54
88.84
27
46
410373
STEEDMAN Harrison
1993
NZE
1:01.52
1:02.23
2:03.75
90.45
28
43
40503
COULL Jackson
1993
AUS
1:01.74
1:02.99
2:04.73
98.01
29
44
40445
KARLOWATZ Nicolas
1991
AUS
1:02.56
1:02.72
2:05.28
102.26
30
51
934627
CLIFFORD James
1991
USA
1:04.82
1:00.99
2:05.81
106.34
31
45
194735
LEDUC Maxime
1993
FRA
1:02.66
1:03.90
2:06.56
112.13
32
53
410377
MCGLINN Fraser
1994
NZE
1:04.23
1:02.70
2:06.93
114.98
33
60
700874
GAZO Filip
1993
SVK
1:04.24
1:03.08
2:07.32
117.99
34
65
410395
IZARD-PRICE Harry
1995
NZE
1:04.81
1:02.71
2:07.52
119.53
35
62
410382
CRONIN Louis
1994
NZE
1:04.15
1:03.55
2:07.70
120.92
36
64
410393
JUNEAU Tai
1995
NZE
1:04.83
1:03.11
2:07.94
122.77
37
57
410387
PASCOE Nick
1994
NZE
1:04.96
1:03.57
2:08.53
127.32
38
58
6291351
SANCIPRIANO Vittorio
1993
ITA
1:05.84
1:03.89
2:09.73
136.58
39
49
6530237
FURRER Cameron
1992
USA
1:03.38
1:08.40
2:11.78
152.39
40
63
410381
BOWMAN Tim
1994
NZE
1:07.01
1:06.67
2:13.68
167.04
Did not start 2nd run
19
421859
NILSEN Markus
1989
NOR
Did not start 1st run
31
410198
HOWDEN Angus
1981
NZE
28
421849
JOHANSEN Truls
1989
NOR
26
421750
HAUG Kristian
1988
NOR
20
421669
HAUGEN Leif Kristian
1987
NOR
Did not finish 2nd run
61
40552
GOURLEY Mitch
1991
AUS
56
40465
CLARK Scott
1991
AUS
55
221005
SLINGER Max
1989
GBR
54
6530261
MICHIELI Zachary
1992
USA
50
410371
NEESON Finlay
1993
NZE
48
40371
WOOD Nathan
1987
AUS
42
194493
BRIE Luca
1992
FRA
35
410302
WYLIE Andrew
1989
NZE
33
301625
HONDA Hiroki
1982
JPN
32
303322
SHIMIZU Dai
1990
JPN
27
102456
BIGGS Patrick
1982
CAN
Did not finish 1st run
107
410270
CAFE Tim
1987
NZE
59
40411
O SULLIVAN Jeremy
1989
AUS
52
930026
WILLOUGHBY Andrew
1990
USA
47
6530447
COOPER Scott
1993
USA
37
194326
LOMBARD Jean-Emmanuel
1991
FRA
30
194314
JAGOT Benoit
1991
FRA
24
421954
LYSDAHL Espen
1990
NOR
22
421650
BJERKESTRAND Iver
1987
NOR
13
194051
MATTEI Geoffrey
1990
FRA
Place
Coronet
Peak (NZE)
Discipline
Giant Slalom
Date
02.09.2010
Category
Australian New Zealand Cup
Race codex
5009
Gender
L
Valid for FIS Points
YES
TD Name
May Peter (AUS)
Rank
Bib
FIS Code
Name
Year
Nation
Run 1
Run 2
Total Time
FIS Points
1
14
705287
ZUZULOVA Veronika
1984
SVK
56.92
57.89
1:54.81
6.00
2
15
425880
SEJERSTED Lotte Smiseth
1991
NOR
56.74
58.19
1:54.93
6.91
3
16
515849
DETTLING Andrea
1987
SUI
57.26
58.36
1:55.62
12.14
4
20
516109
VOGEL Nadja
1990
SUI
57.94
58.63
1:56.57
19.34
5
7
425916
FAUSA Chloe Margrethe
1992
NOR
58.09
1:00.09
1:58.18
31.54
6
19
515782
ABDERHALDEN Marianne
1986
SUI
58.39
59.88
1:58.27
32.22
7
26
705394
KANTOROVA Barbara
1992
SVK
58.71
59.81
1:58.52
34.11
8
21
515806
KAMER Nadja
1986
SUI
58.14
1:00.54
1:58.68
35.33
9
28
705363
LUKACOVA Barbora
1990
SVK
58.70
1:00.18
1:58.88
36.84
10
27
197225
URBAIN Anais
1992
FRA
59.32
1:00.00
1:59.32
40.18
11
6
155586
KMOCHOVA Tereza
1990
CZE
58.70
1:00.79
1:59.49
41.46
12
22
485525
BUREEVA Vladislava
1989
RUS
58.40
1:01.10
1:59.50
41.54
13
24
516280
HOLDENER Wendy
1993
SUI
59.87
1:00.04
1:59.91
44.65
14
2
415128
JARVIS Sarah
1986
NZE
59.40
1:00.53
1:59.93
44.80
15
25
305962
HANAOKA Moe
1984
JPN
59.62
1:00.54
2:00.16
46.54
16
3
415137
TAIT-JAMIESON Lucie
1988
NZE
59.56
1:00.82
2:00.38
48.21
17
1
155728
DUBOVSKA Martina
1992
CZE
59.76
1:01.10
2:00.86
51.85
18
32
539656
IDE Maisie
1993
USA
1:00.29
1:00.81
2:01.10
53.66
19
30
425849
GASMANN-BROTT Rikke
1991
NOR
1:00.16
1:01.06
2:01.22
54.57
20
5
45216
CHRYSTAL Lavinia
1989
AUS
1:00.17
1:01.30
2:01.47
56.47
21
12
539360
DUNLEAVY Avril
1992
USA
1:00.22
1:01.77
2:01.99
60.41
22
4
45267
BAMFORD Emily
1992
AUS
59.47
1:03.01
2:02.48
64.12
23
29
539898
ANDREWS Lena
1994
USA
1:00.66
1:02.28
2:02.94
67.61
24
9
225443
SOLE Niki
1990
GBR
1:01.16
1:02.04
2:03.20
69.58
25
10
415171
RAPLEY Taylor
1991
NZE
1:00.85
1:02.71
2:03.56
72.31
26
34
415182
SMITH Taylor
1992
NZE
1:01.92
1:01.85
2:03.77
73.90
27
8
225338
SOLE Michelle
1987
GBR
1:01.71
1:02.58
2:04.29
77.84
28
33
539931
GUILMINEAU Celine
1994
USA
1:03.90
1:01.24
2:05.14
84.28
29
36
415158
OOSTERBAAN Monique
1990
NZE
1:02.95
1:03.50
2:06.45
94.20
30
37
415188
MARQUET Bronte
1994
NZE
1:05.21
1:07.11
2:12.32
138.69
31
41
415187
DIXON Ellen
1994
NZE
1:05.49
1:07.46
2:12.95
143.46
32
40
206550
SCHMITT Pia
1994
GER
1:06.28
1:07.15
2:13.43
147.10
33
35
415170
NEWBOLD Charlotte
1991
NZE
1:06.86
1:07.92
2:14.78
157.33
34
42
415200
TAYLOR Victoria
1995
NZE
1:10.77
1:10.11
2:20.88
203.55
Did not start 1st run
38
45310
KINGSTON Sammi
1994
AUS
13
425629
LOESETH Lene
1986
NOR
Did not finish 2nd run
18
515855
GOOD Esther
1987
SUI
Did not finish 1st run
39
285015
KIEK-GEDALYAHU Ronnie
1993
ISR
31
415135
GREIG Michelle
1988
NZE
23
515733
BONJOUR Aline
1985
SUI
17
425707
BRUSLETTO Anne Cecilie
1988
NOR
11
415169
MILLER-BROWN Harriet
1991
NZE
Place
Coronet
Peak (NZE)
Discipline
Slalom
Date
03.09.2010
Category
Australian New Zealand Cup
Race codex
0010
Gender
M
Valid for FIS Points
YES
TD Name
May Peter (AUS)
Rank
Bib
FIS Code
Name
Year
Nation
Run 1
Run 2
Total Time
FIS Points
1
107
534508
CHODOUNSKY David
1984
USA
48.56
50.75
1:39.31
6.00
2
3
102456
BIGGS Patrick
1982
CAN
48.66
51.38
1:40.04
10.48
3
2
220083
BAXTER Noel
1981
GBR
49.27
51.04
1:40.31
12.14
4
23
421954
LYSDAHL Espen
1990
NOR
50.35
50.15
1:40.50
13.31
5
16
192590
ANTONIOLI Richard
1984
FRA
50.98
50.69
1:41.67
20.50
6
27
534038
NICKERSON Warner
1981
USA
51.16
51.34
1:42.50
25.59
7
11
934523
ENGEL Mark
1991
USA
51.83
51.57
1:43.40
31.12
8
1
103078
DONALDSON David
1986
CAN
49.10
54.53
1:43.63
32.54
9
6
501384
LINDGREN Tim
1989
SWE
50.57
53.45
1:44.02
34.93
10
18
410266
GRIFFIN Benjamin
1986
NZE
53.04
51.65
1:44.69
39.05
11
36
410365
BARWOOD Adam
1992
NZE
54.08
51.87
1:45.95
46.79
12
33
410270
CAFE Tim
1987
NZE
53.70
52.38
1:46.08
47.58
13
31
194051
MATTEI Geoffrey
1990
FRA
54.08
52.13
1:46.21
48.38
14
64
530644
HAMMER Maximilian
1988
USA
54.04
52.36
1:46.40
49.55
15
38
410334
PREBBLE Jamie
1991
NZE
55.00
51.49
1:46.49
50.10
16
12
303322
SHIMIZU Dai
1990
JPN
54.38
52.64
1:47.02
53.36
17
32
194314
JAGOT Benoit
1991
FRA
53.88
53.31
1:47.19
54.40
18
8
40543
BROWN Callum
1994
AUS
53.32
54.21
1:47.53
56.49
19
44
422301
HAUGEN Per Torstein
1994
NOR
53.51
54.58
1:48.09
59.93
20
53
930026
WILLOUGHBY Andrew
1990
USA
55.81
53.21
1:49.02
65.64
21
39
6530108
BROOKS Dylan
1992
USA
54.79
54.60
1:49.39
67.92
22
51
934627
CLIFFORD James
1991
USA
56.49
1:01.61
1:58.10
121.42
23
58
40465
CLARK Scott
1991
AUS
59.79
1:00.08
1:59.87
132.29
24
29
40489
LAIDLAW Luke
1992
AUS
53.14
1:07.08
2:00.22
134.44
25
55
6530447
COOPER Scott
1993
USA
1:07.97
56.55
2:04.52
160.85
26
66
410393
JUNEAU Tai
1995
NZE
1:04.05
1:01.96
2:06.01
170.00
27
61
700874
GAZO Filip
1993
SVK
1:14.00
58.69
2:12.69
211.03
28
67
410395
IZARD-PRICE Harry
1995
NZE
1:01.35
1:16.74
2:18.09
244.20
Disqualified 1st run
46
410364
FEASEY Willis
1992
NZE
35
410302
WYLIE Andrew
1989
NZE
24
421750
HAUG Kristian
1988
NOR
14
421400
MYHRE Lars Elton
1984
NOR
13
501203
SOEDERBERG Fredrik
1986
SWE
Did not start 2nd run
57
410379
COOTE Wilbur
1994
NZE
54
40371
WOOD Nathan
1987
AUS
20
560425
VAJDIC Bernard
1980
SLO
15
561148
SKUBE Matic
1988
SLO
Did not finish 2nd run
59
40411
O SULLIVAN Jeremy
1989
AUS
26
534507
CHRISTIANSON Charles
1984
USA
25
561117
KUERNER Miha
1987
SLO
4
40332
STEVENS Hugh
1986
AUS
Did not finish 1st run
65
410381
BOWMAN Tim
1994
NZE
63
410382
CRONIN Louis
1994
NZE
62
410387
PASCOE Nick
1994
NZE
60
410377
MCGLINN Fraser
1994
NZE
56
194735
LEDUC Maxime
1993
FRA
52
6530261
MICHIELI Zachary
1992
USA
50
430633
JASICZEK Michal
1994
POL
49
6530237
FURRER Cameron
1992
USA
48
410373
STEEDMAN Harrison
1993
NZE
47
194493
BRIE Luca
1992
FRA
45
6530266
SCANNELL Jake
1992
USA
43
410371
NEESON Finlay
1993
NZE
42
40503
COULL Jackson
1993
AUS
41
6530234
MARSHALL Craig
1992
USA
40
410372
PREBBLE Nick
1993
NZE
37
40445
KARLOWATZ Nicolas
1991
AUS
34
301625
HONDA Hiroki
1982
JPN
30
194326
LOMBARD Jean-Emmanuel
1991
FRA
28
303047
TANAKA Yuto
1988
JPN
22
421849
JOHANSEN Truls
1989
NOR
21
560371
DRAGSIC Mitja
1979
SLO
19
421669
HAUGEN Leif Kristian
1987
NOR
17
370022
JENOT Olivier
1988
MON
10
531392
JAMPOLSKY Grant
1989
USA
9
40349
RISHWORTH Mike
1987
AUS
5
501255
OEHAGEN Johan
1987
SWE
Place
Coronet
Peak (NZE)
Discipline
Slalom
Date
03.09.2010
Category
Australian New Zealand Cup
Race codex
5010
Gender
L
Valid for FIS Points
YES
TD Name
May Peter (AUS)
Rank
Bib
FIS Code
Name
Year
Nation
Run 1
Run 2
Total Time
FIS Points
1
15
516280
HOLDENER Wendy
1993
SUI
51.20
52.05
1:43.25
8.11
2
18
516109
VOGEL Nadja
1990
SUI
51.35
53.10
1:44.45
15.20
3
12
425629
LOESETH Lene
1986
NOR
51.99
53.83
1:45.82
23.29
4
7
425849
GASMANN-BROTT Rikke
1991
NOR
54.42
52.91
1:47.33
32.21
5
23
705394
KANTOROVA Barbara
1992
SVK
53.52
53.85
1:47.37
32.45
6
14
425707
BRUSLETTO Anne Cecilie
1988
NOR
53.13
54.67
1:47.80
34.99
7
11
305962
HANAOKA Moe
1984
JPN
53.78
54.16
1:47.94
35.82
8
1
155728
DUBOVSKA Martina
1992
CZE
53.60
54.66
1:48.26
37.71
9
6
415128
JARVIS Sarah
1986
NZE
54.10
54.44
1:48.54
39.36
10
3
425916
FAUSA Chloe Margrethe
1992
NOR
54.36
54.31
1:48.67
40.13
11
22
485570
SOROKINA Anna
1990
RUS
54.79
54.63
1:49.42
44.56
12
10
305694
YUMOTO Hiromi
1981
JPN
54.23
55.37
1:49.60
45.63
12
4
45216
CHRYSTAL Lavinia
1989
AUS
55.05
54.55
1:49.60
45.63
14
26
415171
RAPLEY Taylor
1991
NZE
54.37
56.24
1:50.61
51.59
15
5
45267
BAMFORD Emily
1992
AUS
55.63
55.04
1:50.67
51.95
16
17
415137
TAIT-JAMIESON Lucie
1988
NZE
55.19
55.69
1:50.88
53.19
17
24
539360
DUNLEAVY Avril
1992
USA
55.89
55.24
1:51.13
54.66
18
21
537987
CARTER Laurel
1986
USA
56.08
55.30
1:51.38
56.14
19
16
197082
VION Charline
1990
FRA
55.44
56.30
1:51.74
58.27
20
31
415169
MILLER-BROWN Harriet
1991
NZE
56.04
56.83
1:52.87
64.94
21
30
485532
CHIRTSOVA Anastasya
1990
RUS
55.98
57.24
1:53.22
67.01
22
29
225443
SOLE Niki
1990
GBR
57.71
55.65
1:53.36
67.84
23
34
225338
SOLE Michelle
1987
GBR
55.96
57.41
1:53.37
67.90
24
28
415182
SMITH Taylor
1992
NZE
57.93
58.07
1:56.00
83.44
25
36
415158
OOSTERBAAN Monique
1990
NZE
57.44
59.17
1:56.61
87.04
26
33
539898
ANDREWS Lena
1994
USA
1:01.46
58.08
1:59.54
104.35
27
44
415202
WALLACE Chelsea
1995
NZE
1:02.58
1:04.16
2:06.74
146.89
28
41
415201
SMITH Hunter-Rose
1995
NZE
1:02.52
1:04.84
2:07.36
150.55
29
39
415196
JONES Melissa
1994
NZE
1:02.05
1:08.55
2:10.60
169.69
30
43
415200
TAYLOR Victoria
1995
NZE
1:09.38
1:10.49
2:19.87
224.46
Did not start 1st run
37
415170
NEWBOLD Charlotte
1991
NZE
20
485665
KEDRINA Anastasia
1992
RUS
13
425880
SEJERSTED Lotte Smiseth
1991
NOR
Did not finish 2nd run
40
415187
DIXON Ellen
1994
NZE
27
197225
URBAIN Anais
1992
FRA
9
515855
GOOD Esther
1987
SUI
8
515733
BONJOUR Aline
1985
SUI
2
155586
KMOCHOVA Tereza
1990
CZE
Did not finish 1st run
42
415188
MARQUET Bronte
1994
NZE
38
415173
ORANGE Virginia
1991
NZE
35
225567
MACEY Abbie
1994
GBR
32
539931
GUILMINEAU Celine
1994
USA
25
539656
IDE Maisie
1993
USA
19
705363
LUKACOVA Barbora
1990
SVK