January 27, 2010
/
U.S. freestyle team up to the challenge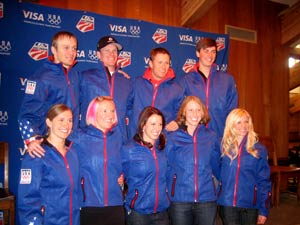 Yesterday's U.S. Olympic Freestyle Skiing Team announcement didn't bring many surprises but the athletes on the list are hoping to shock the world in Vancouver. Among the 18 skiers named are defending world champions, X-Games winners, World Cup titleholders and Olympic medalists. Also making the grade are 16-year-old rookies, 30-something crossover athletes and a handful of Olympic first timers.
After moguls skiers Hannah Kearney and Patrick Deneen, and aerialists Jeret "Speedy" Peterson and Lacy Schnoor solidified their Olympic berths by winning the Olympic Trials in late December, the rest of the country's bumpers, jumpers and ski cross racers were left to battle it out in the World Cup rankings. The World Cup tour was kind to some and a grind to others.
Without a singe World Cup podium thus far this season, the U.S. aerials team finds itself in a less than ideal pre-Olympic position. The Olympic favorite woman coming into the season, Emily Cook, had two top-ten finishes to start the World Cup season but was unable to seal the deal as she finished third at the Olympic trials behind Schnoor and 16-year-old Ski Team rookie Ashley Caldwell, a product of gymnast transforming, Elite Air Program. After a season high sixth-place finish at the Calgary World Cup, Cook was forced to relay on her first three results to make the team when a bruised heel benched her for the last two Olympic qualifying World Cup events.
"I'd like to say the last two weeks weren't stressful at all but that's not entirely true," said Cook who watched the 2002 Games from a wheelchair after an injury kept her from competing. "It's never fun to sit on the sidelines specially when there's an Olympic spot at stake. I was lucky enough to have some good results early in the season."
In Cook's absence, teammates Caldwell and Jana Lindsey stepped up to two top-15 results apiece in Deer Valley and Lake Placid, earning Olympic spots with Cook whose results held. With Schnoor, the U.S. women aerialists will have one jump each to challenge the daunting Australian and Chinese teams.
"Out of the three Olympics I've gone to, this is the best my whole team has jumped as a whole," said U.S. aerials coach Matt Christensen of the U.S. team that hasn't won an Olympic medal in 12 years. "In the competitions it's been hit and miss. We have had three different women miss the podium this year with small mistakes and that frustrates the coaches but it's better to get it out now."
The American men have both Chinese and Belarusian top jumpers to contend with. Peterson and his signature jump the Hurricane led the team with consistent top-15 results but has yet to land better than ninth at a World Cup competition this season. Defending world champion aerialist Ryan St. Onge (named to the team yesterday) hasn't finished better than 13th in a World Cup contest since marking his season high at the opening event in Chanchun, China. Olympic first timer Dylan Ferguson stepped up to grab his career best finish with a sixth-place result in Deer Valley and now stands just behind Peterson in the U.S. World Cup rankings. Rounding out the team is Hamburg, NY native Matt DePeters whose 15th-place finish in Deer Valley earned him the spot. Left at home is Scotty Bahrke who has yet to recapture the magic he found during the 2008 season (four top-ten finishes). He hasn't seen a top-20 World Cup results thus far this season.
"In the past two Olympics our team was number one, everyone was looking at us, and that's a lot of pressure," said Christensen. "It's really hard to hold on to that carrot when your number one. We have taking things a little different this time, we're just trying to put our best jumps down and train perfect. It's definitely a lot easier to chase after that carrot than to hold on to it for a month."
A few young athletes, including DePeters, will compete at a World Cup in Mont Gabriel, Canada Jan. 30 before rejoining the team in Park City, Utah for an eight-day Olympic team training camp.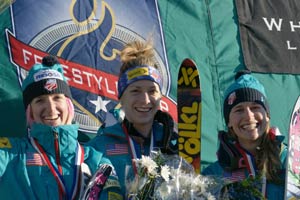 The strongest medal hope for the freestyle team may be the women moguls skiers. Led by emerging talent, Heather McPhie and defending World Cup champ Hannah Kearney and backed by veterans, silver medalist Shannon Bahrke and Michelle Roark, the American women are certainly capable of dethroning defending gold medalists and World Cup leader, Canadian Jennifer Heil on her home turf. With five top-five World Cup results and a win, McPhie is the only Olympic rookie. This will be Roark and Kearney's second Olympic Games and Bahrke's third and final appearance. At 29 Bahrke will retire after this season to start a family and run her coffee company Silver Bean.
"Just putting on this jacket today (the star spangled Under Armour Olympic uniform) represents the last four years of knee injuries and coming back and skiing just okay and now skiing really well so it's a cool thing," said Bahrke. "I've never seen our team just every contest raise the bar. I was under the bar at the beginning of the season and the way we have all come up has been insane."
The final women's team sealed their spots at the Lake Placid World Cup, where the quartet swept the top-four results. Missing the cut are Shelly Robertson and Emiko Torito.
The all-first-time Olympian men's moguls squad is not as convincing. Less than stellar results and injuries have left the team without a solid leader. After a dismal start to the season, Deneed took some confidence from his Olympic trials win, collecting four top-ten results on the World Cup. Named Olympian Bryon Wilson, who rose to the A-Team after bagging a pair of second-place results at the season opener, only returned to the top-ten once in the following five contests. Rounding out the team are Michael Morse with five top-ten World Cup results and Nate Roberts with a podium finish at the season opener.
"This has definitely been a different year than four years ago," said Roberts. "I was fourth in the world and second in the U.S. and current world champion and didn't go to the Olympics. This year I got a podium early in Finland and I've been banged up every since. It's been a crazy emotional rollercoaster."
Sho Kashima was gaining steam with two top-15 World Cup results in Calgary before blowing a knee while training in Deer Valley, ending his season and his Olympic hopes for another four years.
The moguls skiers will now head to Steamboat, Colo for an Olympic mini camp.
On the verge of their sport's Olympic debut, the U.S. Ski Cross Team suffered a blow when it's most experienced racer, Casey Puckett, injured his shoulder after falling only meters from what would have been his first World Cup victory. Teammate and fellow former alpine racers, Daron Rahlves kept the fires burning with second and fourth-place World Cup finishes. The duo, both X-Games gold medalists, now head back to the X-Games in Aspen, Colo. where Puckett will at least continue to train and Rahlves will compete for a second gold.
"I'm confident and excited for Daron and Casey," said Ski Cross Head Coach Tyler Shepherd. "We are all honored and proud to be Vancouver Bound with the first U.S. Olympic Ski Cross Team. Both Daron and Casey are skiing extremely well and there's no reason they can't challenge for the podium."
The U.S. will not compete in woman's ski cross event in Vancouver as freestyle quota spots were taken up by higher ranking female moguls skiers and aerialists. Hopefuls Caitlin Ciccone and Langley McNeal weren't able to bring in the required World Cup results though Langley made a game of it at the last Olympic qualifier i
n Lake Placid with a 16th-place finish.
"We will definitely be focused for the next couple season on building the infrastructure around the sport, rankings, competitions and building a system that will attracted kids and develop them the same way we do in other sports," said USSA vice president of athletics Luke Bodensteiner. "We'll make an evaluation after this year and really start to see how we manage that best."
"The energy is high in the team right now, even in aerials where we haven't had a podium," continued Bodensteiner. "There is not a frustration there, they know what they have to do and they know they have time to get that done so we are pretty positive going into it." – Eric Williams
2010 U.S. OLYMPIC FREESTYLE SKI TEAM
(name, hometown, age as of opening ceremonies, birthdate, (past Olympics))
Aerials
Men
Matt DePeters, Hamburg, NY, 22, 8/20/87
Dylan Ferguson, Amesbury, MA, 21, 8/10/88
Jeret "Speedy" Peterson, Boise, ID, 28, 12/12/81 (2002, 2006)
Ryan St. Onge, Winter Park, CO, 26, 2/7/83 (2006)
Women
Ashley Caldwell, Hamilton, VA, 16, 9/14/1993
Emily Cook, Belmont, MA, 30, 7/1/79 (2006)
Jana Lindsey, Black Hawk, SD, 25, 9/18/84 (2006)
Lacy Schnoor, Draper, UT, 24, 6/12/85
Moguls
Men
Patrick Deneen, Cle Elum, WA, 22, 12/25/87
Michael Morse, Duxbury, MA, 28, 4/2/81
Nate Roberts, Park City, UT, 27, 3/24/82
Bryon Wilson, Park City, UT, 21, 4/7/88
Women
Shannon Bahrke, Tahoe City, CA, 29, 11/7/80 (2002, 2006)
Hannah Kearney, Norwich, VT, 23, 2/26/86 (2006)
Heather McPhie, Bozeman, MT, 25, 5/28/84
Michelle Roark, Denver, 35, 11/16/74 (2006)
Ski Cross
Men
Casey Puckett, Aspen, CO, 37, 9/22/72 (1994, 1998, 2002, 2006) *
Daron Rahlves, Sugar Bowl, CA, 36, 6/12/73 (1998, 2002, 2006) *