January 10, 2010
/
Tour de Ski: Kowalczyk, Bauer win overall titles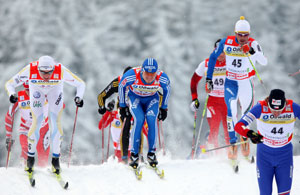 Poland's Justyna Kowalczyk and The Czech Republic's Lukas Bauer won the fourth edition of the Viessmann FIS Tour de Ski today (Jan 10.) in Val di Fiemme, Italy. The eight-stage race challenged the world's best cross country skiers over ten days across three countries. Bauer (24), who also won the tour in 2008, became the first man to win two Tour de Ski titles.
Kowalczyk beat out previous tour leader, Slovenia's Petra Majdic by 19.6 seconds in today's race to take the overall title. Italian Arianna Follis finished third, 1:12.1 behind the leader.
"I'm very happy about my victory," said Kowalczyk. "The Tour de Ski is one of the biggest events in cross-country Skiing. It is the third biggest event after the Olympics and World Championships."
Majdic claimed the tour sprint title, 1.04 minutes ahead of Follis and Finn Aino Kaisa Saarinen.
"I am very happy about my second place today," said Majdic. "I feel perfect. It is the end of Tour de Ski. I made it so I am very happy. Today it was one of my best final climbs ever. I felt very good, relaxed and easy going and I enjoyed the race very much."
The fastest woman of the day on the 9 km-long course with an uphill of 3.7 km was Norway's Kristin Steira who finished with at time of 35:49,4min.
"It was a tough race and I tried to attack Petra quite early but I couldn't make it and so I stayed behind for a while," said Kowalczyk. "At the end, I could manage the take over and even gain a couple of seconds."
Canadian Sara Renner of finished 17th today. The 2006 Olympic silver medalist also finished 17th overall.
No American women competed in the Tour de Ski.
Bauer was the fastest in today's 10km men's race and held on to defeat tour sprint title winner, Norway's Petter Northug by 43 seconds. Last season's tour winner, Swiss skier Dario Cologna finished third overall.
"After yesterday's race I felt quite strong and belived in myself," said Bauer, who skipped several early-season races as well as a month of training while dealing with asthma and other breathing problems. "I felt I could be better than Petter [Northug] in the climb as I think he is stronger in sprints and I am better in uphill. My main goal now is Olympics. I want to be in a good shape to fight with the best for medals. I would like to return home with a medal."
Norway's Simen Oestensen finished second in the sprint standings, ahead of Sweden's Markus Hellner.
Andrew Newell was the only American man to compete in the Tour de Ski. He took 8th and 6th in the first two sprint races of the tour.
Northug now clearly leads In the World Cup overall rankings with 1060 points. Bauer is in second place (663 points) and Hellner is close behind with 627 points.
The Team Cup trophy for the best team of FIS Tour de Ski went to Norway.
The Tour de Ski is an eight-stage event that crosses three countries over ten days. The overall winner gets 400 World Cup points and 150,000 Swiss francs (147,000 dollars).
Click here to go to the tour website.
Image by Gepa