August 28, 2013
/
Tiger Shaw Named to Succeed Bill Marolt as USSA President Next Spring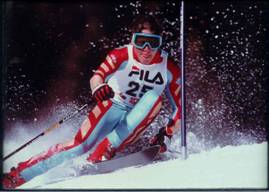 Former alpine Olympian and long-term U. S. Ski and Snowboard Foundation trustee, Gale H. "Tiger" Shaw III has been named Chief Operating Officer as of this coming October and will succeed Bill Marolt as president and CEO of USSA next spring.
Shaw, who turned 52 this month, will take over the presidency of the organization following the 2014 Winter Games in Sochi, Russia, according to Dexter Paine, chairman of the Board of Directors of USSA. Paine, who organized and ran the yearlong search, said he could not be more pleased.
"To say I am excited about his choice is an understatement," he said. "He brings both business acumen and experience with our organization."
A familiar fixture at USSA meetings and around the eastern alpine racing circuit, Shaw has been a member of the Global Rescue, LLC, management and vital safety and health partner of USSA, where he is Senior Director Rescue Services, a position he's held since 2011.
"Bill Marolt has built an incredible organization which I will be privileged to be part of," Shaw said, "and which I hope to take to the next level. It is important for me to have the time as chief operating officer as it will allow me to learn, work with the membership, and to get to know the other sports."
In replacing Marolt, who is virtually a legend among amateur sports executives, Shaw will inherit a far different organization than Marolt took over 18 years ago. At that time the ski association was bankrupt and had had little international success in any discipline for virtually a decade. Today it is considered perhaps the top in the nation.
"Tiger brings everything we have been looking for," Marolt said. "We have never had success looking outside of our community. Tiger has been part of it from childhood. He will be good at developing partnerships for the future and relationships with our membership, clubs and athletes."
Shaw is a native of Stowe, Vermont where he raced and attended high school, graduating in 1979. He was named the Ski Racing "Junior of the Year" in 1981 and was named to the U. S. Ski Team in 1983. He was on the 1984 Olympic team, where he raced in the GS, and was a member of the 1988 Calgary Olympic squad as well. While skiing competitively, he managed to secure a degree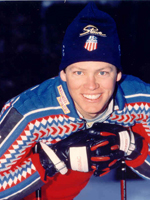 from Dartmouth College in 1985. As a technical skier, Shaw had seven top 10 World Cup slalom finishes and finished seventh in the Lauberhorn combined.
A member of the U. S. Ski and Snowboard Foundation since the late 1980's, he has been both an athlete representative and a key member of the foundation's education committee where he helped put together a language program for USSA team athletes in conjunction with Dartmouth. He also was instrumental in focusing USSA thinking vis-à-vis providing college opportunities for team athletes.
Currently Shaw lives in Norwich, Vermont with his wife, Kristin, though the family will be moving to Park  City this fall. The Shaw's have three children: Kara, 22, who is a junior at Middlebury College; Gunnar, 21, a senior at Dartmouth; and Eva, 17, who is a junior at Green Mountain Valley School.
-G. B. Jr.