January 7, 2011
/
Teller leads SX standings after St Johann win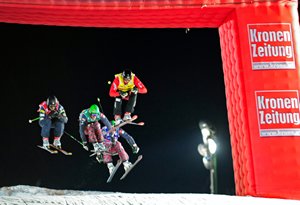 John Teller is on a mission. With his first win of the season on the Freestyle World Cup's Ski Cross circuit he vaulted into the lead of the SX standings giving the fledgling American Ski Cross Association it's first standings leader.
The win in a night event Jan. 7 at St Johann, Austria came over Canadian SX stalwart Nick Zoricic and moved Teller past the Canadian for a 170-162pt edge. Homestanding Austrians collected the next two placings behind Zoricic with Thomas Zangerl getting on the podium and Andreas Matt in fourth.
"I can't believe it," said Teller, "I owned every heat."
On the most technical course of the World Cup season getting the holeshot was at a premium. "The Swiss guy (Alex Fiva) kept giving me the outside lane. He should have taken the lane from me but he didn't…I got the holeshot every time except the final and even then I was able to make a pass on the final stretch," said Teller.
Zoricic was passed by Teller after winning the holeshot. "He swung a little low in the final turn. I was on his tails all the way down and when he went low I stayed high and passed him at the very end…it was awesome!" said Teller.
No other Americans were competitive with Patrick Duran in 45th and Jean Christophe Rudigoz 49th, Chris DelBosco 20th, Stanislas Rey 23rd and David Duncan 28th.
German Heidi Zacher won the women's event over Norway's Hedda Berntsen. Zacher has control of the women's standings 210-167 over Swiss Fanny Smith, who was 12th on the day. Anna Woerner, a German, was third on the day and bumps up to tenth in the standings.
Canada got fourth from Kelsey Serwa and 13th from Danielle Poleschuk. The U.S. did not field a women's team.
Place
St.
Johann (Tirol) (AUT)
Discipline
Ski Cross
Date
07.01.2011
Category
World Cup
Race codex
8032
Gender
M
TD Name
Görlich Andreas (GER)
Rank
Bib
FIS Code
Name
Year
Nation
Result
Level
Points
1
5
2527399
TELLER John
1983
USA
1000.00
2
10
2527284
ZORICIC Nick
1983
CAN
800.00
3
6
2411938
ZANGERL Thomas
1983
AUT
600.00
4
8
2451417
MATT Andreas
1982
AUT
500.00
5
4
2526955
FIVA Alex
1986
SUI
450.00
6
31
2526291
NIEDERER Armin
1987
SUI
400.00
7
16
2526789
STICKL Simon
1987
GER
360.00
8
30
2527296
BOHNACKER Daniel
1990
GER
320.00
9
2
2527361
PELLINEN Jouni
1983
FIN
290.00
10
7
2527032
FLISAR Filip
1987
SLO
260.00
11
11
2450835
MIAILLIER Sylvain
1986
FRA
240.00
12
12
2528672
DEVOUASSOUX Jonas
1989
FRA
220.00
13
13
2447828
BARR Davey
1977
CAN
200.00
14
14
2527624
GASSER Patrick
1985
SUI
180.00
15
17
2527622
JUELL Didrik Bastian
1990
NOR
160.00
16
25
2526998
WAHRSTOETTER Christoph
1989
AUT
150.00
17
1
2528718
CHAPUIS Jean Frederic
1989
FRA
140.00
18
3
2386524
KRAUS Tomas
1974
CZE
130.00
19
9
2484604
KOLLER Patrick
1983
AUT
120.00
20
15
2526820
DELBOSCO Christopher
1982
CAN
110.00
21
18
2525886
KOROTKOV Egor
1986
RUS
100.00
22
19
2526877
BOVOLENTA Arnaud
1988
FRA
90.00
23
20
2527760
REY Stanislas
1988
CAN
80.00
24
21
2392635
STEFFEN Andreas
1975
SUI
70.00
25
22
2528541
OEHLING NORBERG Victor
1990
SWE
60.00
26
23
2527042
ECKERT Paul
1990
GER
50.00
27
24
2527297
EIGLER Florian
1990
GER
45.00
28
26
2526897
DUNCAN David
1982
CAN
40.00
29
27
2484562
PICCARD Ted
1978
FRA
36.00
30
28
2528200
FISCHER Thomas
1986
GER
32.00
31
29
2527144
KNELLER Scott
1989
AUS
28.00
32
32
2412714
SAFAR Zdenek
1978
CZE
26.00
33
2527030
WOELFL Mathias
1984
GER
24.00
34
2525885
BONDAR Alexandr
1988
RUS
22.00
35
2422026
LENEL Robin
1985
FRA
20.00
36
2527607
BORGE LIE Thomas
1985
NOR
19.70
37
2526576
DUMAX BAUDRON Yann
1988
FRA
19.40
38
2527952
WHELAN Peter Edwin
1989
GBR
19.10
39
2529006
ROHRWECK Johannes
1990
AUT
18.80
40
2528709
CASTELLAZ Diego
1985
ITA
18.50
41
2526949
ADORJAN Matej
1987
SLO
18.20
42
2484520
BENNETT Brian
1980
CAN
17.90
43
2527142
GRIMUS Anton
1990
AUS
17.60
44
2528155
WINKLER Robert
1991
AUT
17.30
45
2528136
DURAN Patrick
1985
USA
17.00
46
2485016
DANILOV Artem
1986
RUS
16.70
47
2526349
STAEHLI Peter
1989
SUI
16.40
48
2526947
JECL Simon
1986
SLO
16.10
49
2526943
RUDIGOZ Jean Christophe
1981
USA
15.80
50
2527709
BJOERNNES Magnus
1993
NOR
15.50
51
2527846
ANIKIN Ivan
1988
RUS
15.20
52
2412132
HAUKKALA Juha
1978
FIN
14.90
53
2528557
ZECHNER Marcus
1992
AUT
14.60
54
2526137
FORSLUND Michael
1986
SWE
14.30
55
2385263
KONO Kenji
1983
JPN
0.00
56
2526785
ZAGORSKI Wojciech
1985
POL
0.00
57
2529018
MARTINI Alex
1986
ITA
0.00
58
2384681
WALDNER Klaus
1980
AUT
0.00
59
2485174
ORLOWSKI Marcin
1985
POL
0.00
60
2529007
LEITNER Patrick
1991
AUT
0.00
Did not finish
2448410
NETZER Conradign
1980
SUI
2526879
STENGG Florian
1989
AUT
Place
St.
Johann (Tirol) (AUT)
Discipline
Ski Cross
Date
07.01.2011
Category
World Cup
Race codex
8031
Gender
L
TD Name
Görlich Andreas (GER)
| | | | | | | | | |
| --- | --- | --- | --- | --- | --- | --- | --- | --- |
| Rank | Bib | FIS Code | Name | Year | Nation | Result | Level | Points |
| 1 | 4 | 2527434 | ZACHER Heidi | 1988 | GER | | | 1000.00 |
| 2 | 16 | 2324342 | BERNTSEN Hedda | 1976 | NOR | | | 800.00 |
| 3 | 7 | 2526849 | WOERNER Anna | 1989 | GER | | | 600.00 |
| 4 | 2 | 2527570 | LIMBACHER Andrea | 1989 | AUT | | | 500.00 |
| 5 | 11 | 2527273 | SERWA Kelsey | 1989 | CAN | | | 450.00 |
| 6 | 1 | 2394866 | DAVID Ophelie | 1976 | FRA | | | 400.00 |
| 7 | 3 | 2526363 | MUELLER Katrin | 1989 | SUI | | | 360.00 |
| 8 | 12 | 2485085 | OWENS Jenny | 1978 | AUS | | | 320.00 |
| 9 | 5 | 2526015 | OFNER Katrin | 1990 | AUT | | | 290.00 |
| 10 | 6 | 2526237 | JOSSERAND Marion | 1986 | FRA | | | 260.00 |
| 11 | 8 | 2527841 | KUCEROVA Nikol | 1989 | CZE | | | 240.00 |
| 12 | 9 | 2526373 | SMITH Fanny | 1992 | SUI | | | 220.00 |
| 13 | 10 | 2527287 | POLESCHUK Danielle | 1986 | CAN | | | 200.00 |
| 14 | 13 | 2527513 | HOEIE GJEFSEN Marte | 1989 | NOR | | | 180.00 |
| 15 | 14 | 2528710 | TEGLIA Eleonora Anna | 1987 | ITA | | | 160.00 |
| 16 | 15 | 2526530 | RIEMEN Karolina | 1988 | POL | | | 150.00 |
| 17 | | 2526527 | JENSEN Julie Brendengen | 1990 | NOR | | | 140.00 |
| 18 | | 2527689 | THOMPSON Marielle | 1992 | CAN | | | 130.00 |
| 19 | | 2525991 | GALLAND Helena | 1986 | FRA | | | 120.00 |
| 20 | | 2444045 | FARIC Sasa | 1984 | SLO | | | 110.00 |
| 21 | | 2526328 | KENNEDY Sami | 1988 | AUS | | | 100.00 |
| 22 | | 2526014 | MANHARD Christina | 1990 | GER | | | 90.00 |
| 23 | | 2323372 | CREMA Katya | 1988 | AUS | | | 80.00 |
| 24 | | 2527349 | UMEHARA Reina | 1983 | JPN | | | 70.00 |
| 25 | | 2526906 | MURRAY Julia | 1988 | CAN | | | 60.00 |
| 26 | | 2525884 | LIVINSKAYA Yulia | 1990 | RUS | | | 50.00 |
| 27 | | 2415721 | BOULANGEAT Meryll | 1986 | FRA | | | 45.00 |
| 28 | | 2446955 | GRAUVOGL Alexandra | 1981 | GER | | | 40.00 |
| 29 | | 2527168 | HIOKI Chiyako | 1984 | JPN | | | 36.00 |
| 30 | | 2527532 | KOVALSKAYA Violetta | 1991 | RUS | | | 32.00 |
| 31 | | 2452775 | FUKUSHIMA Noriko | 1979 | JPN | | | 0.00 |
| 32 | | 2526819 | SAUVEY Sarah | 1983 | GBR | | | 0.00 |
| 33 | | 2527563 | HOLMLUND Anna | 1987 | SWE | | | 0.00 |