January 31, 2011
/
Swiss Schmidiger posts huge margin in World Jr slalom win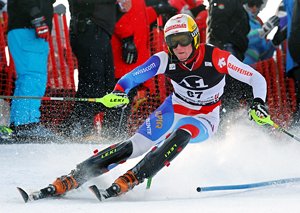 Make it two straight for Swiss slalom ace Reto Schmidiger. The 18 year old successfully defended his gold medal from the 2010 World Junior Championships Monday (Jan. 31) by a little more than a second and a half over teammate Justin Murisier. Getting third, and the bronze medal, another half second out was Mathias Rolland of France.
Erik Read – son of Crazy Canuck Ken – posted sixth on the day at the FIS Junior World Ski Championships in Crans-Montana, Switzerland behind fourth finishing Klemen Kosi of Sloevnia and Santeri Paloniemi of Finland.
Matthew Strand of the Buck Hill program, led the U.S. in eighth. Canadians showed well, in addition to Read, with Philipp Brown in tenth and Trevor Philp 11th. Brennan Rubie was the next U.S. skier on the finish list in 26th.
"The good news," said U.S. team leader Walt Evans, "is that Matt Strand, a 17 year old rookie on a team among all these veterans, got the ice broken and got us some Hodler Cup points."
Evans said he was impressed with Strand as the youngster watched Mike Ankeny, in his third year on the World Junior team, struggle and changed his strategy. "He went a little conservative on the first run and skied really well in the second to move up to eighth," said Evans.
He said it was particularly impressive considering the number of World Cup skiers in the field. "I'm not making excuses. Our guys are skiing great, but haven't sealed the deal. We're looking to move forward and start getting results now."
He pointed out several of the U.S. squad hiked to complete their runs to stay in contention for the combined event with totals results from the GS, slalom and downhill.
Seven men will start training for the downhill with the last two guys shooting it out for one of the six starting slots.
"There isn't a lot of snow, but the courses are very good. It's a strong organizing committee," Evans added.
Canada's Read said he felt the conditions were a bit too soft. "My first run was alright, but conditions were pretty soft again," he said. "About half way down I caught an edge and slid a little, but I stayed up, kept going and skied the bottom really well. … I'm really happy with my result today and I'm happy for the whole Canadian team."
For the second straight day Lotte Smiseth Sejersted was fastest in the women's downhill training run, again followed by a handful of Swiss racers. Canada's Sarah Freeman broke into the top 10 finishing ninth. Abby Ghent led the U.S. for the second straight time, with a 20th place finish.
Men have their first training run Tuesday while the women go live with their downhill.
Reto Schmidiger photo from Kitzbuehel by Gepa.
Place
Crans
Montana (SUI)
Discipline
Slalom
Date
31.01.2011
Category
FIS Junior World Ski Championships
Race codex
1425
Gender
M
Valid for FIS Points
YES
TD Name
Fossoud Gilles (FRA)
Rank
Bib
FIS Code
Name
Year
Nation
Run 1
Run 2
Total Time
FIS Points
1
3
511908
SCHMIDIGER Reto
1992
SUI
44.07
44.47
1:28.54
6.00
2
7
511896
MURISIER Justin
1992
SUI
44.63
45.45
1:30.08
16.61
3
13
194381
ROLLAND Mathias
1991
FRA
44.87
45.70
1:30.57
19.99
4
8
561217
KOSI Klemen
1991
SLO
45.43
45.54
1:30.97
22.74
5
30
180703
PALONIEMI Santeri
1993
FIN
45.84
45.48
1:31.32
25.15
6
17
103729
READ Erik
1991
CAN
46.49
45.05
1:31.54
26.67
7
4
194495
FAIVRE Mathieu
1992
FRA
46.13
45.50
1:31.63
27.29
8
16
6530599
STRAND Matthew
1993
USA
46.31
45.52
1:31.83
28.67
9
27
180631
PENTTINEN Juho-Pekka
1991
FIN
46.22
45.69
1:31.91
29.22
10
35
103676
BROWN Philip
1991
CAN
47.94
43.98
1:31.92
29.29
11
20
103865
PHILP Trevor
1992
CAN
45.91
46.10
1:32.01
29.91
12
18
194262
BUFFET Robin
1991
FRA
46.33
45.73
1:32.06
30.25
13
23
501529
GUNNARSSON Henrik
1991
SWE
46.36
45.87
1:32.23
31.42
14
51
690571
ROMANO Francesco
1991
ITA
47.41
44.91
1:32.32
32.04
15
28
561244
KRANJEC Zan
1992
SLO
46.81
45.59
1:32.40
32.59
16
29
561254
ZERAK Misel
1992
SLO
46.82
45.71
1:32.53
33.49
17
32
511753
ANTHAMATTEN Gabriel
1991
SUI
46.99
45.58
1:32.57
33.76
18
55
422039
KYLLINGSTAD Christoffer
1991
NOR
47.73
44.94
1:32.67
34.45
19
59
180705
PIRINEN Eemeli
1993
FIN
47.45
45.36
1:32.81
35.42
20
44
511847
MANI Nils
1992
SUI
47.08
45.76
1:32.84
35.63
21
63
194457
GALEOTTI Greg
1992
FRA
47.68
45.39
1:33.07
37.21
22
48
481327
TRIKHICHEV Pavel
1992
RUS
47.34
46.15
1:33.49
40.10
23
49
103779
GARAND Dominique
1991
CAN
47.64
46.07
1:33.71
41.62
24
45
422184
WINQUIST Even
1992
NOR
48.12
46.30
1:34.42
46.51
25
40
180718
HENTTINEN Jens
1993
FIN
48.20
46.53
1:34.73
48.65
26
33
934568
RUBIE Brennan
1991
USA
47.99
46.94
1:34.93
50.02
27
43
103725
PEDERSEN Cody
1991
CAN
48.21
47.28
1:35.49
53.88
28
70
700868
FALAT Matej
1993
SVK
48.40
47.38
1:35.78
55.88
29
61
380335
ZUBCIC Filip
1993
CRO
47.65
48.41
1:36.06
57.81
30
77
680047
BENIAIDZE Alex
1991
GEO
48.87
47.29
1:36.16
58.50
31
69
303758
SUGAI Ryo
1991
JPN
49.26
47.25
1:36.51
60.91
32
76
400237
MEINERS Maarten
1992
NED
49.05
48.04
1:37.09
64.91
33
109
53980
KRIECHMAYR Vincent
1991
AUT
49.35
48.00
1:37.35
66.70
34
101
150936
PRSALA Vojta
1991
CZE
49.31
48.51
1:37.82
69.93
35
64
6530319
COCHRAN-SIEGLE Ryan
1992
USA
50.68
47.67
1:38.35
73.59
36
9
511983
AERNI Luca
1993
SUI
52.51
46.48
1:38.99
78.00
37
66
6290350
RAVELLI Andrea
1992
ITA
49.01
50.00
1:39.01
78.13
38
128
430617
CHRAPEK Adam
1993
POL
50.22
48.94
1:39.16
79.17
39
83
491501
ROCAMORA Pol
1991
SPA
50.45
48.96
1:39.41
80.89
40
106
60207
FIERENS Thomas
1993
BEL
50.38
49.08
1:39.46
81.23
41
78
304099
MITSUI Kyohei
1993
JPN
50.58
48.89
1:39.47
81.30
42
102
430560
RZEPECKI Filip
1992
POL
50.32
49.37
1:39.69
82.82
43
99
350095
PFIFFNER Marco
1994
LIE
50.45
49.38
1:39.83
83.78
44
5
934502
ANKENY Michael
1991
USA
53.56
47.59
1:41.15
92.88
45
103
700879
ZAMPA Andreas
1993
SVK
51.83
50.30
1:42.13
99.63
46
134
550066
ZVEJNIEKS Miks
1995
LAT
52.62
49.58
1:42.20
100.11
47
113
430633
JASICZEK Michal
1994
POL
51.95
50.99
1:42.94
105.21
48
37
422134
BJERTNESS Endre
1992
NOR
50.27
52.68
1:42.95
105.28
49
100
400267
AVOORT, VAN DER Valentijn
1995
NED
52.88
50.65
1:43.53
109.27
50
114
390035
SMITH Warren Cummings
1992
EST
52.14
51.57
1:43.71
110.51
51
122
410364
FEASEY Willis
1992
NZE
53.24
50.76
1:44.00
112.51
52
124
240128
BUJTAS Csaba
1992
HUN
52.86
51.28
1:44.14
113.48
53
89
680045
VAKHTANGISHVILI Kote
1991
GEO
57.30
48.19
1:45.49
122.78
54
121
221117
GOWER Jack
1994
GBR
52.69
53.20
1:45.89
125.53
55
152
240139
KEKESI Marton
1995
HUN
54.42
53.93
1:48.35
142.48
56
131
20386
PUIG DAVI Arnau
1994
AND
56.50
51.89
1:48.39
142.76
57
148
460081
MOLDOVAN Dragos Dan
1993
ROU
55.54
52.95
1:48.49
143.45
58
142
230597
GALANOPOULOS Prodromos
1994
GRE
54.60
53.97
1:48.57
144.00
59
161
230659
VALCAREGGI Massimiliano
1995
GRE
55.23
53.86
1:49.09
147.58
60
144
80068
GUGLIELMINI Fabio
1994
BRA
56.31
54.34
1:50.65
158.33
61
137
170131
FAARUP Christoffer
1992
DAN
56.48
55.92
1:52.40
170.38
62
153
460089
TANTOS Teodor Andrei
1993
ROU
57.89
54.99
1:52.88
173.69
63
65
6530115
CHRISTIANSON Kieffer
1992
USA
52.57
1:01.64
1:54.21
182.85
64
135
260193
KIADARBANDSARI Reza
1994
IRA
59.52
57.45
1:56.97
201.87
65
160
610002
TESFAMARIAM Abel
1995
PHI
1:01.48
1:00.28
2:01.76
234.87
66
31
304242
NARITA Hideyuki
1993
JPN
1:12.98
50.13
2:03.11
244.17
67
159
260196
SHEMSHAKI Sepehr
1995
IRA
1:04.00
1:03.18
2:07.18
272.21
68
154
360038
BOCK Gilles
1995
LUX
1:04.74
1:03.06
2:07.80
276.48
69
157
340225
BEHLOK Anthony
1992
LIB
1:07.68
1:08.31
2:15.99
332.91
70
156
340253
ARIDA Eddy
1993
LIB
1:05.62
1:22.12
2:27.74
413.86
71
162
130034
WU Meng-che
1995
TPE
3:32.70
2:28.35
6:01.05
999.99
Disqualified 2nd run
150
230539
KARAPIPERIS Konstantinos
1993
GRE
145
550065
SARKANIS Toms
1993
LAT
Disqualified 1st run
146
240134
PETROVICS Daniel
1992
HUN
129
260180
JAFARI Seyed Morteza
1992
IRA
110
260170
SOLOGHANI Mahdi
1992
IRA
107
340248
ACHI Ghassan
1993
LIB
74
60179
CORNETTE Niels
1991
BEL
71
550054
ZVEJNIEKS Kristaps
1992
LAT
58
561214
DEBELAK Tilen
1991
SLO
50
194686
FABRE Jonas
1993
FRA
36
501814
OESTER Carl-johan
1992
SWE
22
934518
DANIELS Nick
1991
USA
21
53969
BISCHOF Martin
1991
AUT
14
422082
SOLEVAAG Sebastian-Foss
1991
NOR
12
53968
BERTHOLD Frederic
1991
AUT
Did not start 2nd run
118
40503
COULL Jackson
1993
AUS
117
20324
OLIVERAS Marc
1991
AND
Did not start 1st run
155
450023
VENTURINI Matteo
1994
RSM
126
680054
GEDEVANISHVILI Dimitri
1993
GEO
115
40543
BROWN Callum
1994
AUS
Did not finish 2nd run
149
360036
OSCH Geoffrey
1994
LUX
130
491853
DEL CAMPO Juan
1994
SPA
98
660021
DANILOCHKIN Yuri
1991
BLR
91
430550
KLUSAK Jakub
1992
POL
62
53985
MATHIS Marcel
1991
AUT
39
54031
LEITINGER Roland
1991
AUT
26
561216
KLINE Bostjan
1991
SLO
24
202437
LUITZ Stefan
1992
GER
19
501804
MONSEN Sam
1992
SWE
11
501557
PIETILAE HOLMNER Johan
1991
SWE
2
180627
MALMSTROM Victor
1991
FIN
1
194364
PINTURAULT Alexis
1991
FRA
Did not finish 1st run
158
690722
MYTSAK Dmytro
1995
UKR
151
110269
CARVALLO Nicolas
1991
CHI
147
390037
LUIK Tonis
1995
EST
143
230609
DELLIOS Michael
1994
GRE
141
690694
KOVBASNYUK Ivan
1993
UKR
140
390034
KONI Ranek
1993
EST
139
110324
VON APPEN Henrik
1994
CHI
138
460092
TUDORAN Stefan Claudiu
1994
ROU
136
110268
CARVALLO Benjamin
1991
CHI
133
690678
IAROVENKO Bogdan
1992
UKR
132
92639
PARLAPANOV Yani
1993
BUL
127
20359
PALLAS NOMEN Artur
1993
AND
125
491859
MATEU Miquel
1994
SPA
123
30271
MURTAGH Rodrigo
1991
ARG
120
40506
ROBERTSON Sam
1993
AUS
119
240132
FARKAS Norbert
1992
HUN
116
40553
CHEVALIER Luc Henri
1992
AUS
112
350088
OEHRI Josef
1991
LIE
111
150985
VRZGULA Vaclav
1992
CZE
108
151059
POHANKA Jakub
1994
CZE
105
350087
KINDLE Nicola
1991
LIE
104
170130
KILSGAARD Markus
1992
DAN
97
680053
GELASHVILI Jaba
1993
GEO
96
250348
KRISTGEIRSSON Einar-Kristinn
1994
ISL
95
110266
ANGUITA Martin
1991
CHI
94
481444
POLINKOVSKIY Viktor
1993
RUS
93
860005
BRACHNER Patrick
1992
AZE
92
481322
ANDREEVSKIY Alexey
1992
RUS
90
250286
ASTVALDSSON Jon-Gauti
1991
ISL
88
151024
KOTZMANN Adam
1993
CZE
87
6290708
FRANZELIN Hubert
1993
ITA
86
304139
SHIN Masanori
1993
JPN
85
700843
KUTLIK Matej
1991
SVK
84
60196
ALAERTS Xan
1992
BEL
82
250323
FINNSSON Magnus
1993
ISL
81
690566
RINNER Max
1991
ITA
80
250292
HALLDORSSON Sigurgeir
1991
ISL
79
92570
GEORGIEV Svetoslav
1991
BUL
75
481428
NOVIKOV Vladislav
1993
RUS
73
60198
VAN DEN BROECKE Robin
1992
BEL
72
20328
RUIZ ANTUNA Nil
1991
AND
68
6290065
CODEGA Ivan
1992
ITA
67
350086
HEEB Simon
1991
LIE
60
501540
JANSSON Emil
1991
SWE
57
6290440
ZINGERLE Alex
1992
ITA
56
561255
CATER Martin
1992
SLO
54
202535
DRESSEN Thomas
1993
GER
53
422139
KILDE Aleksander
1992
NOR
52
380318
BRIGOVIC Sebastian
1992
CRO
47
202451
STRASSER Linus
1992
GER
46
103752
TROW Andy
1991
CAN
42
202323
LINDEBNER Anton
1991
GER
41
512014
NIEDERBERGER Bernhard
1993
SUI
38
30266
GASTALDI Sebastiano
1991
ARG
34
501736
HEDMAN Bjoern
1992
SWE
25
700851
SIRAN Vladimir
1991
SVK
15
180666
TORSTI Samu
1991
FIN
10
422214
CHRISTENSEN Simen Ramberg
1993
NOR
6
54006
TIPPELREITHER Lukas
1991
AUT