June 28, 2011
/
Swiss Racer Styger Retires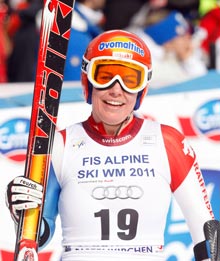 Swiss ski racing veteran Nadia Styger announced her retirement from the sport today (June 28) at a press conference at her home in Sattel, Switzerland.
Styger's 2011 season was cut short in November, when the 32-year-old speed specialist injured her leg in Lake Louise. After this spring's rehab has produced what she calls "small steps only," the two-time Olympian decided to call it a career.
"It was always clear to me that I wanted to be 100 percent fit from the first start next season. For that goal, I would need to be able to train without pain which is not the case at this moment," Styger told Fisalpine.com. "The frustration would be too much if I could not give it my best, and I am not so young any more that I could just rely on a comeback the season after. This was not an option for me."
In more than a decade on the World Cup tour, Styger collected four World Cup victories (four SG and one downhill) and achieved the third-place season overall standing in the super G in both 2006 and 2010.
Styger plans to launch a gym in her hometown.