January 4, 2010
/
Stutz takes first win of Sunday River NorAms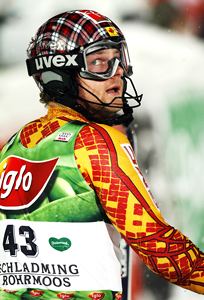 The Bearcat got his first NorAm win. Canadian Paul Stutz (Bearcat) put down a fast first run and another fast second run in a NorAm slalom at Sunday River, Maine Monday to collect his first win on the premier North American circuit coming in .69 of a second ahead of Oscar Andersson, a Swedish national team veteran.
Michael Ankeny, eight years younger than either Stutz or Andersson, posted third, well back of the two leaders but tallying the top finish for the hosts. Colby Grabstrom was fourth and Nolan Kasper fifth representing the U.S. and Norway'sPetter Brenna of the U of New Mexico was sixth.
Men's Nor Am racing continues tomorrow at Sunday River with another slalom, and two GS slated for Wednesday and Thursday.
Stutz photo by GEPA
Place
Sunday
River, ME (USA)
Discipline
Slalom
Date
04.01.2010
Category
Nor-Am Cup
Race codex
1652
Gender
M
Valid for FIS Points
NO – Waiting reports
TD Name
Courchesne Camille (CAN)
Rank
Bib
FIS Code
Name
Year
Nation
Run 1
Run 2
Total Time
FIS Points
1
1
102727
STUTZ Paul
1983
CAN
39.59
40.27
1:19.86
6.00
2
17
500909
ANDERSSON Oscar
1982
SWE
40.11
40.44
1:20.55
11.18
3
10
934502
ANKENY Michael
1991
USA
40.71
40.64
1:21.35
17.19
4
9
930105
GRANSTROM Colby
1990
USA
40.67
40.97
1:21.64
19.37
5
4
532138
KASPER Nolan
1989
USA
40.64
41.04
1:21.68
19.67
6
14
421566
BRENNA Petter
1986
NOR
40.82
41.11
1:21.93
21.55
7
2
103313
DAWSON Travis
1988
CAN
40.42
41.53
1:21.95
21.70
8
8
533903
BROWN Ben
1982
USA
40.82
41.37
1:22.19
23.51
9
30
103656
HALBERT Kelby
1990
CAN
41.25
41.13
1:22.38
24.93
10
13
530837
KELLEY Tim
1986
USA
41.34
41.05
1:22.39
25.01
11
21
103078
DONALDSON David
1986
CAN
41.87
40.74
1:22.61
26.66
12
40
421954
LYSDAHL Espen
1990
NOR
41.71
41.26
1:22.97
29.37
13
15
534289
FRANK Chris
1983
USA
41.68
41.31
1:22.99
29.52
14
34
934518
DANIELS Nick
1991
USA
42.17
41.00
1:23.17
30.87
15
3
421593
KILDE Andreas
1986
NOR
41.96
41.26
1:23.22
31.24
16
48
103676
BROWN Philip
1991
CAN
42.23
41.00
1:23.23
31.32
17
23
180545
HUTTUNEN Tuomas
1988
FIN
41.61
41.75
1:23.36
32.30
18
33
103105
LEBRUN-FORTIN Vincent
1986
CAN
42.55
40.82
1:23.37
32.37
18
27
421722
ADDE Andreas
1988
NOR
42.26
41.11
1:23.37
32.37
20
42
530808
GILBERT Erik
1986
USA
42.52
40.94
1:23.46
33.05
21
24
180541
HARMANEN Niko
1988
FIN
42.12
41.40
1:23.52
33.50
22
37
930133
HIGGINS Sean
1990
USA
42.42
41.33
1:23.75
35.23
23
22
530214
FORD William
1987
USA
42.16
41.72
1:23.88
36.20
24
11
100558
COOK Dustin
1989
CAN
41.16
42.96
1:24.12
38.01
25
26
501010
KINGSTAD Fredrik
1983
SWE
42.69
41.49
1:24.18
38.46
26
36
934643
GOLDBERG Jared
1991
USA
42.57
41.78
1:24.35
39.73
27
38
531178
WEIBRECHT Ethan
1988
USA
42.70
41.96
1:24.66
42.06
28
59
100010
ALEXANDER Sean
1989
CAN
43.72
41.45
1:25.17
45.89
29
58
934740
WUNSCH Taylor
1991
USA
43.11
42.08
1:25.19
46.05
30
16
103375
NELLA Tyler
1988
CAN
42.77
42.57
1:25.34
47.17
31
60
934551
MOFFAT Keith
1991
USA
43.55
41.94
1:25.49
48.30
32
31
530925
HELDMAN Bump
1988
USA
43.38
42.12
1:25.50
48.37
33
28
934681
MASSIE Marc
1991
USA
42.93
42.62
1:25.55
48.75
34
63
934566
ROBERTS Hig
1991
USA
43.79
42.32
1:26.11
52.96
34
52
930188
MARSHALL Tucker
1990
USA
42.88
43.23
1:26.11
52.96
36
67
6530319
COCHRAN-SIEGLE Ryan
1992
USA
43.97
42.29
1:26.26
54.08
37
50
530748
CLAYTON Zach
1988
USA
43.78
42.79
1:26.57
56.41
38
74
934722
STRAND Derek
1991
USA
44.27
42.82
1:27.09
60.32
39
49
103623
TAFEL Tristan
1990
CAN
45.15
42.20
1:27.35
62.27
40
73
103752
TROW Andy
1991
CAN
44.29
43.19
1:27.48
63.25
41
57
930160
KELLEY Robby
1990
USA
43.09
44.93
1:28.02
67.31
42
72
103612
PRIDY Morgan
1990
CAN
45.15
43.02
1:28.17
68.43
43
80
934524
FARRELL Bobby
1991
USA
45.16
43.04
1:28.20
68.66
44
70
6530167
SHIFFRIN Taylor
1992
USA
44.66
43.68
1:28.34
69.71
45
69
934505
BAILEY Nick
1991
USA
45.22
43.24
1:28.46
70.61
46
81
531872
HARDEN Maxwell
1989
USA
44.92
44.04
1:28.96
74.37
47
76
6530117
CONE Robert
1992
USA
45.22
44.37
1:29.59
79.10
48
45
934547
MARNO Max
1991
USA
42.64
1:03.22
1:45.86
201.34
Disqualified 2nd run
64
6530250
MORSE Ben
1992
USA
Disqualified 1st run
6
531302
WAGNER Andrew
1985
USA
5
220083
BAXTER Noel
1981
GBR
Did not start 2nd run
20
421750
HAUG Kristian
1988
NOR
Did not start 1st run
35
421650
BJERKESTRAND Iver
1987
NOR
19
534507
CHRISTIANSON Charles
1984
USA
Did not qualify 1st run
89
934680
MARTIN Dustin
1991
USA
86
934569
RYAN Jim
1991
USA
84
103737
SCOTT Graham
1991
CAN
83
103590
MACLEAN Benjamin
1990
CAN
78
934555
MULHERN Liam
1991
USA
66
103385
PRIDY Conrad
1988
CAN
51
930237
ROLFS George
1990
USA
47
103528
DRURY Kevin
1988
CAN
41
103729
READ Erik
1991
CAN
Did not finish 2nd run
75
530827
ELLIOT Jeremy
1988
USA
68
103725
PEDERSEN Cody
1991
CAN
53
530855
LOMAN Dan
1986
USA
46
6530115
CHRISTIANSON Kieffer
1992
USA
43
103646
ZAITSOFF Sasha
1990
CAN
39
530555
HARDEN Braden
1987
USA
32
103187
ATKINSON Paul
1987
CAN
29
530840
KERNAN Joshua
1986
USA
18
533948
COLE Adam
1982
USA
12
930107
GREGORAK Will
1990
USA
Did not finish 1st run
88
421859
NILSEN Markus
1989
NOR
87
103762
WERRY Tyler
1991
CAN
85
531473
BRYANT Nathan
1989
USA
82
103968
GRAND Thomas
1993
CAN
79
103881
FISHER MCCARNEY Dylan
1992
CAN
77
103330
CANART Cory
1988
CAN
71
103865
PHILP Trevor
1992
CAN
65
530874
GANONG Travis
1988
USA
62
103613
PROPHET Dillon
1990
CAN
61
934525
FLOWERS Kitt
1991
USA
56
103690
GAGNON Cedrik
1991
CAN
55
930174
LAWRENCE Chad
1990
USA
54
534845
SHEEHAN Kevin
1985
USA
44
930024
MAPLE Wiley
1990
USA
25
421787
SALBU Chriss
1988
NOR
7
530165
BRANDENBURG Will
1987
USA